Task Force to host youth leadership program on preventing violence in the schools on November 3rd.
FRIDAY, oCTOBER 19th, 2018
Congratulations to Roger Goolsby, Sr. & Barbara Seldon who were finalist in the Southfield Photo Prize contest. Roger placed 11th, and Barbara placed 14th.
FRIDAY, oCTOBER 19th, 2018
MLK/Unique Lady awards scholarship to Nyla Outlaw.
Nyla Outlaw, from Lake Orion, Michigan, is the recipient of the 2018 MLK/Unique Lady Scholarship Award. Nyla attended Detroit Country Day Upper School where she played volleyball, participated in musicals, sang in the Concert Choir, and was a Magna Cum Laude Scholar. She now attends the historically black women's college, Spelman.
At Spelman, she is currently in pursuit of a Bachelor's of Science in Biology with a pre-medicine track. She is in the Ethel Waddell Githii Honors program, Minority Association of Pre-Medical Students, Alpha Lambda Delta Honors Society, and an ambassador for Spelman College.
In the future, her plans are to go to medical school and become an anesthesiologist. Once she is finished with her schooling, she plans to become a mentor for children in underrepresented areas who are interested in science and medical careers.
Nyla says, "I am truly grateful for the Martin Luther King Jr. Taskforce and I cannot wait to be able to help someone else financially to afford their dreams and career aspirations".
This scholarship was made possible by a collaboration between the Dr. Martin Luther King Task Force, Inc. & Unique Lady (www.uniquelady.com), a high fashion women's clothing store in Southfield. The owners of Unique Lady, Donna & Rana, established the scholarship in memory of their late parents.
Thursday, August 16th, 2018
In memoriam...
Dr. Martin Luther King, Jr. spoke to our hearts, and Aretha Franklin sang to our souls. Not only was the queen of the soul an outstanding performer she was a strong supporter of Dr. King, and the civil rights movement. In fact, Aretha helped the MLK Task Force, Inc. in honoring Dr. King at our 30th anniversary program in 2015 by performing pro-bono. Rest in heaven Aretha Franklin.
FRIDAY, AUGUST 7th, 2018
2018 Freedom Ride
In an ongoing effort to honor the legacy and celebrate the National Holiday of the late Dr. Martin Luther King, Jr., the Dr. Martin Luther King, Jr. Task Force, Inc. of Southfield, Michigan sponsored its 2nd Annual Freedom Ride that included 36 local middle and high school students. The participants of the ride represented the communities of Southfield, Detroit, Livonia, Farmington Hills, Sterling Heights, East Point, Bellville, Inkster, Romulus, and Oak Park.
The Freedom Ride departed from the Southfield City Complex on August 3, 2018 and returned on August 7, 2018. Destinations of this educational event were Memphis, Tennessee; Atlanta, Georgia; and Louisville, Kentucky. The objective of the ride was to educate the students about civil rights, social justice and non-violence. The Freedom Ride was also designed to replicate a portion of the ride that the original Freedom Riders made in the 1960's in an attempt to register African American voters.
The Memphis stop included a visit to the Loraine Motel where Dr. King was assassinated. The motel is also the location of the National Civil Rights Museum. In Atlanta the students visited his birth place, burial site of him and Coretta Scott King, and other monuments honoring Dr. King. The last stop, in Louisville, was the Muhammad Ali Museum which highlights the contributions of the great boxer to the Civil Rights Movement.
Many accolades were bestowed on the student participants by the locals at each stop along the ride. Some of the comments included; "well behaved, engaged, smart, well dressed and polite". The participants represented our communities and organization in great fashion. The participant's conduct prompted a major tour agency into seeking sponsorship for a portion of the next Freedom Ride.
Based on comments and interactions of the student participants, this trip was an educational, emotional, and motivational experience for them. It was also a fun trip with conversation and interaction with the chaperones. Many students expressed a desire to continue an association with the Task Force. Events are planned for the student riders to express what was learned, mentor the next group of participants and help facilitate the next King Day Peace Walk in 2019.
In order to conduct such an educational event there is a need for local sponsorship. The Dr. Martin Luther King, Jr. Task Force, Inc. would like to thank those whose generosities helped to promote the 2018 Freedom Ride. Major sponsors included: DTE, Plante Moran, Avis Ford, Southfield Public Schools, Oakland County Board of Commissioners, Eaton Corporation, D. August Straker Bar Association, New Metropolitan Detroit NANBPWC, Inc., and Dr. Kenson Siver-Mayor of Southfield Michigan.
THURSDAY, NOVEMBER 9th, 2017
The Dr. Martin Luther King, Jr. Task Force, Inc. (Southfield, MI) & Amigos de la UNESCO (Cali, Colombia) joined in a Memorandum of Understanding (MOU) to: (1) implement opportunities for collaboration, (2) promote international understanding, and (3) support initiatives of common interest. In return, this will help promote international dialogue and cooperation with other Afro-Descendant communities.
Monday, August 21, 2017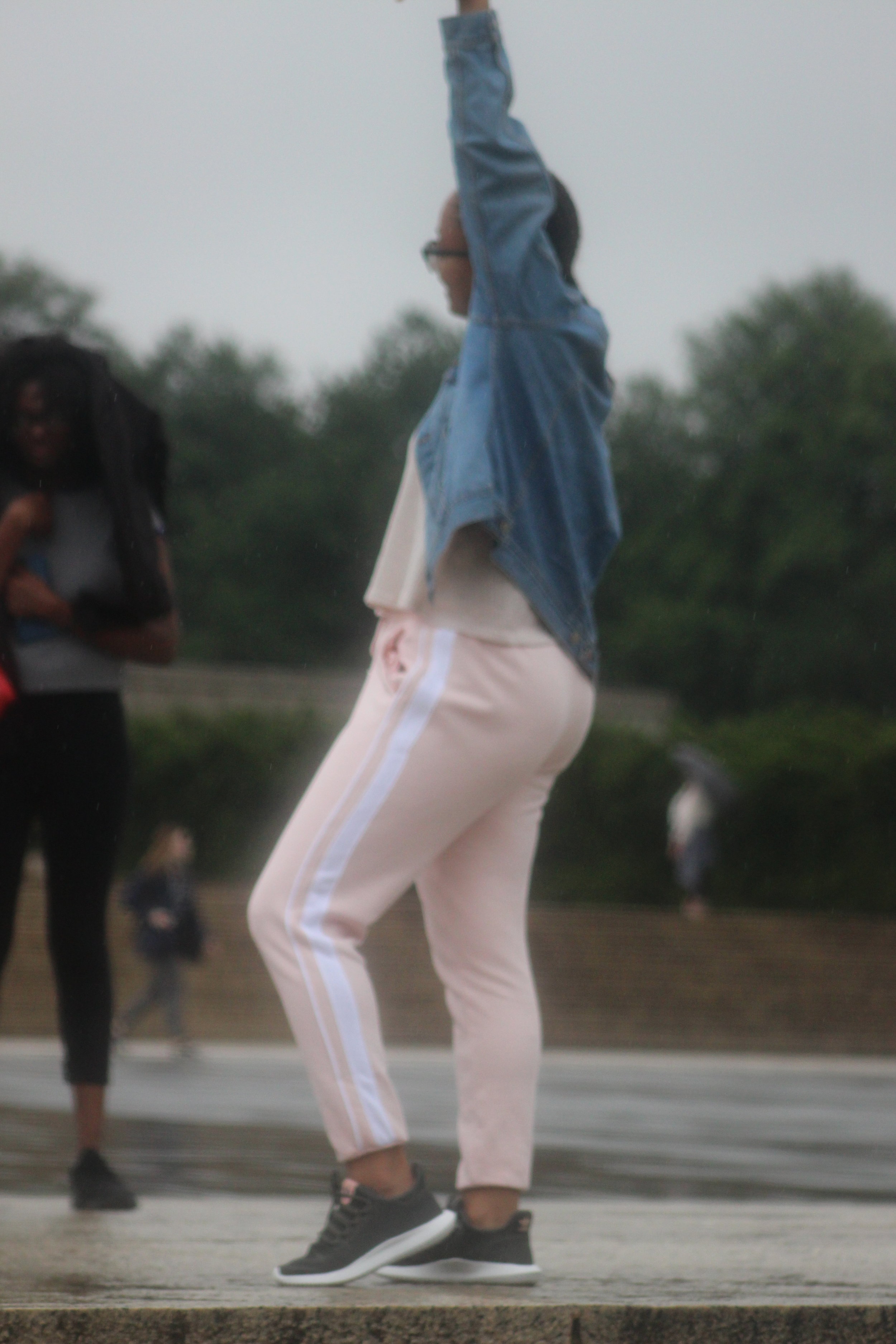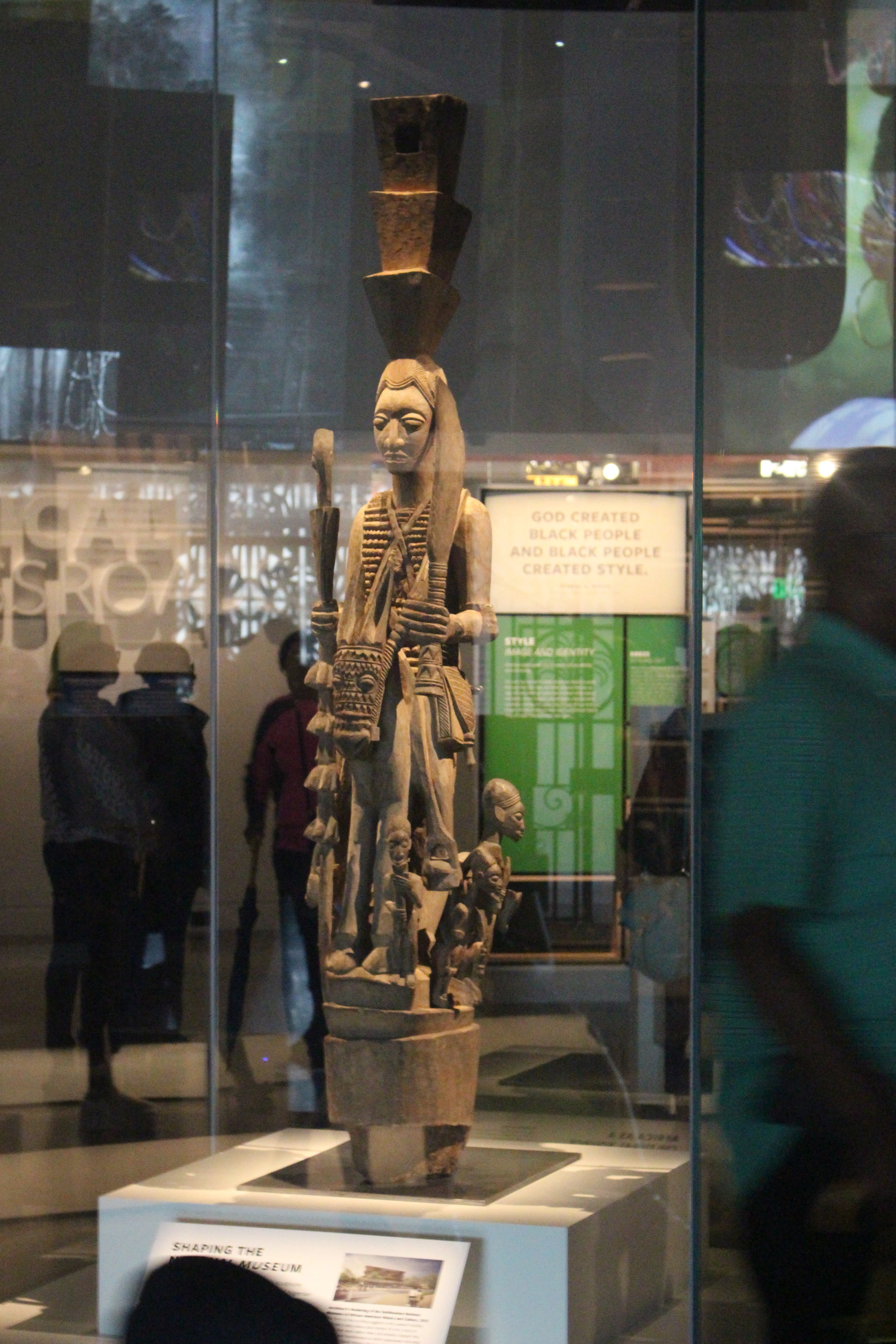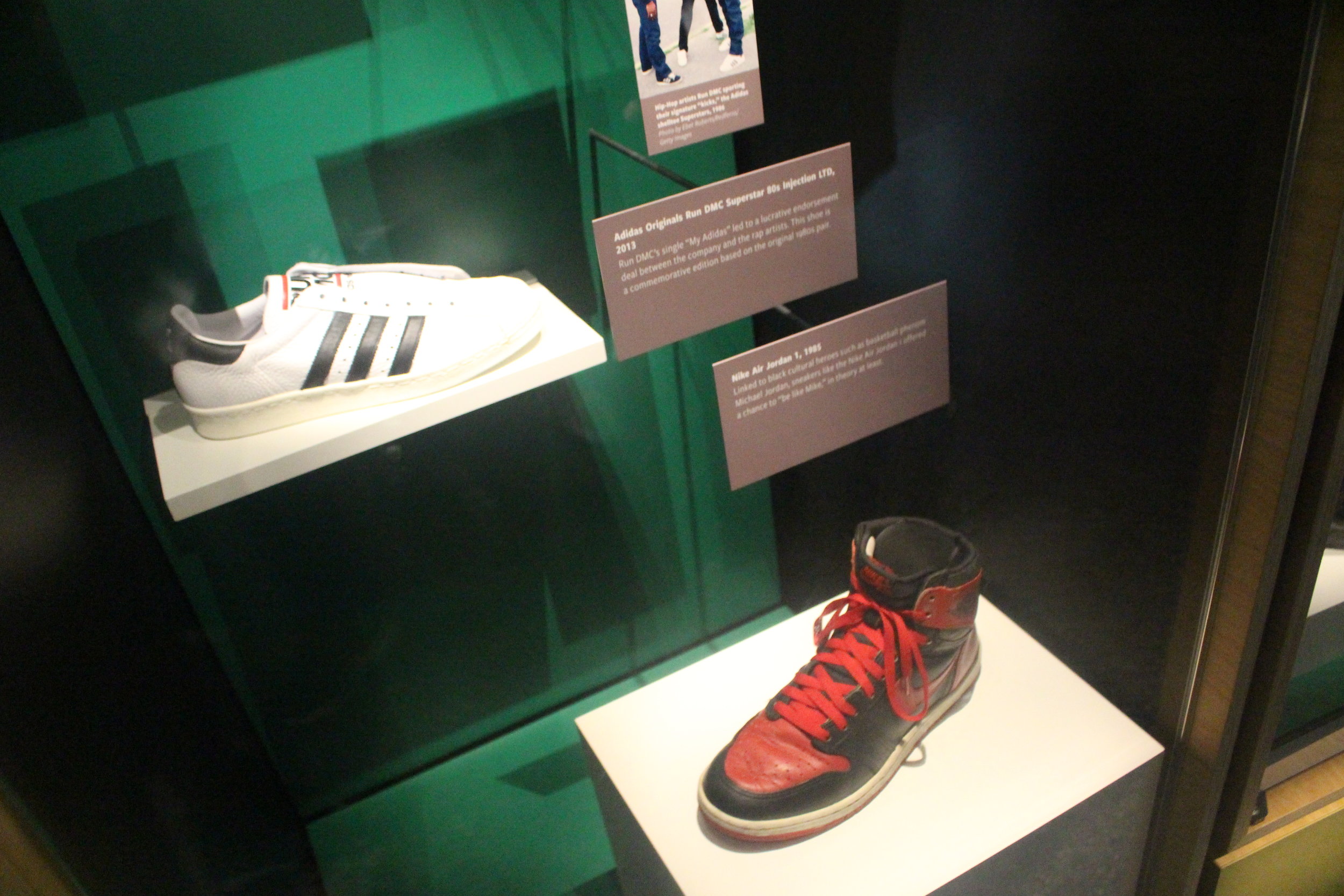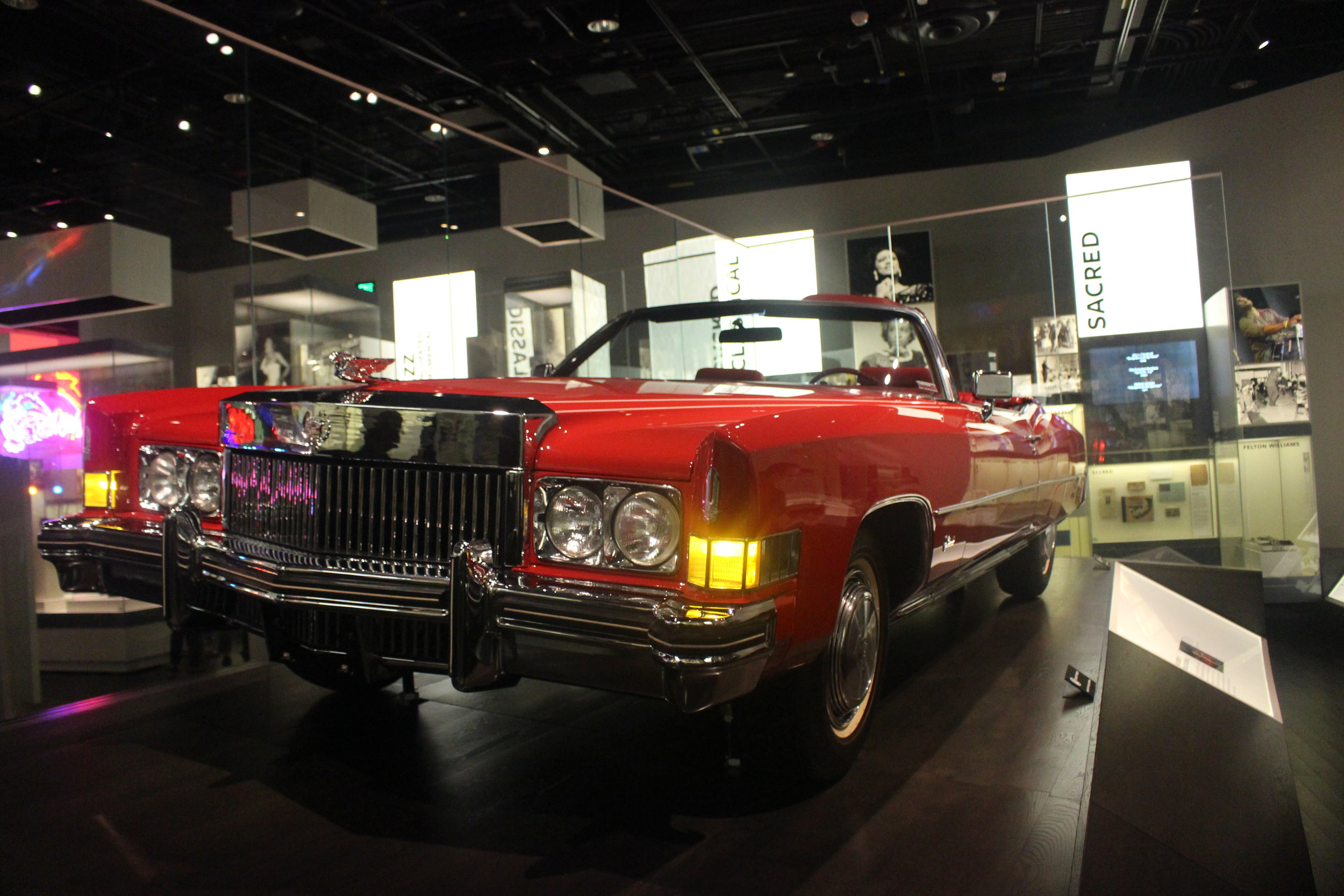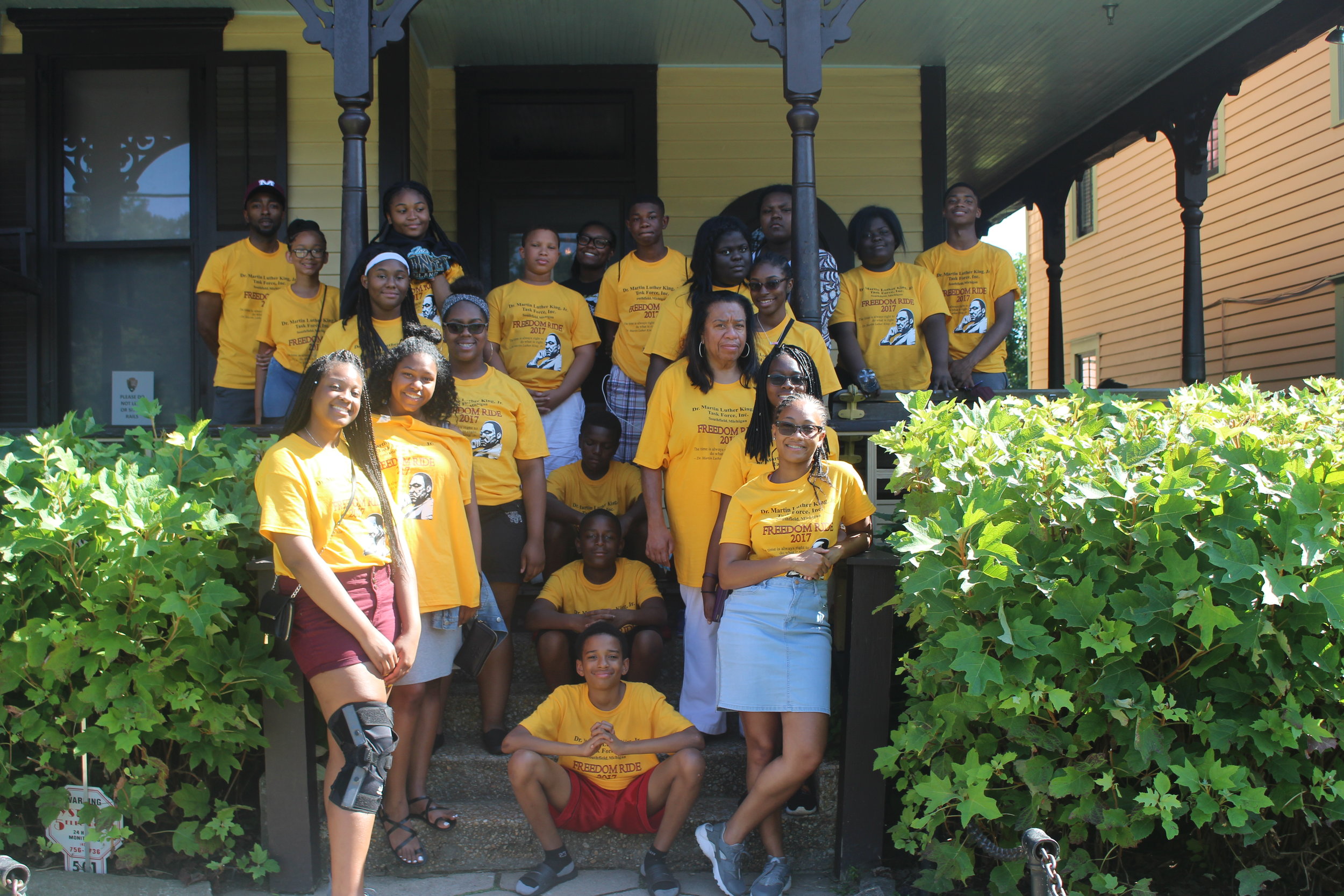 The Task Force takes 27 Metro-Detroit Area students on Civil Rights themed trip.
Field trips are often essential to learning due in part to their unique ability to inspire students' interests beyond the classroom. Several area students recently experienced numerous teachable moments by way of an extended trip that included stops at various national monuments as well as significant civil rights sites. Organized by the Martin Luther King Jr Task Force of Southfield, the excursion dubbed "Freedom Ride 2017," Organizers felt that the trip would bring to life and give historical meaning to "key happenings" that took place during the Civil Rights timeline by visiting designated locations and seeing them up close and personal. Among the trip itinerary were visits to the Washington Monument, the Martin Luther King Jr. Memorial as well as his birthplace, Smithsonian Museum of National African American History, Morehouse and Spelman Colleges, and the MLK Center for Non-Violent Social Change.
See slideshow to the right for a look at this year's trip. (Photo Credits: Diante Brown)
The MLK Task Force, Inc. would like to thank their sponsors and patrons for their assistance in this year's trip. The Task Force is in the process of making the plans for the 2018 Freedom Ride trip. Check this website regularly for updates.
Patrons
State Rep. Jeremy Moss
County Commissioner Nancy Quarles
Council Man Myron Frasier
Felix & Barbara Seldon
Al & Barbara Talley
Dr. Richard Traitel
Cynthia Merritt Simmons
Monique Merritt
Kemeshia D. Gant, Esq.
Aringtor Hicks
Robert Willis, Esq.
Sharon Kelly-Person
Sponsors:
AT&T
Oakland County Board of Commissioners
Eaton Corporation
Avis Ford
Southfield Public Schools
Mayor Kenson Siver
D. Augustus Straker Bar Association
Southfield Area Chamber of Commerce
AGB Designs, LLC
Time to Travel
Southfield Education Association
monday, June 5th, 2017
Southfield Dr. Martin Luther King, Jr. Task Force announces 'Freedom Ride' fundraiser, article by Michael Manion, City of Southfield
AT&T kicks off campaign with $10,000 donation
(SOUTHFIELD, Mich.) – The Southfield Dr. Martin Luther King, Jr. Task Force, Inc. will sponsor the 'Freedom Ride' for middle and high school students through historical civil rights sites in Ohio, Tennessee, Alabama Georgia and Washington, D.C. this summer.
The Task Force has launched a fundraising campaign that will allow approximately 40 students from various ethnic, religious and socio-economic backgrounds and schools throughout metro Detroit to participate at no cost. AT&T has kicked-off funding with a $10,000 donation in addition to $2,500 from Southfield Public Schools; however, additional corporate, organizational and individual support is still needed. Checks may be made payable to Dr. Martin Luther King, Jr. Task Force, Inc. and sent to P.O. Box 3189, Southfield, MI 48037. All donations are tax deductible and will be used to support the Freedom Ride program. Any additional proceeds will go to the operational budget of the Task Force which is a recognized 501 (c)(3) non-profit organization.
Southfield was the first city in the state of Michigan to hold a Dr. King peace walk or march. The first Dr. Martin Luther King, Jr. Peace Walk took place on January 20, 1986, commemorating the first national observance of Dr. King's birthday. The walk continues to grow in size and scope each year, with year-long educational and community outreach activities.
For more information, call the MLK Task Force hotline at (248) 924-9MLK or visit www.mlktaskforcemi.org.
monday, April 17th, 2017
Congratulations to Task Force First VP, Robin Dillard-Russaw, Esq., on her new position. In addition to her Magistrate responsibilities she was recently appointed as the Deputy Court Administrator for the 46th District Court.
thursday, April 13th, 2017
Congratulations to the elected executive Officers & Advisory Board of Directors that were voted in on April 13th, 2017. Each elected position will serve a 2-year term starting July 1st, 2017.
Corresponding Secretary: Euni Rose
Recording Secretary: Sharon Kelly-Person
Treasurer: Barbara P. Seldon
Financial Manager: Dan Brightwell
President: Patricia Haynie
First Vice-President: Dedra Hobbs
Second Vice-President: Tracey Payne-Tellis
Advisory Board of Directors: TBA
Monday, january 16th, 2017
Rev. Joan C. Ross receives the 2017 Dr. King Community Service Award.
For the past ten years, Reverend Joan C. Ross has work in the North End Community of Detroit "serving the underserved" of her community by providing not only spiritual guidance, by establishing a strategy for regaining equity and building a local economy with the challenge of creating a sustainable community; sustainable- culturally, economically and environmentally. She has developed community-scale renewable energy projects utilizing both on and off-grid models and has successfully trained community residents in the areas critical to the current and future needs of her community.
In 2013, Rev Joan, was granted a Federal Communications Commission license to construction a Low Power Radio Stations. The North End Woodward Community Coalition (NEWCC) was the only group licensed in Detroit. Additionally, because of its signal, the license was also approved by the FCC's Canadian counterpart. The station, WNUC 96.7 fm, will launch this spring with a terrestrial reach of approximately 300,000 listeners. It mission is "to be a voice for the deliberately silenced and the preferably unheard."
Her work in community sustainability has been recognized by national as well as local organizations such as: US Green Building Council's May/June 2014 Magazine, and Hour Magazine Detroit July 2016. She is the recipient of the 2014 Sustainable Champion Award, the Spirit of Detroit Award, and the 2017 MLK Award from the Southfield MLK Taskforce.
OLDER TASK FORCE NEWS STORIES
Monday, january 16th, 2017
The Task Force celebrates MLK Day with the City of Southfield as hundreds showed up to show their appreciation for Martin Luther King Jr.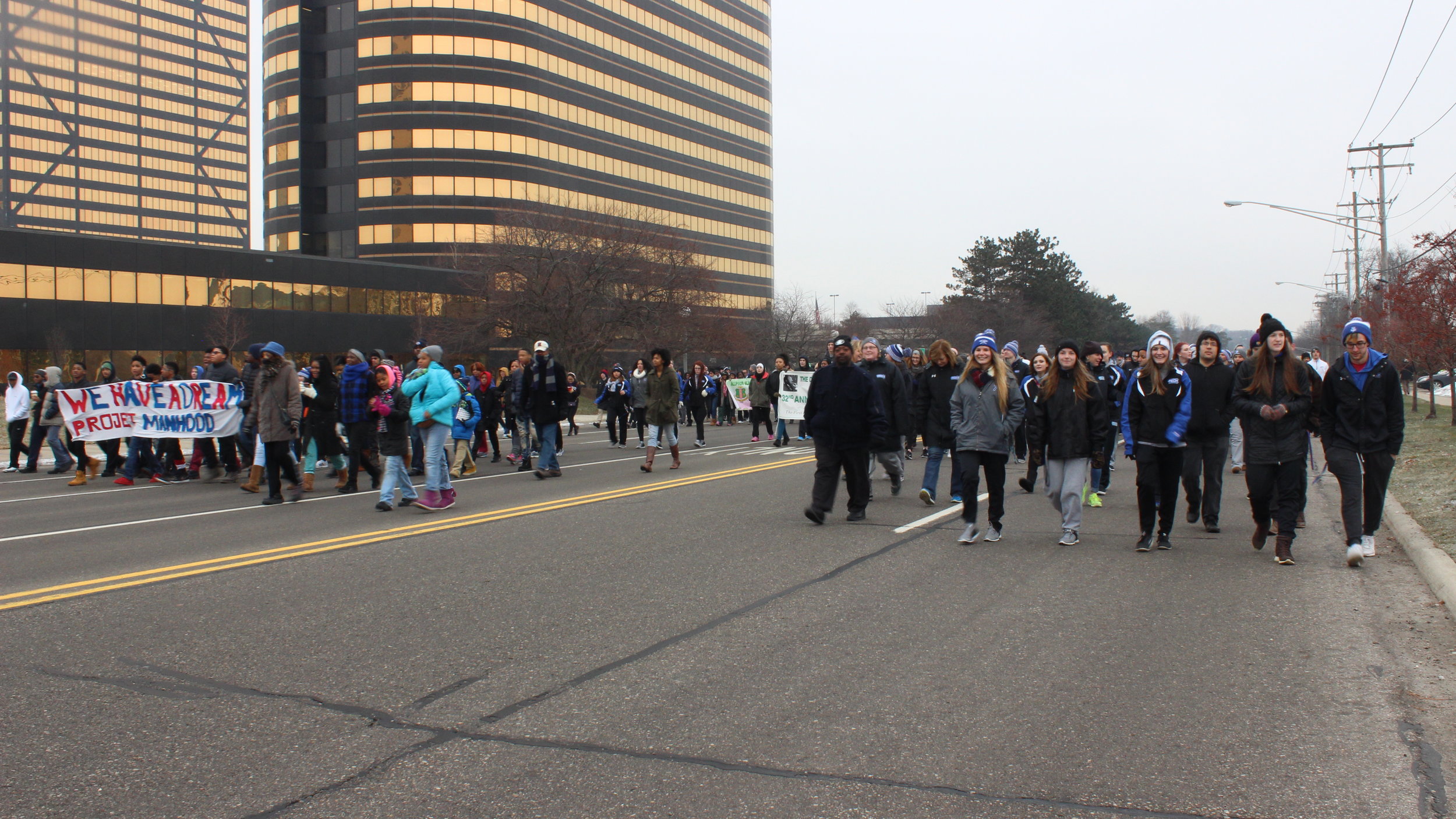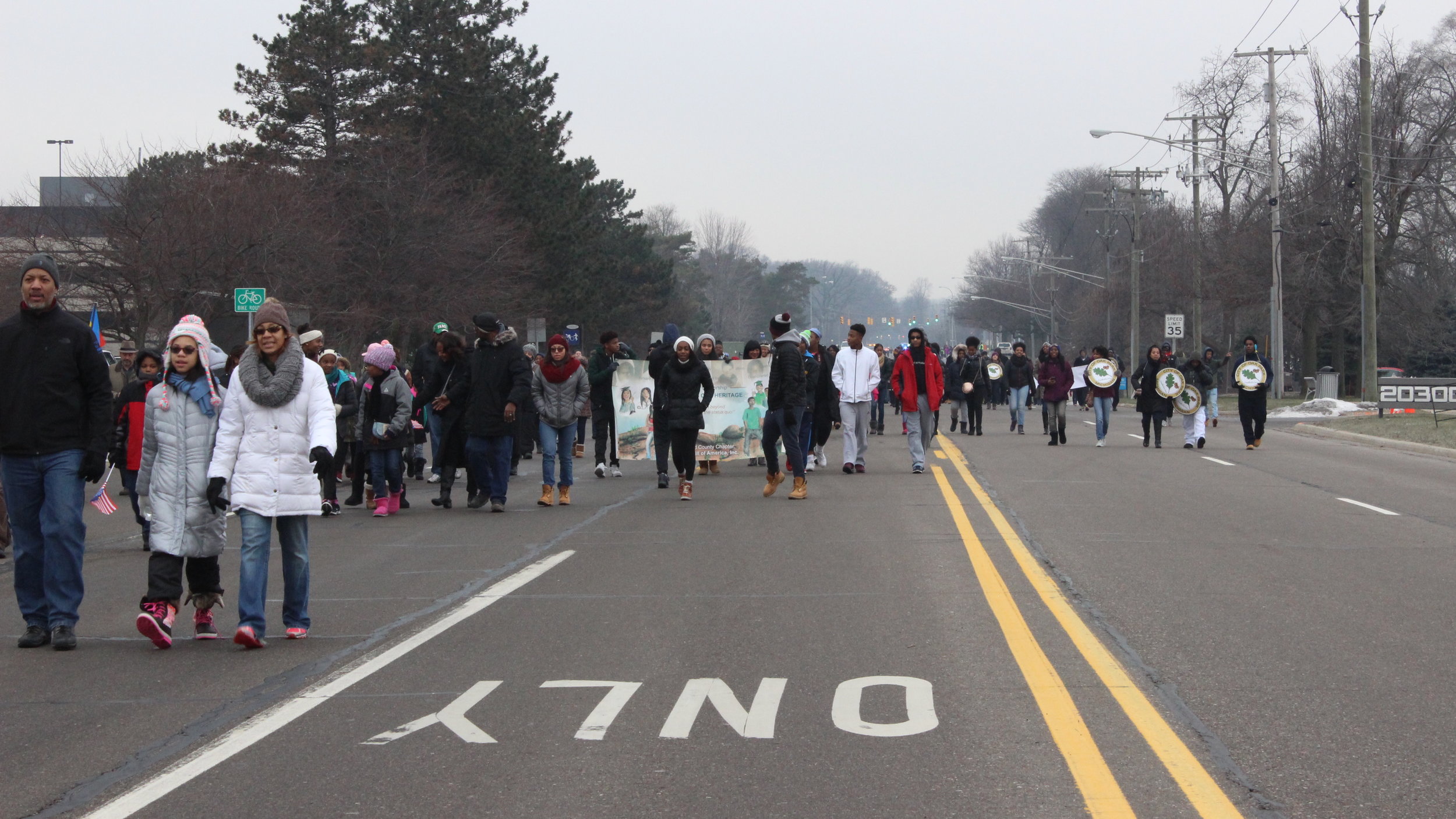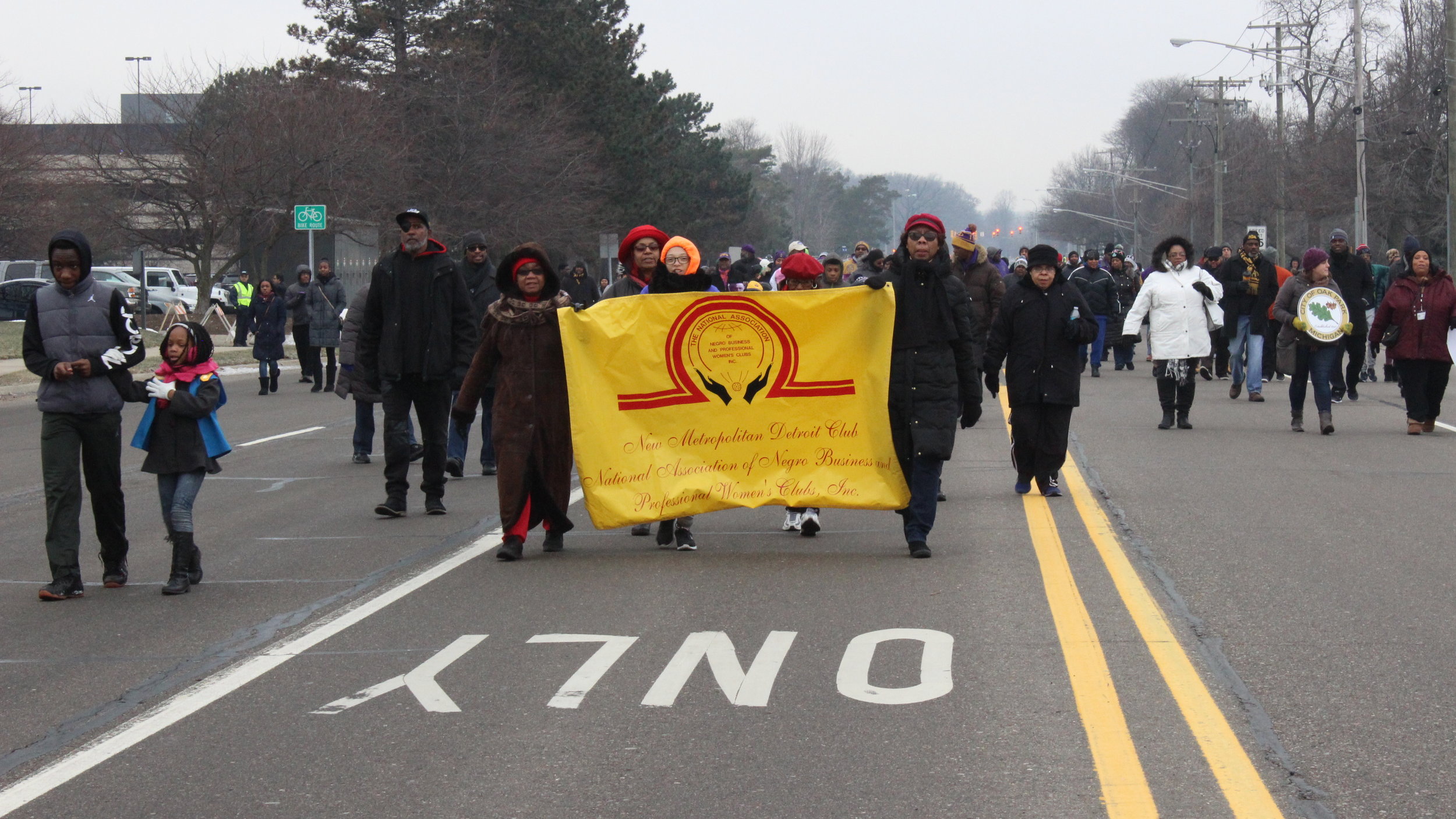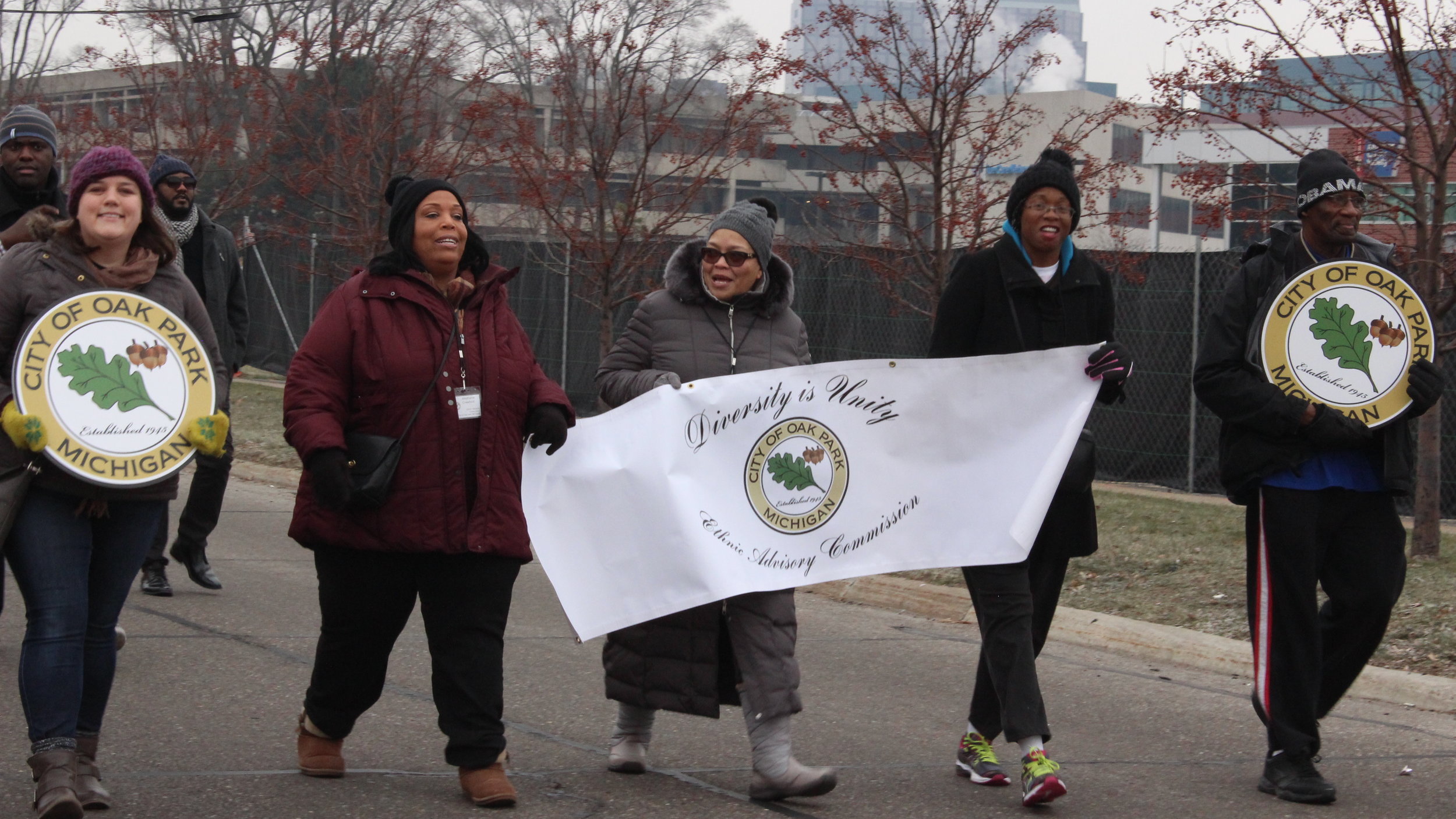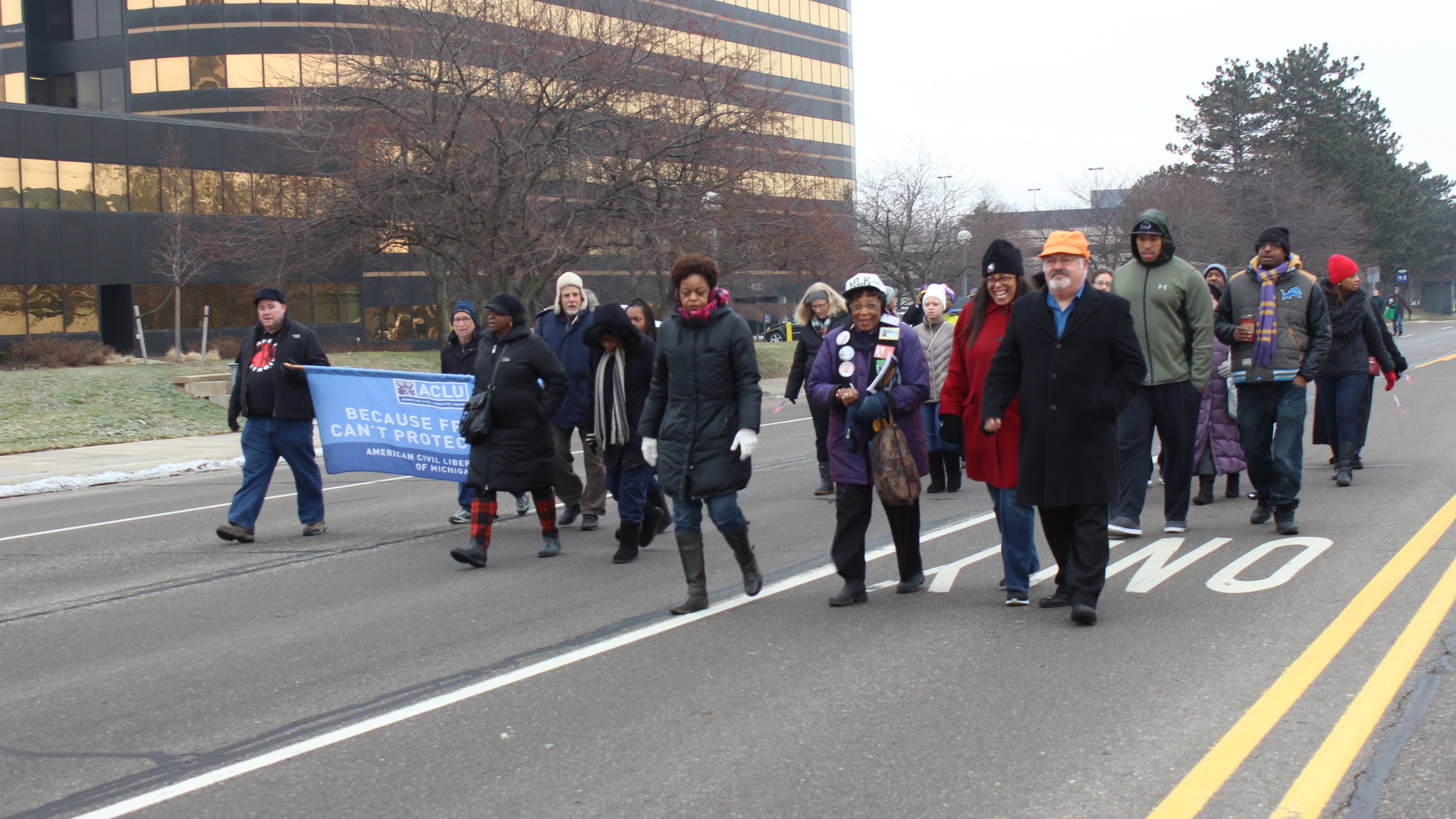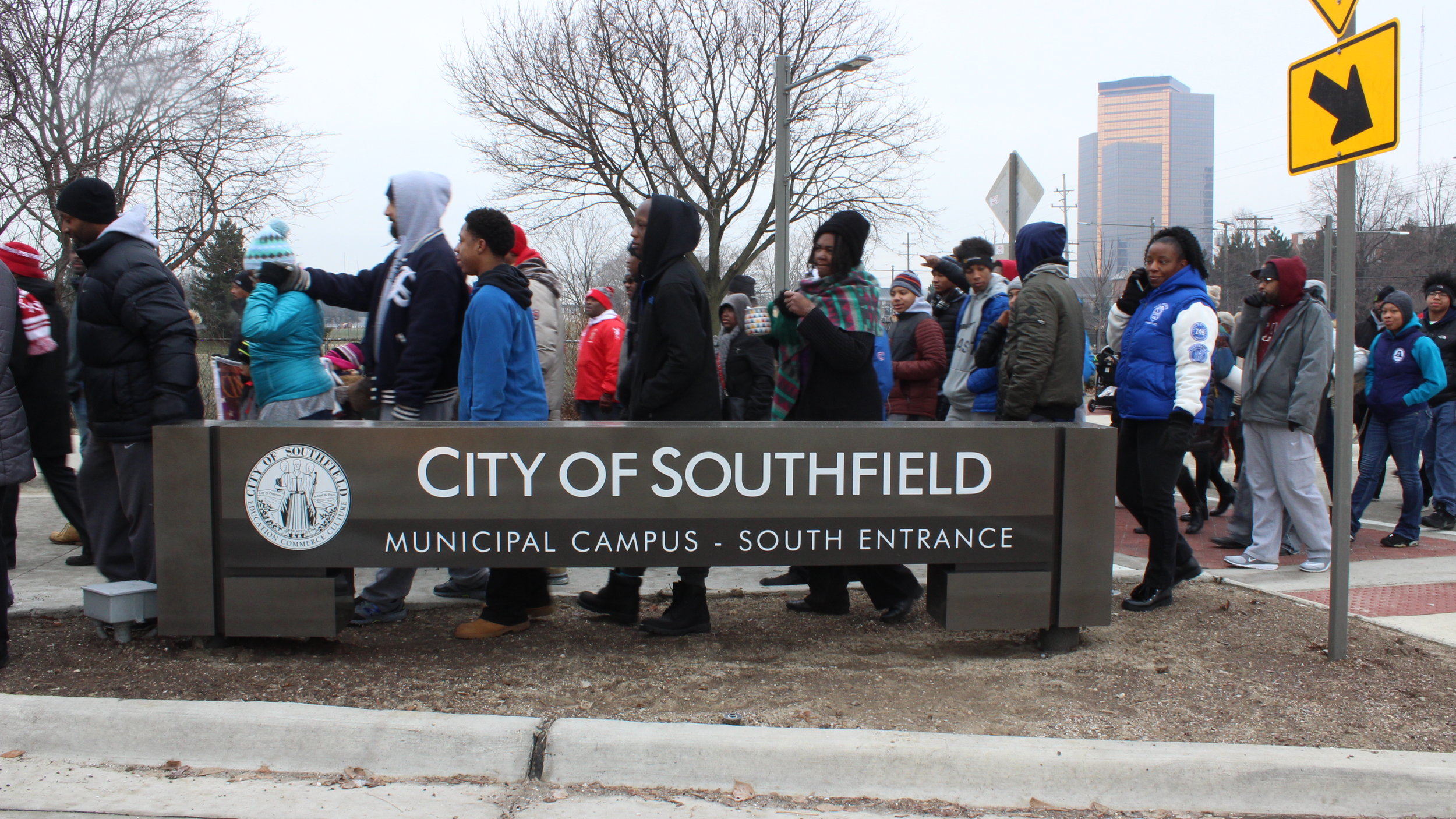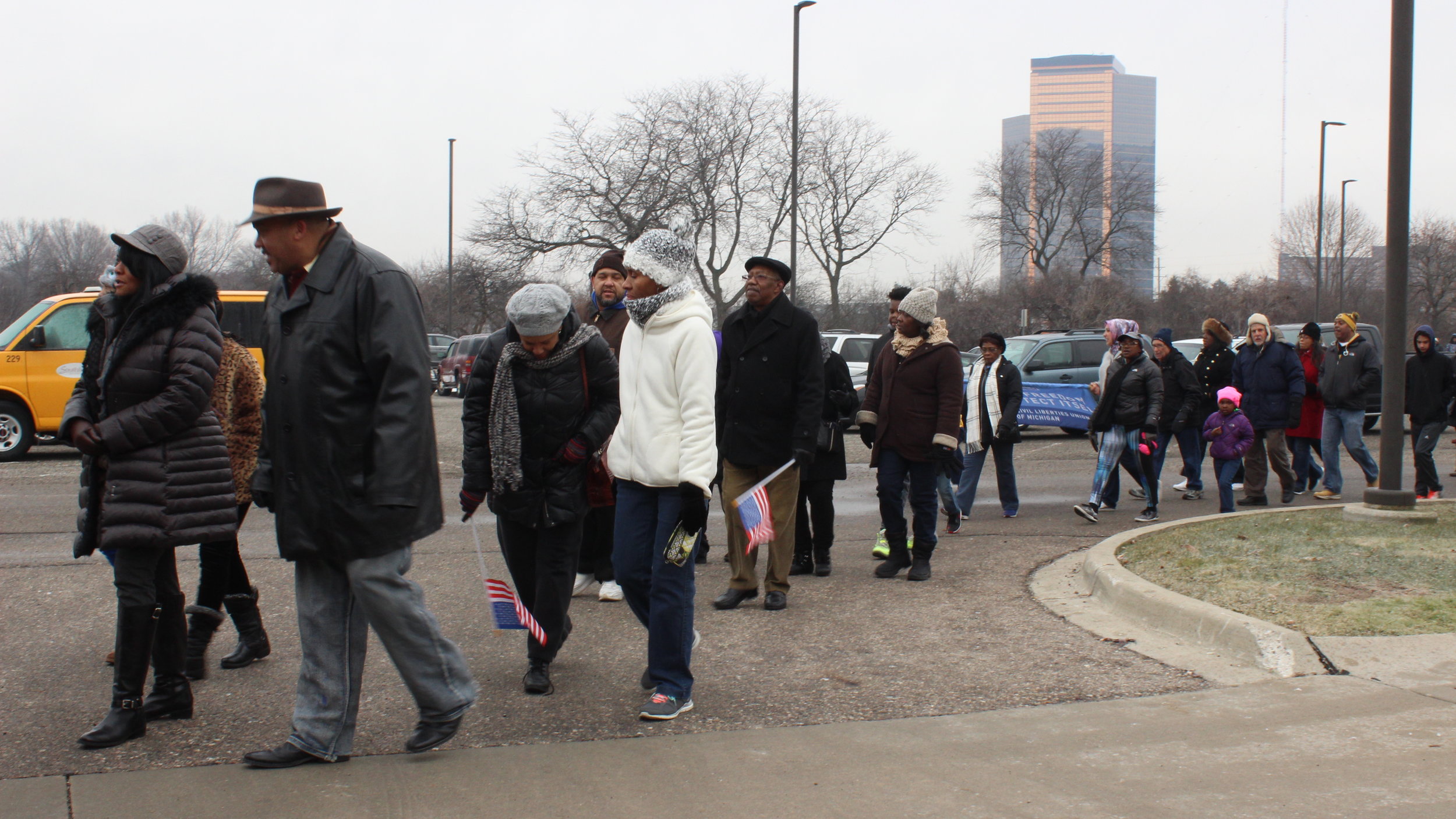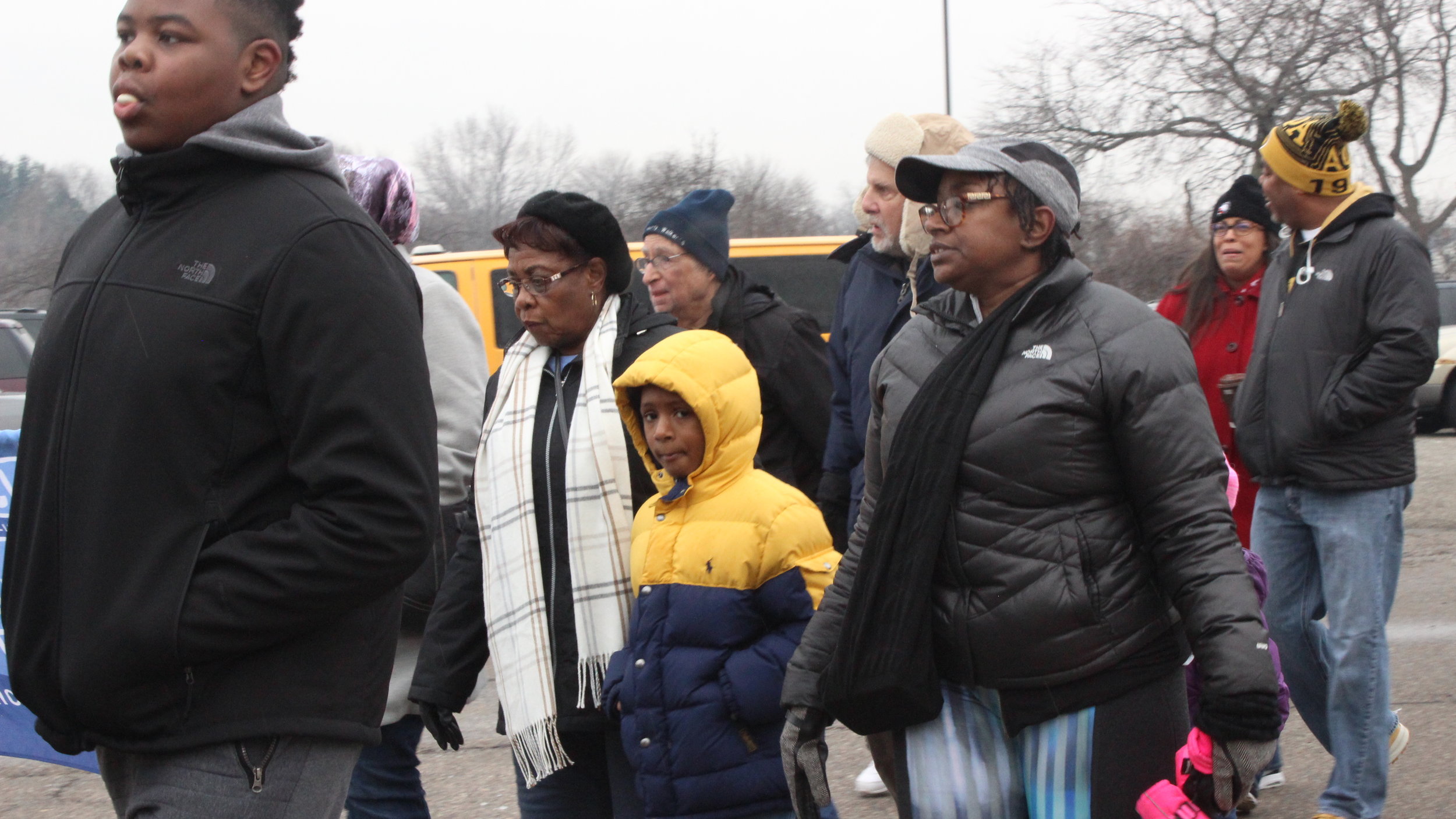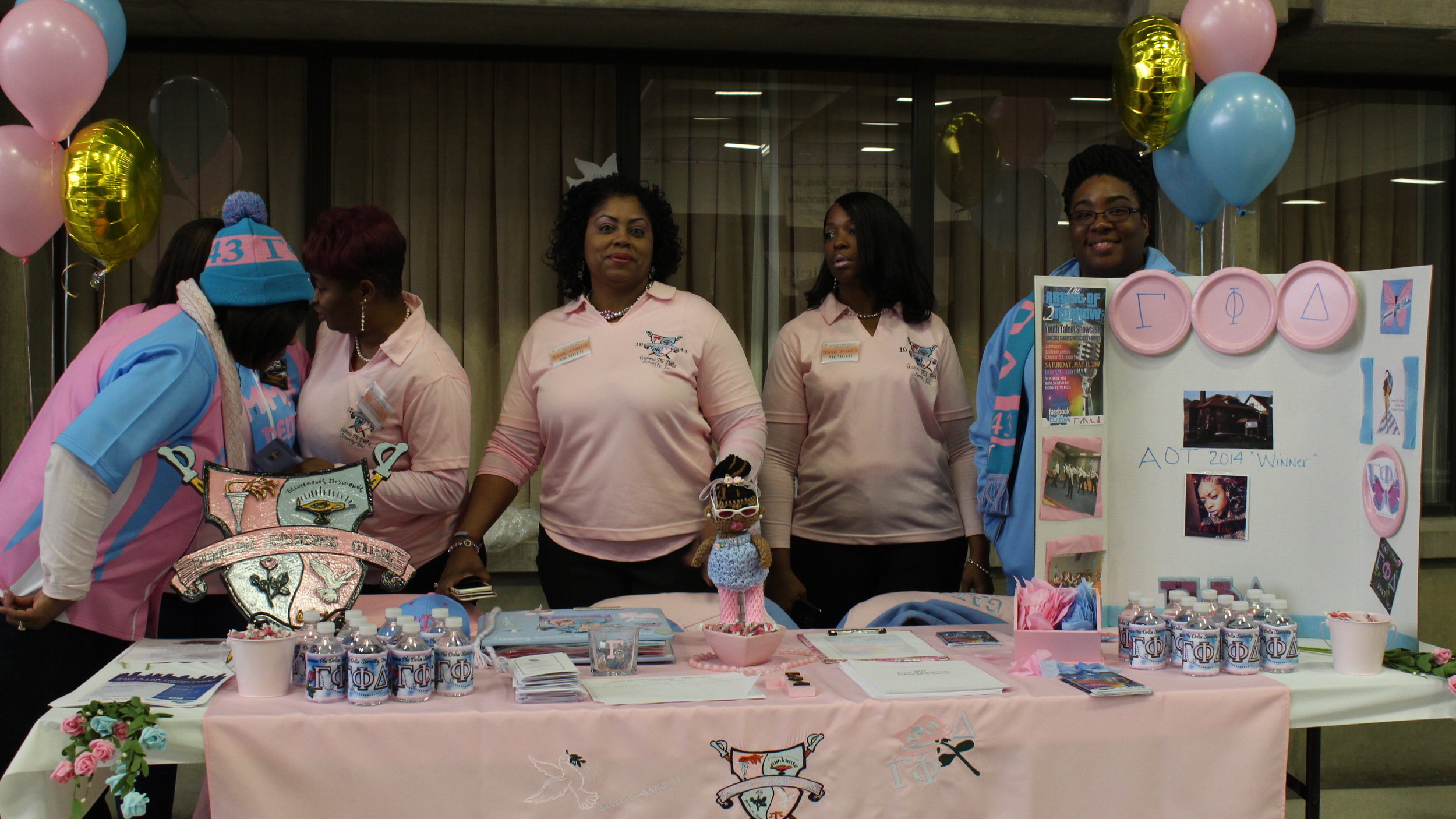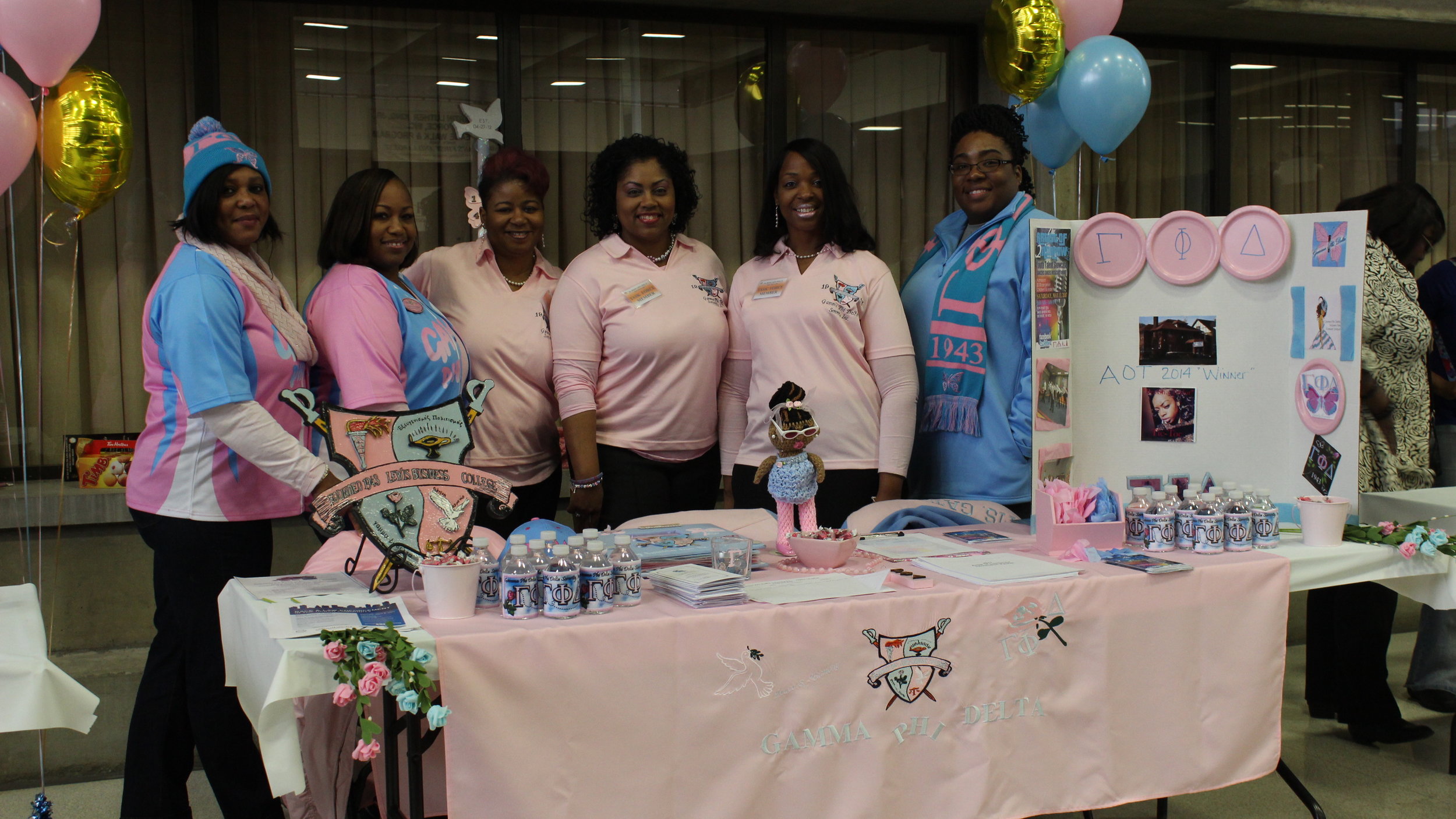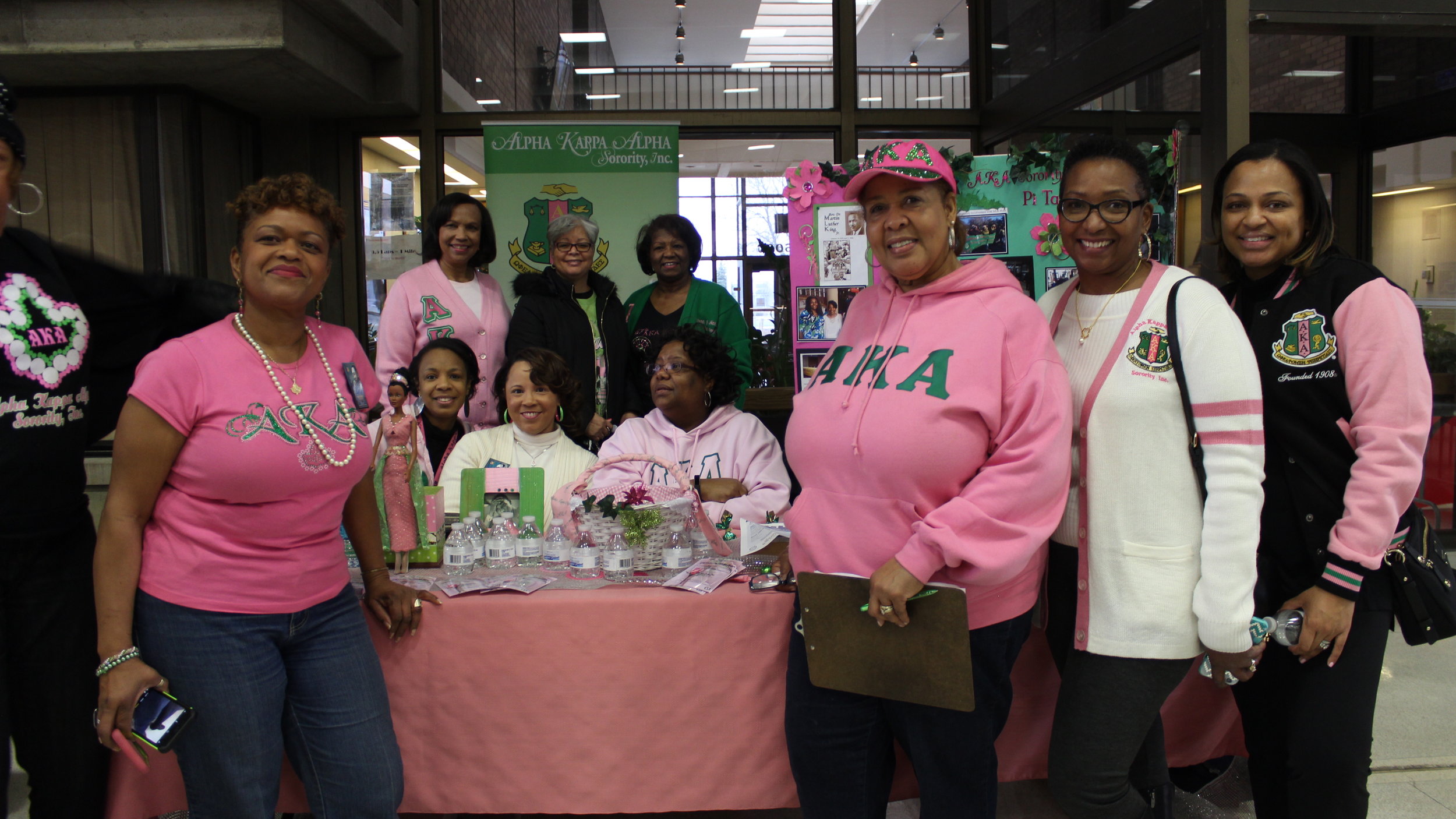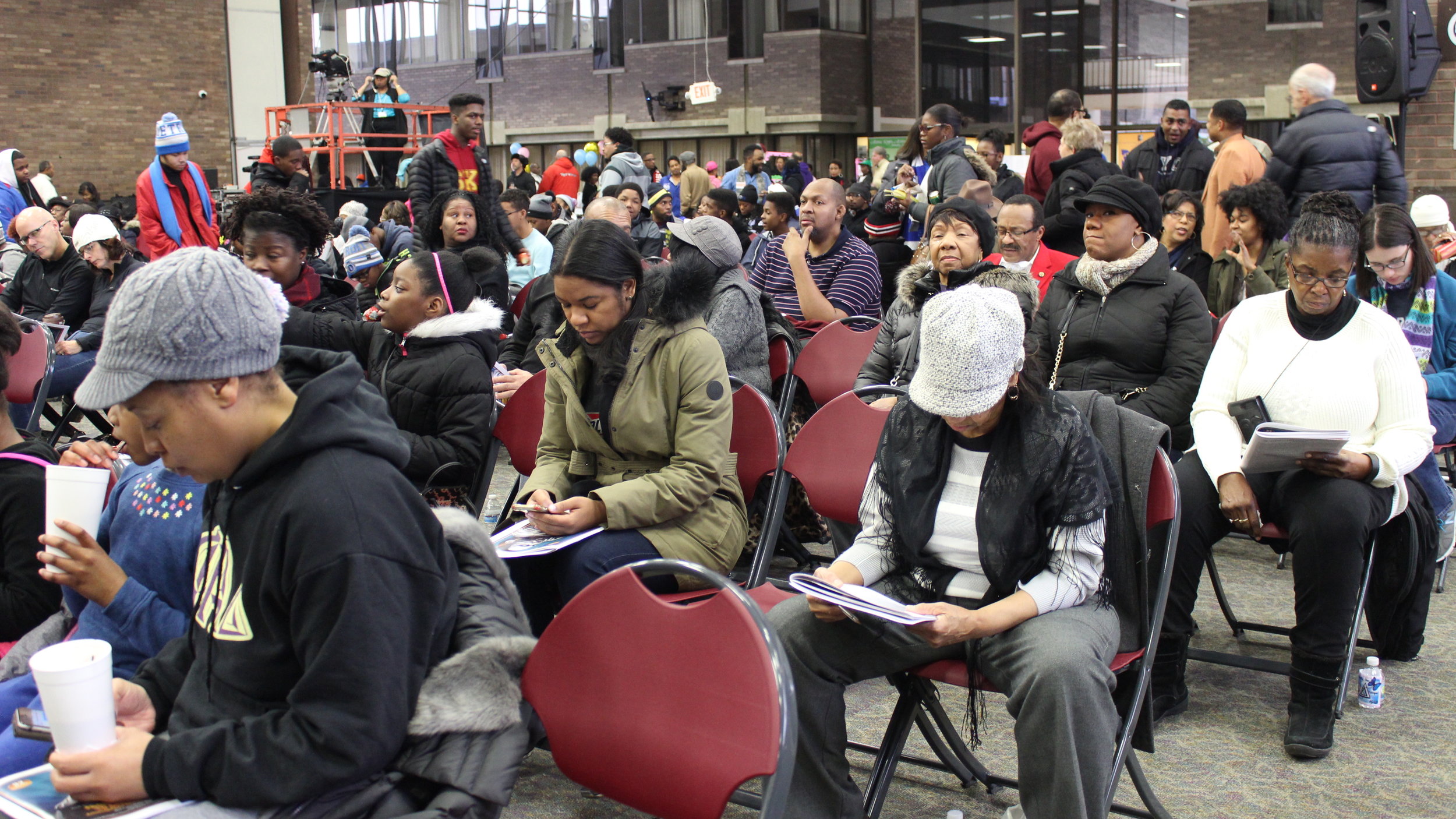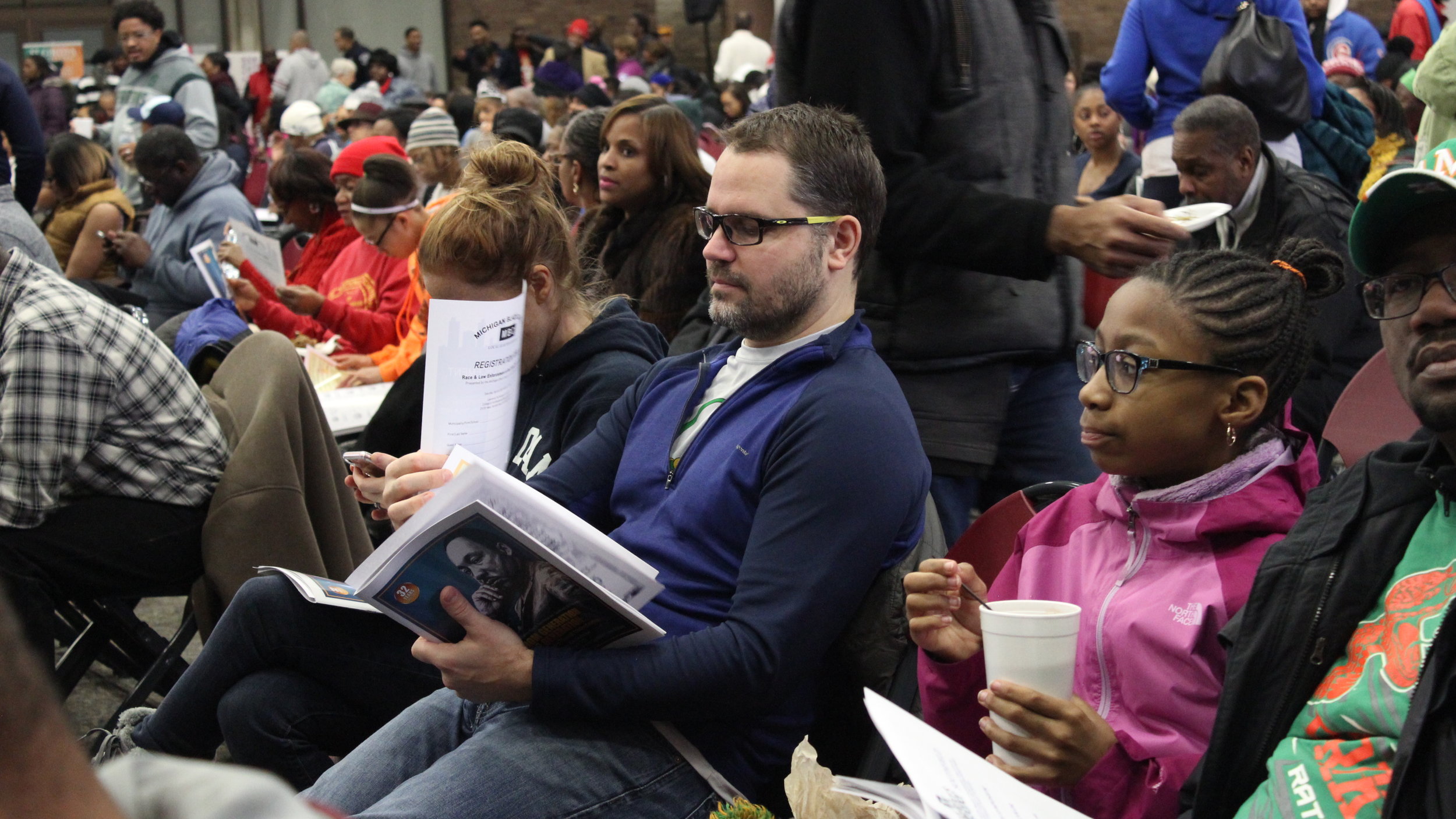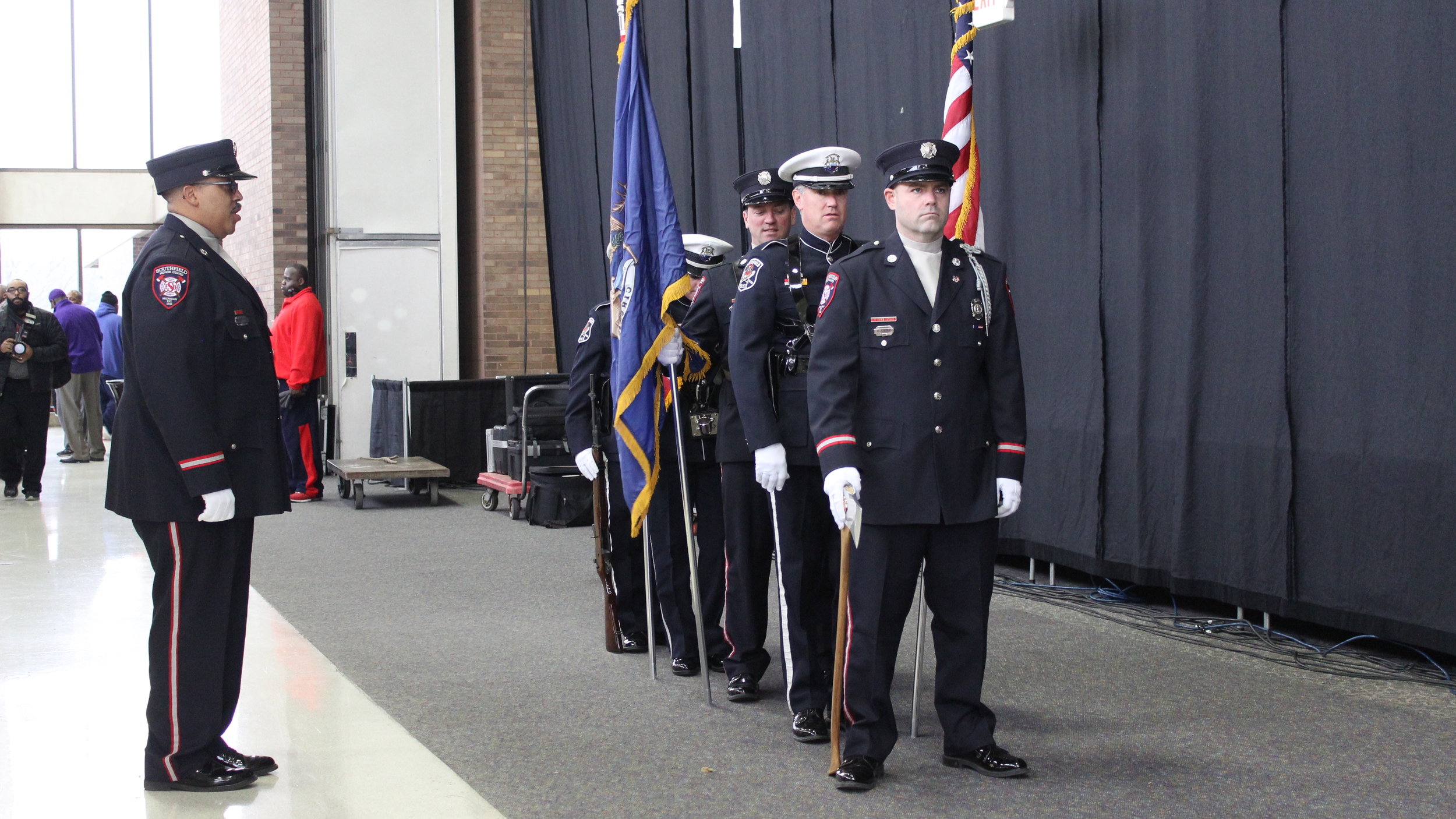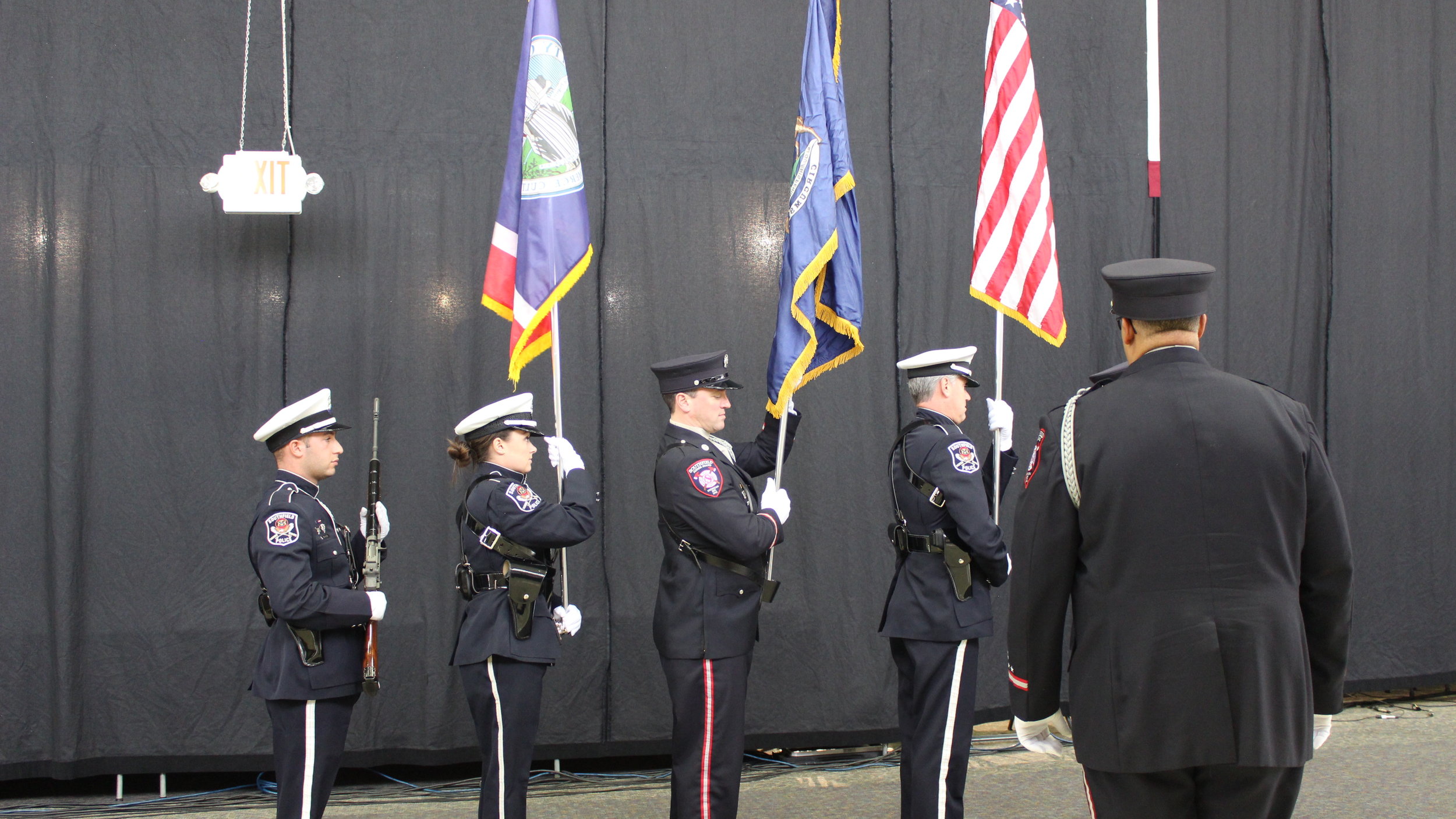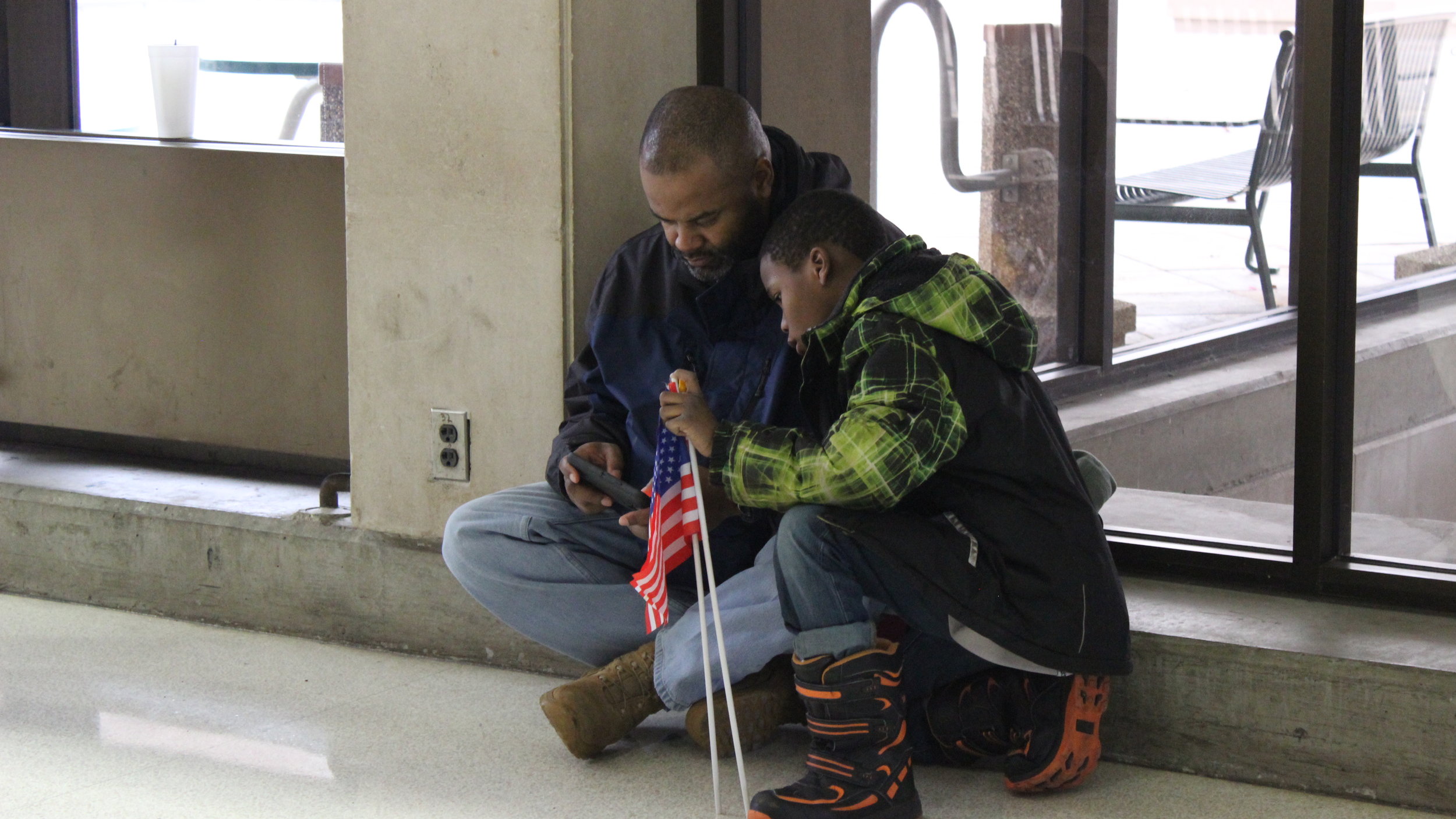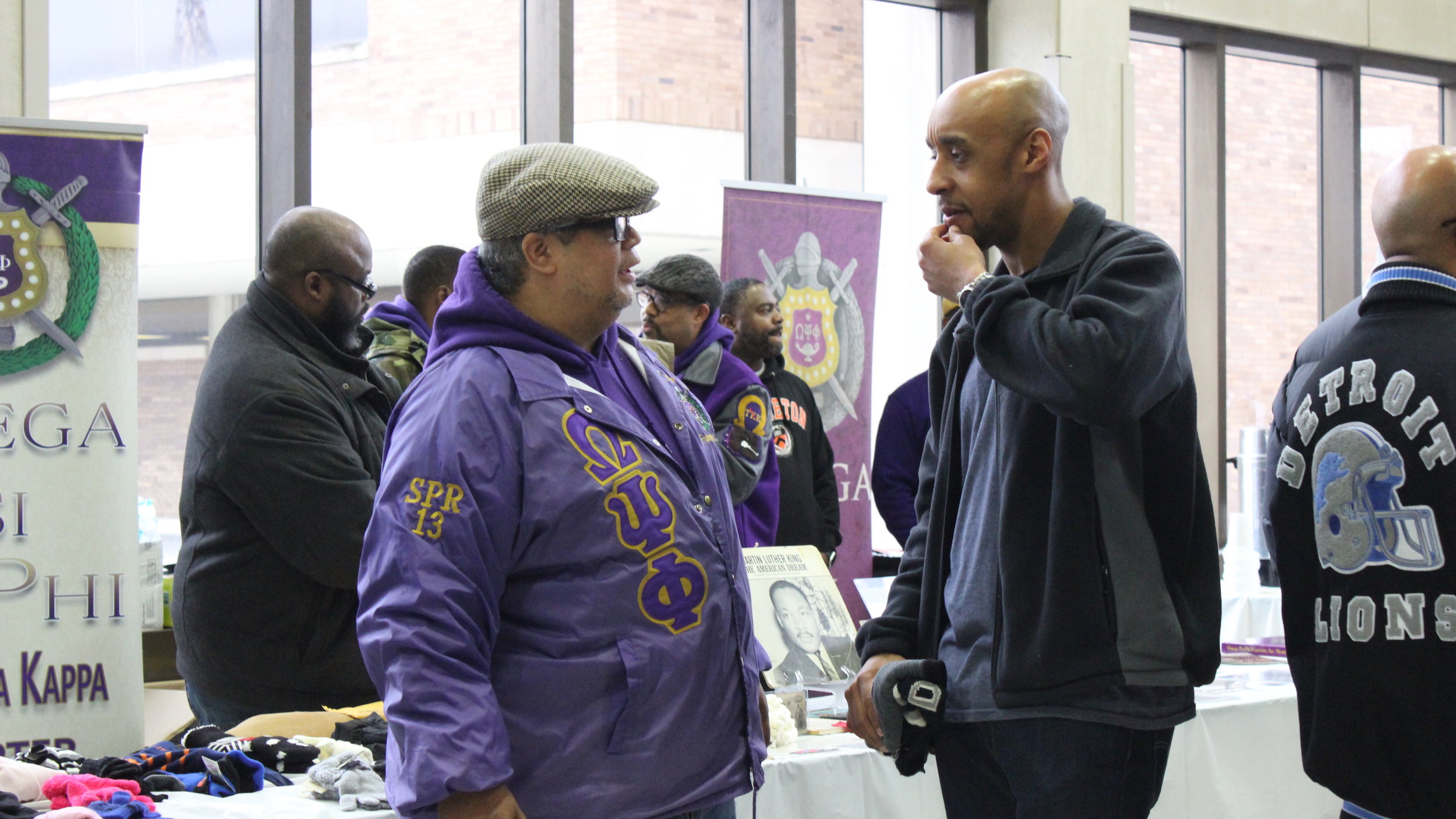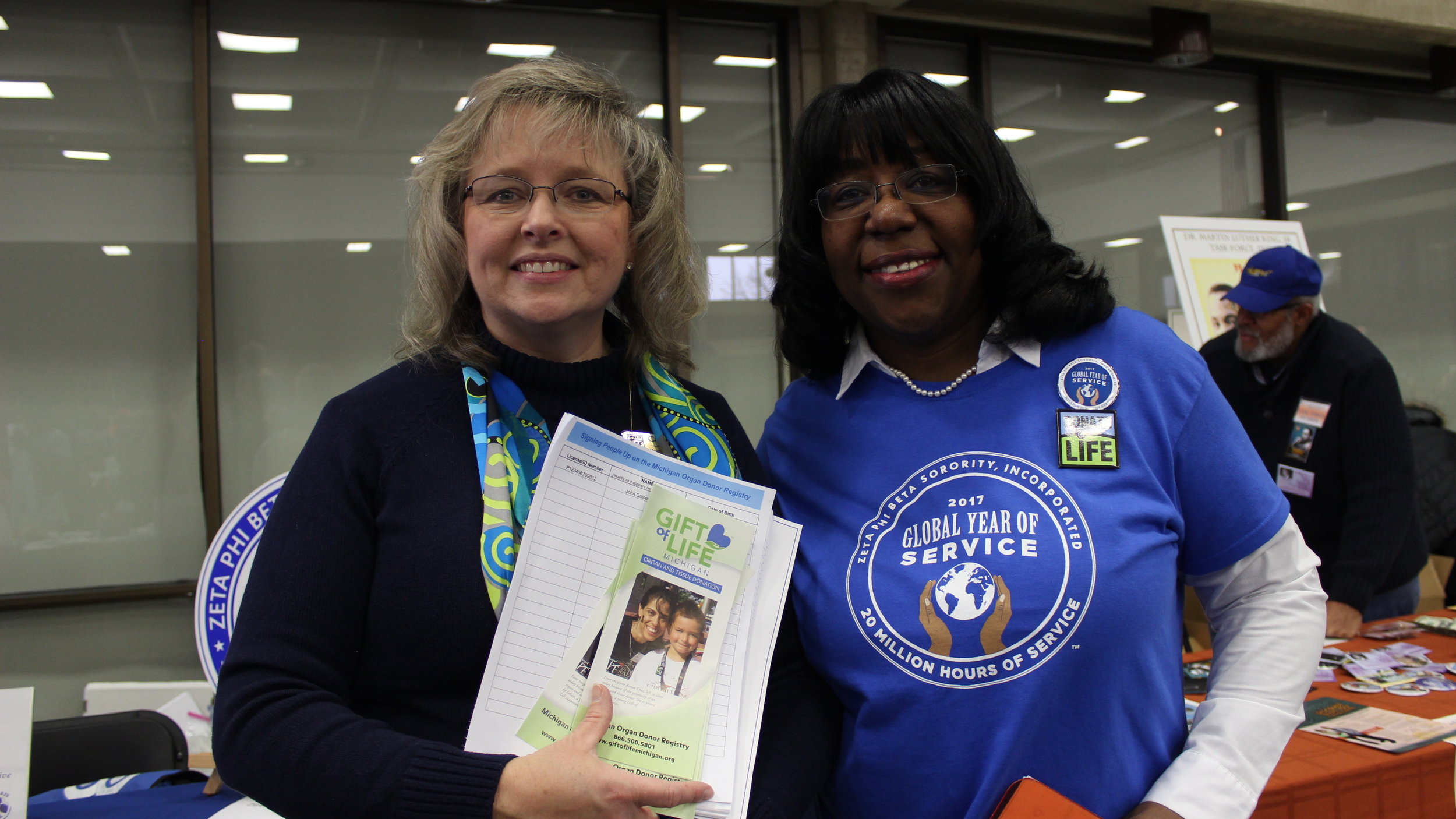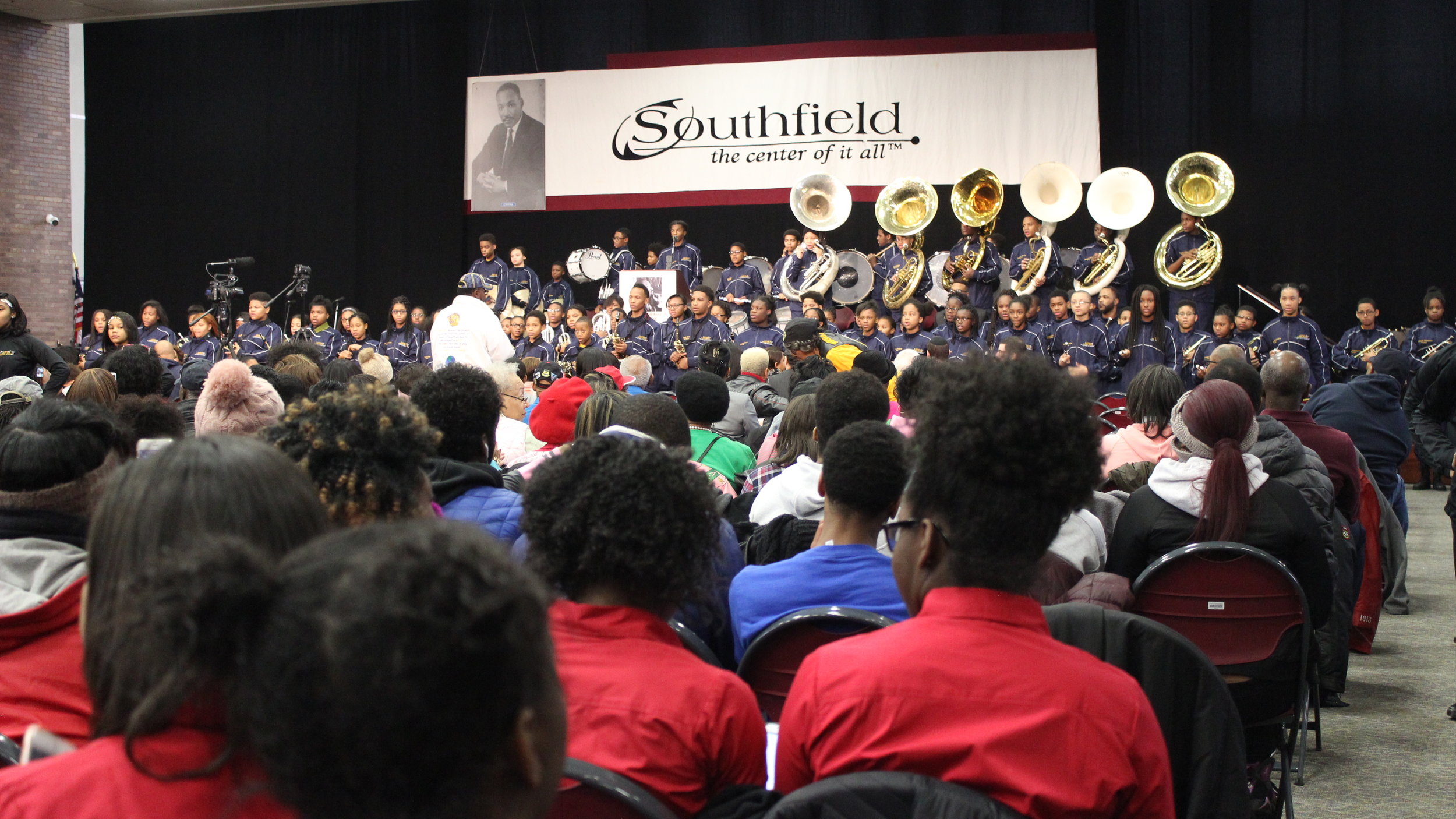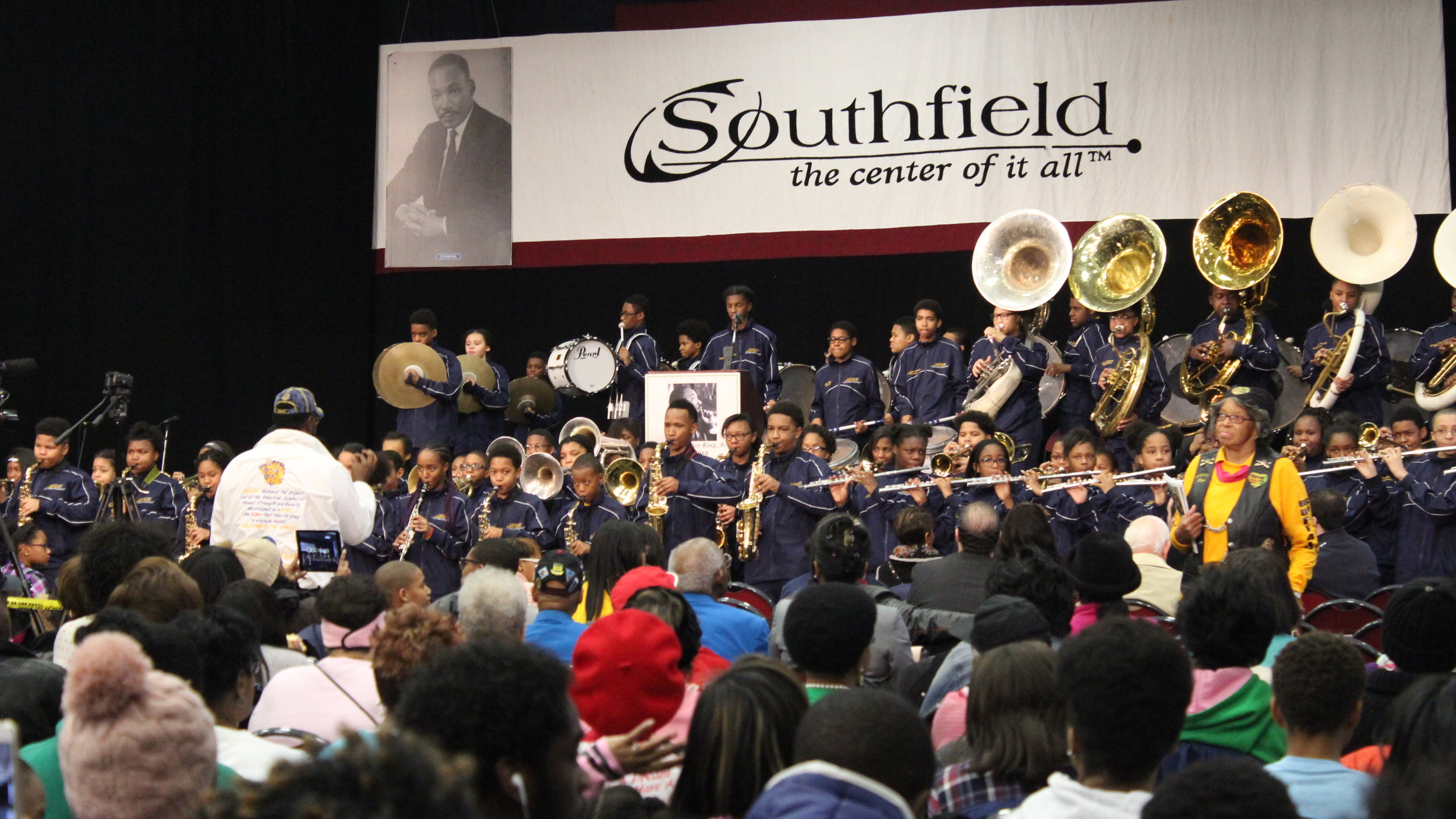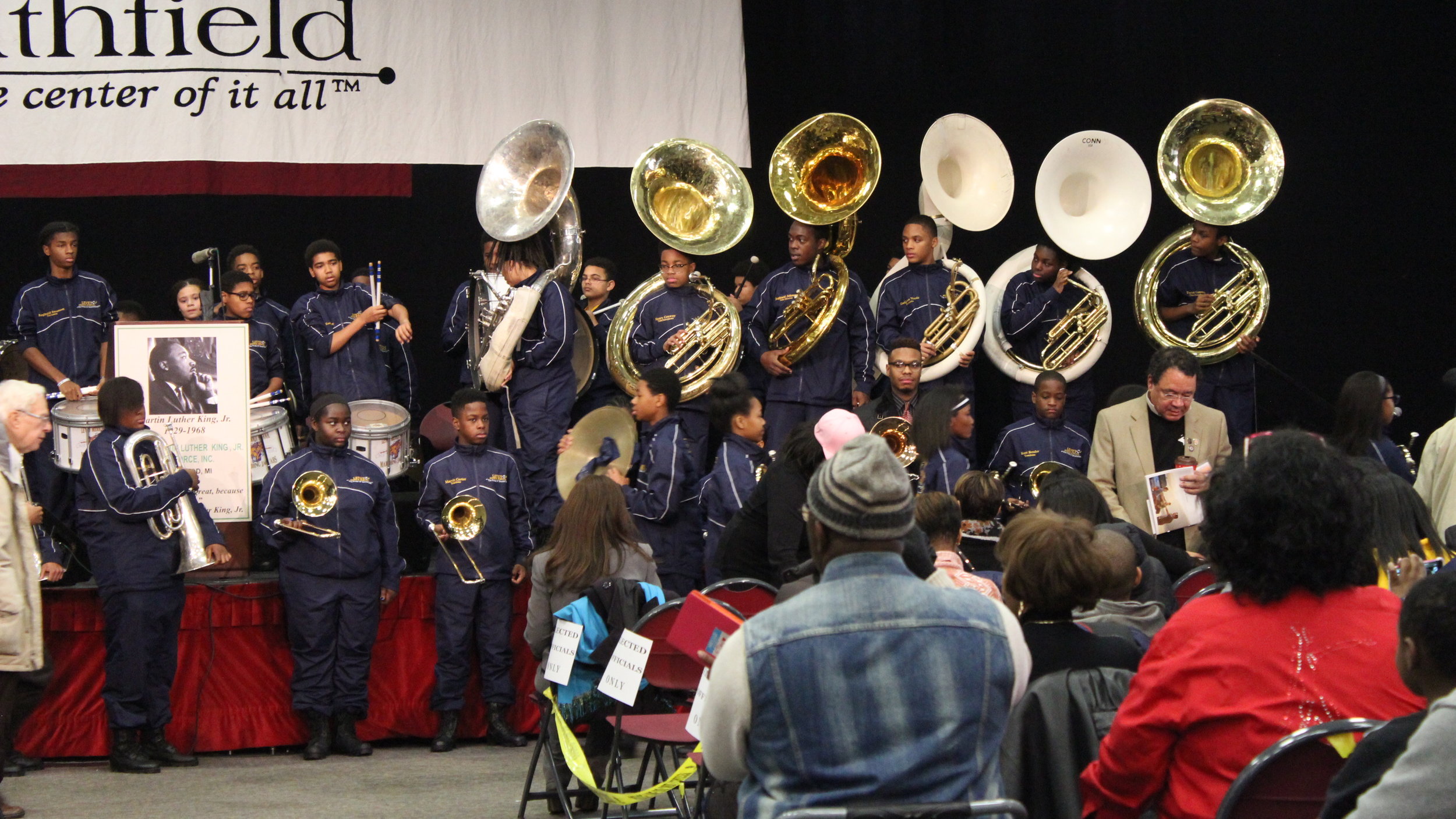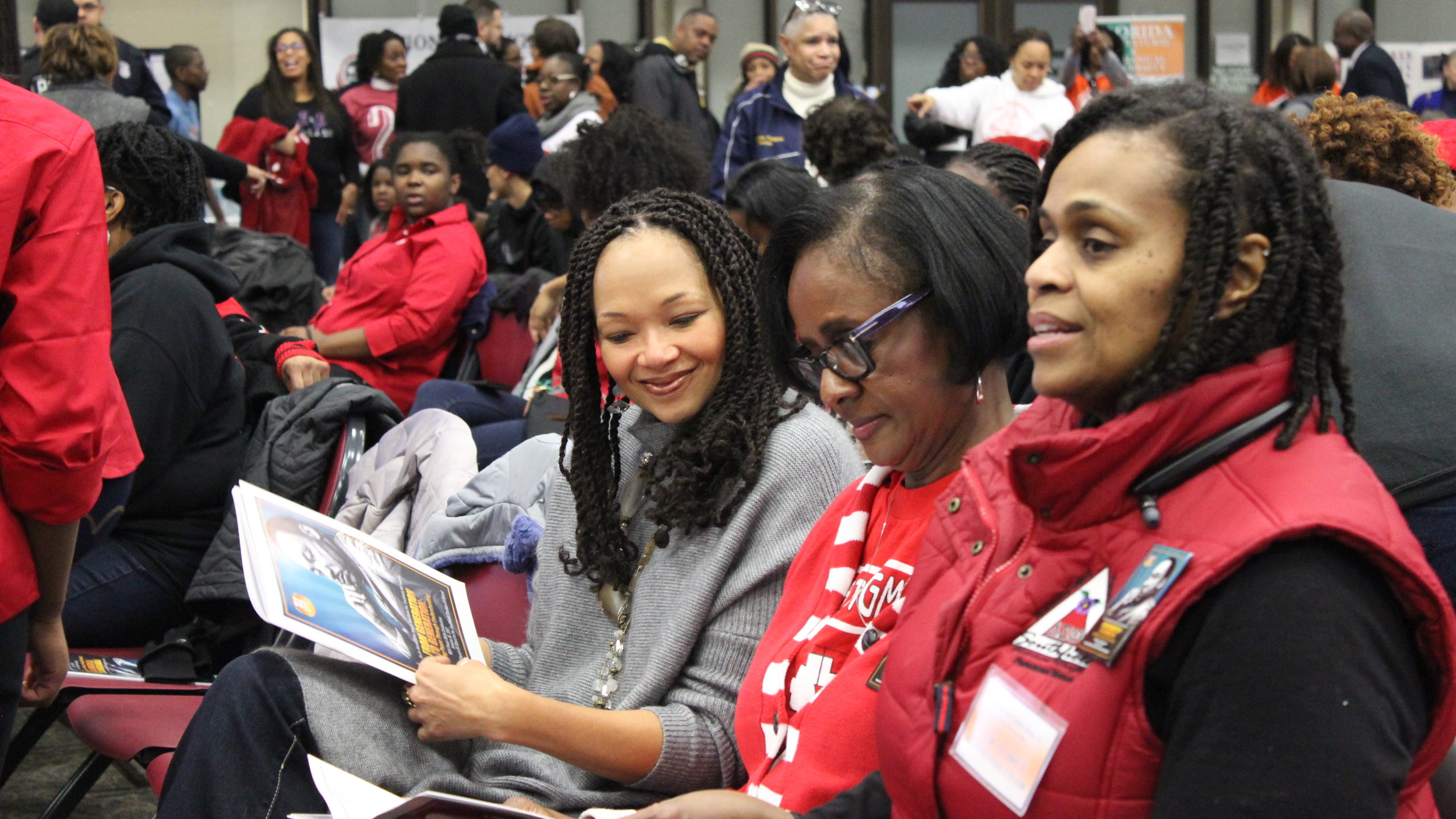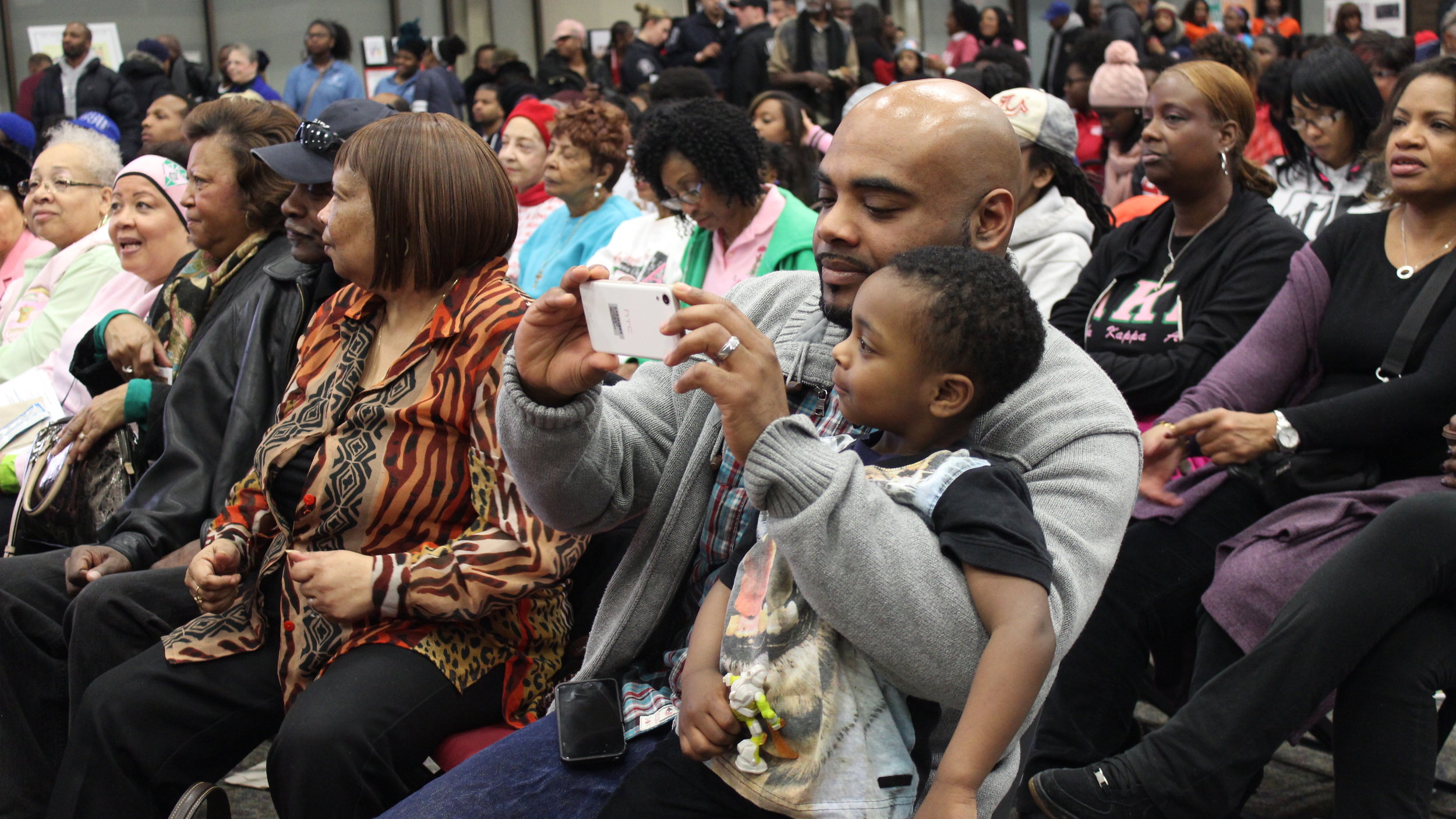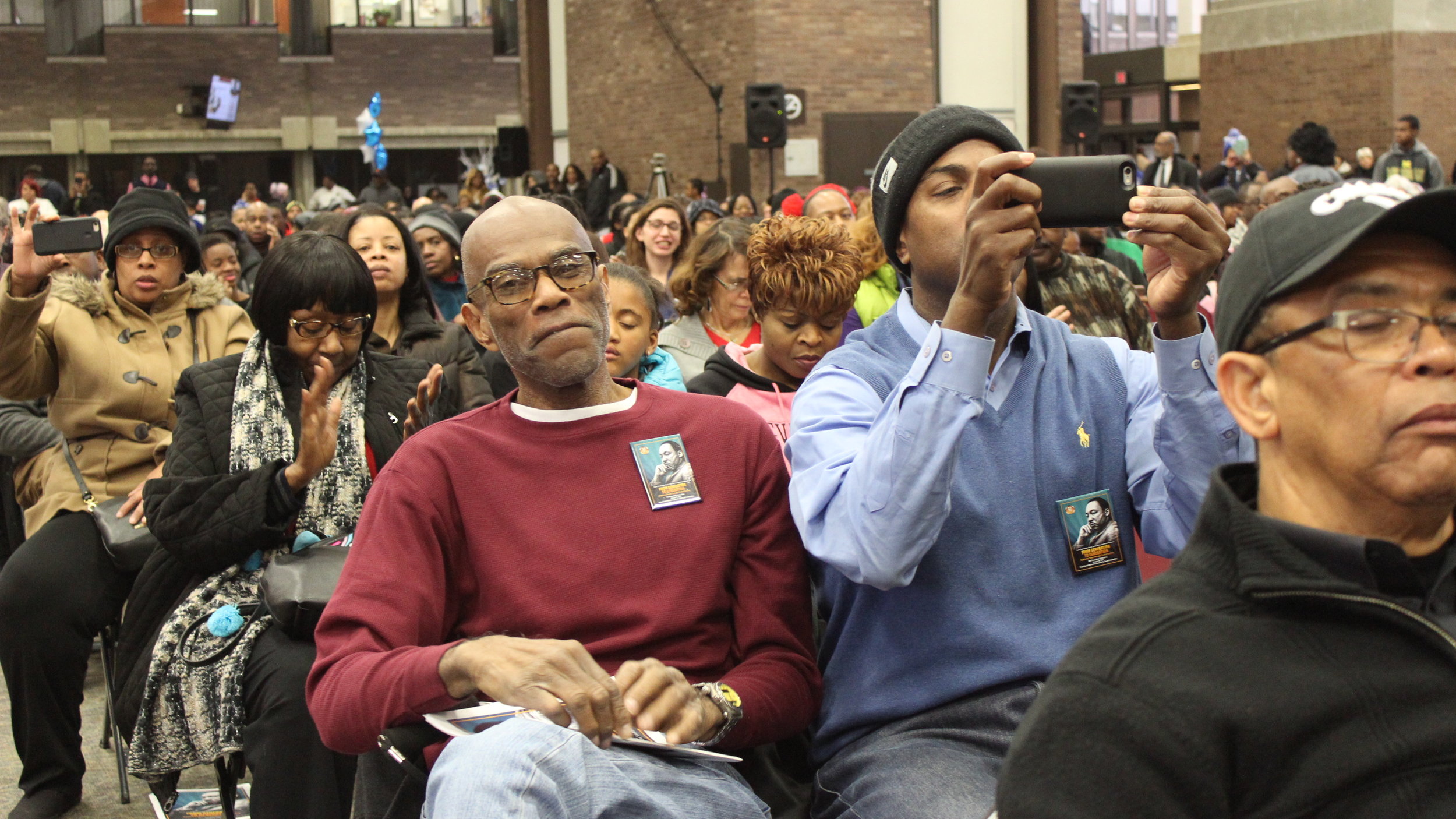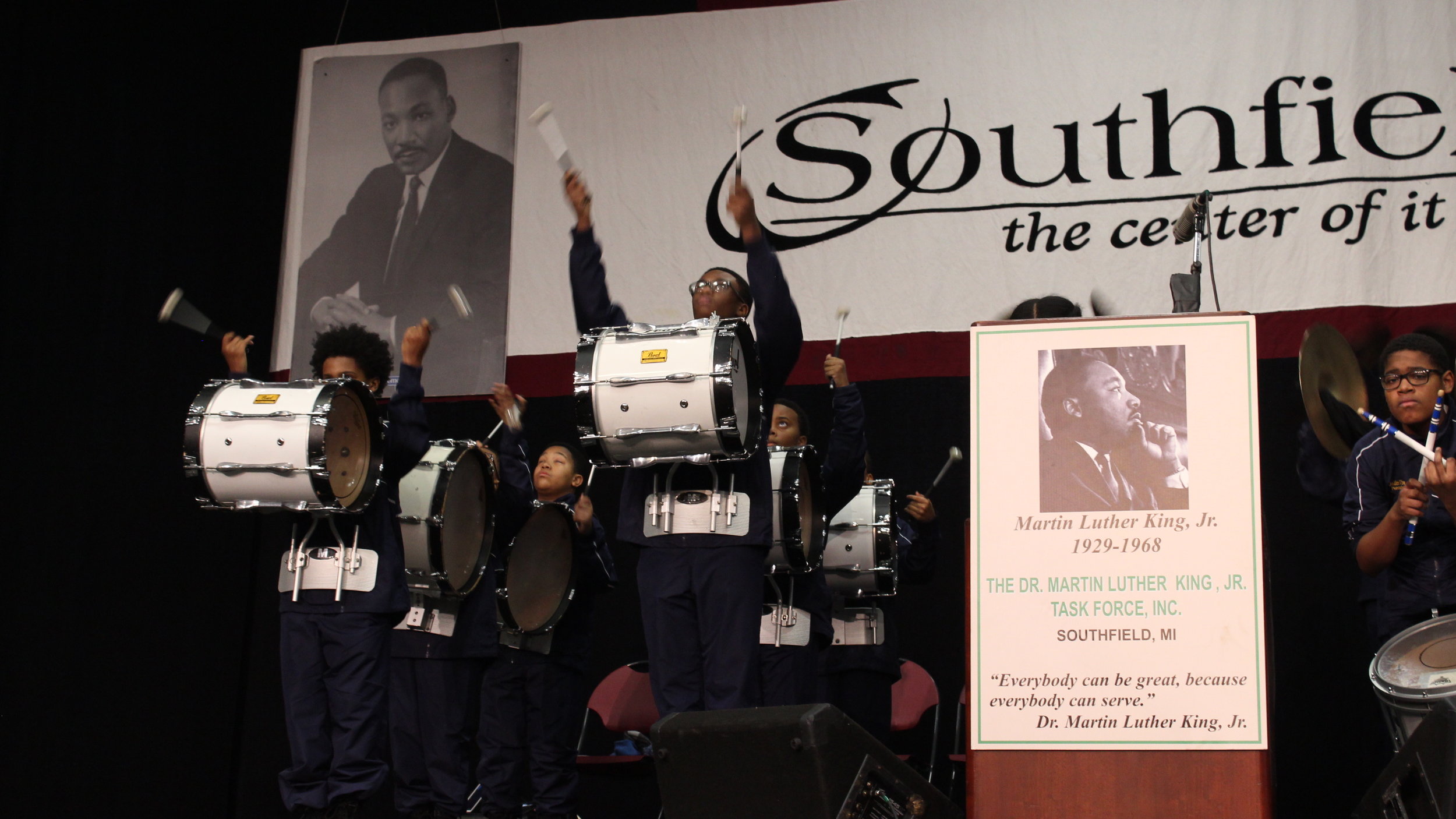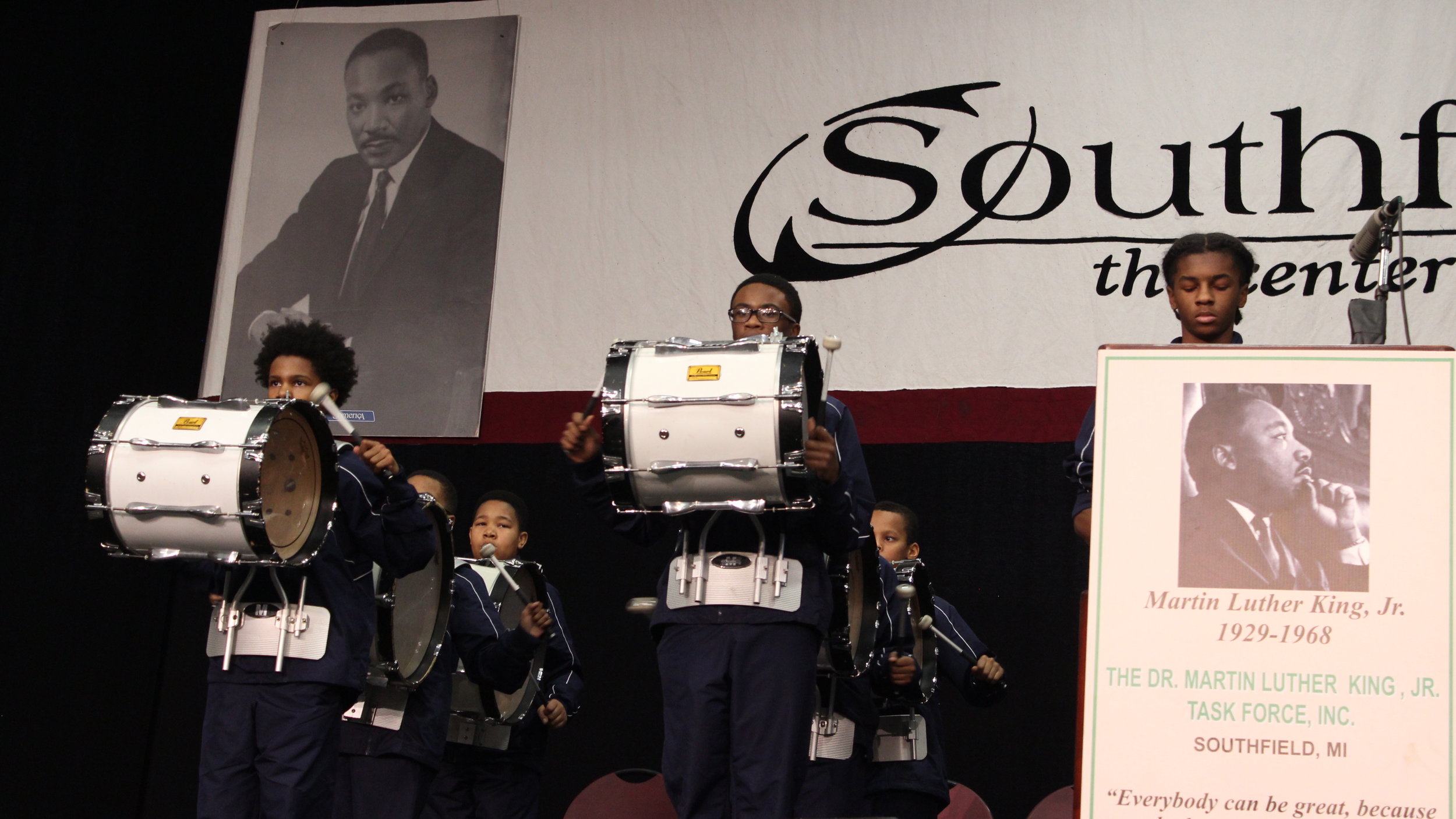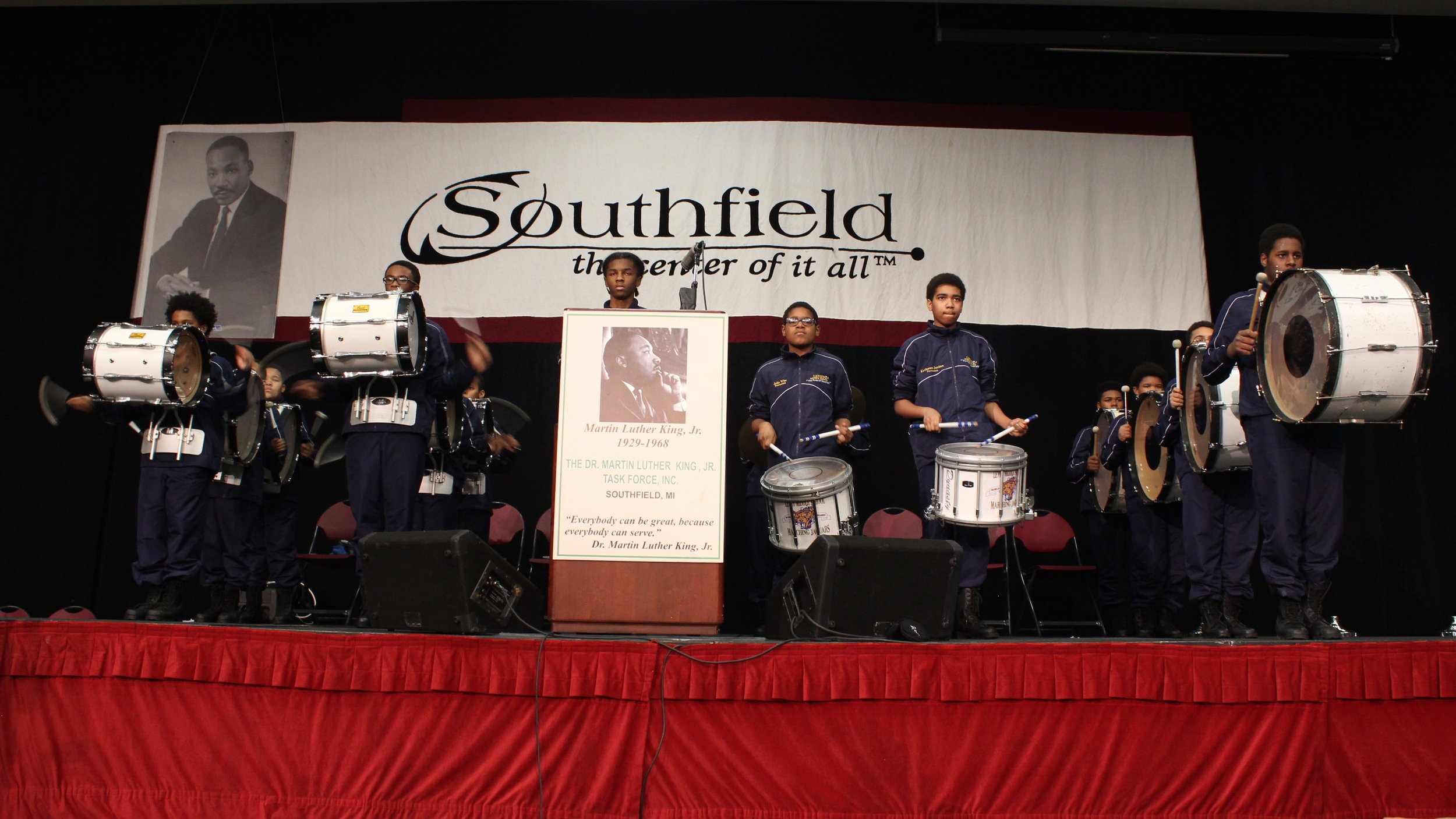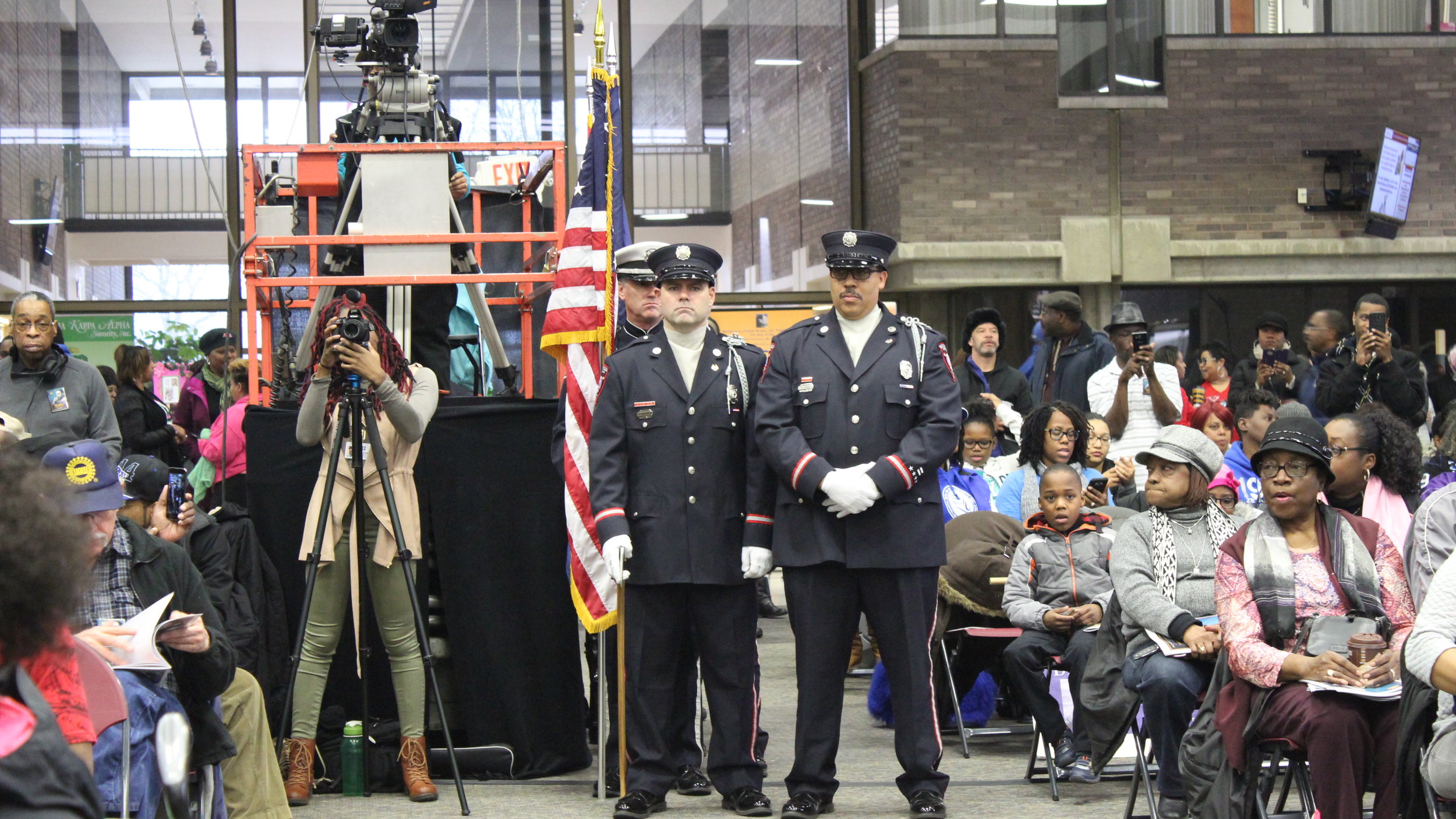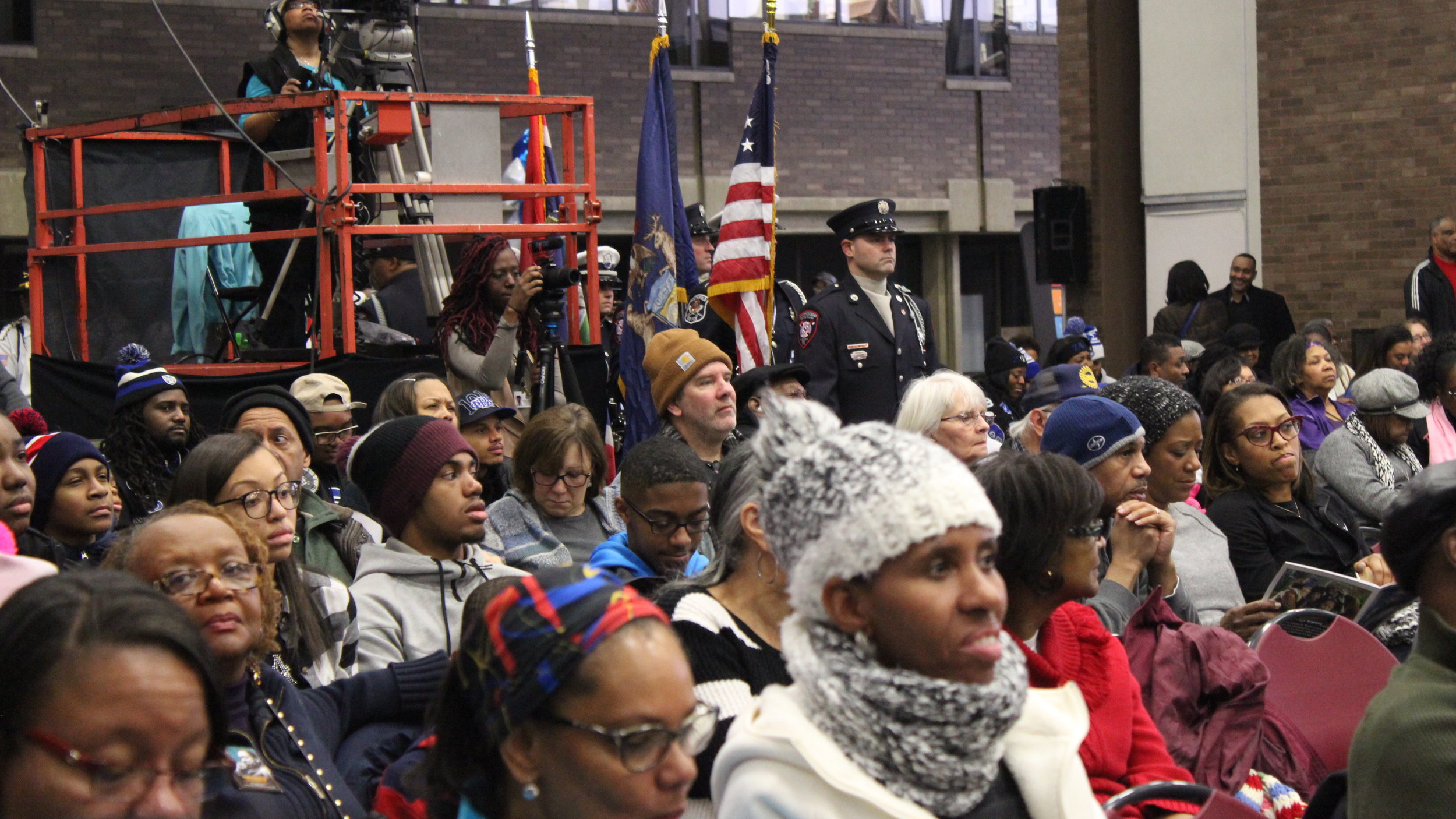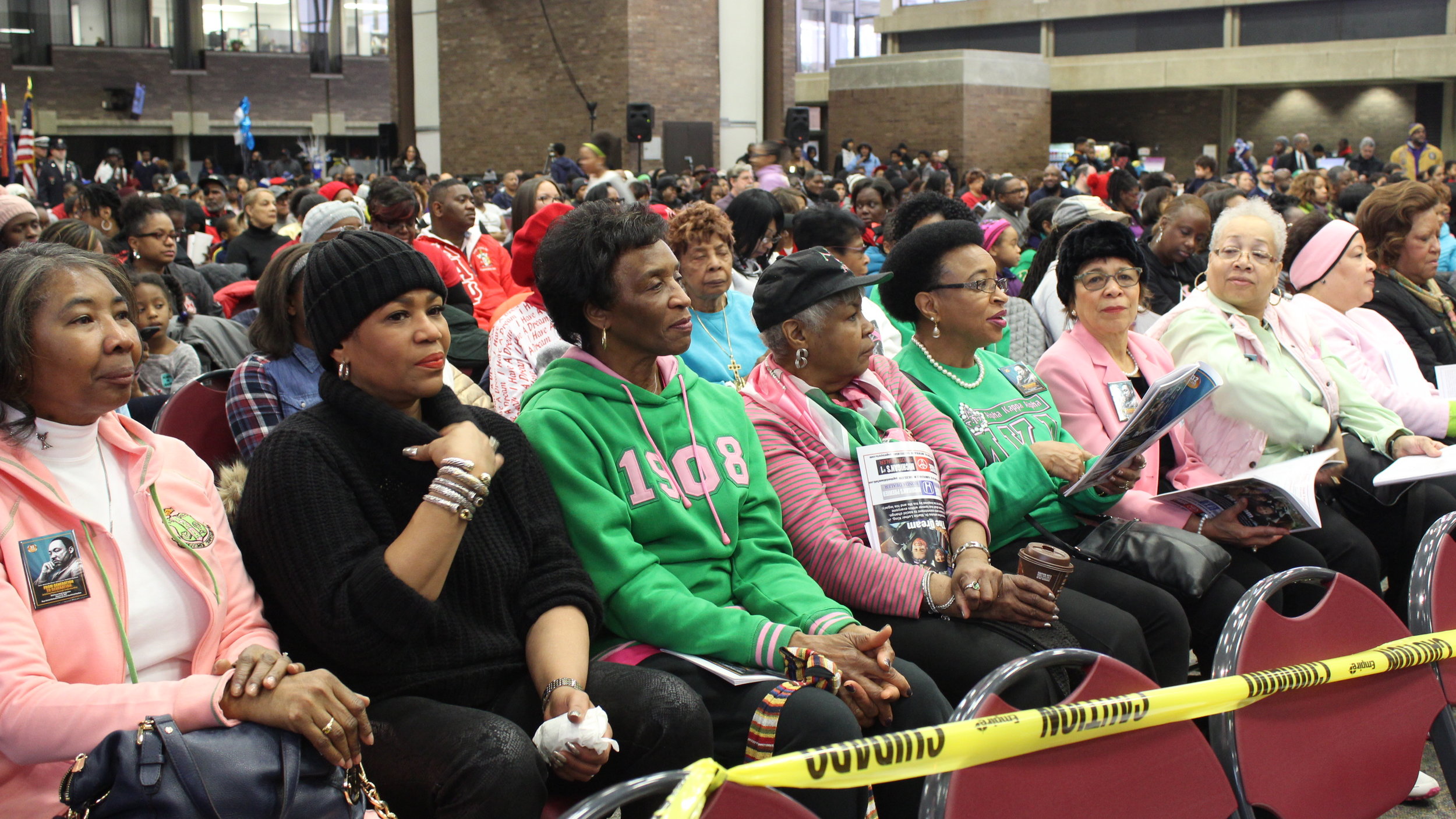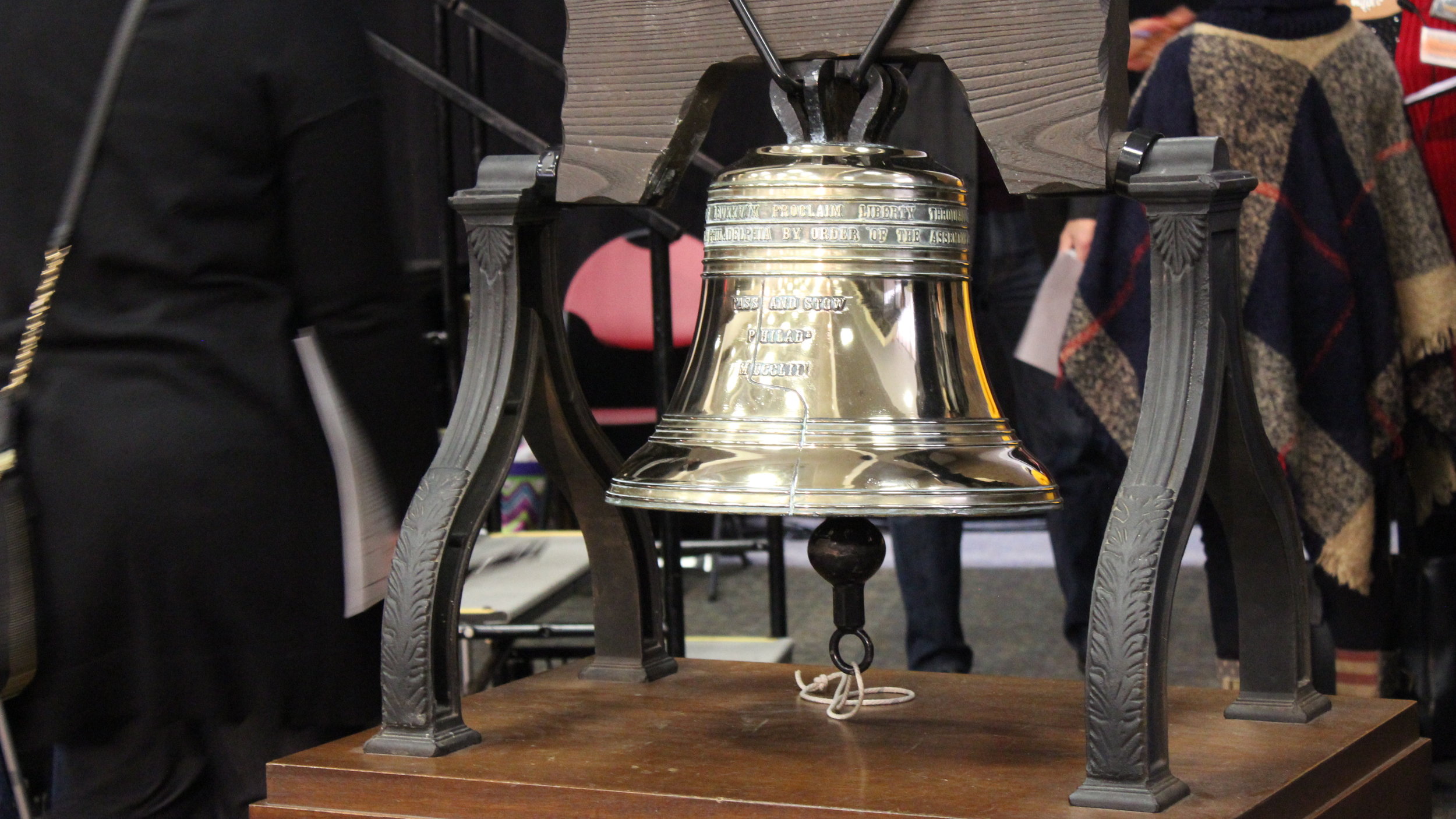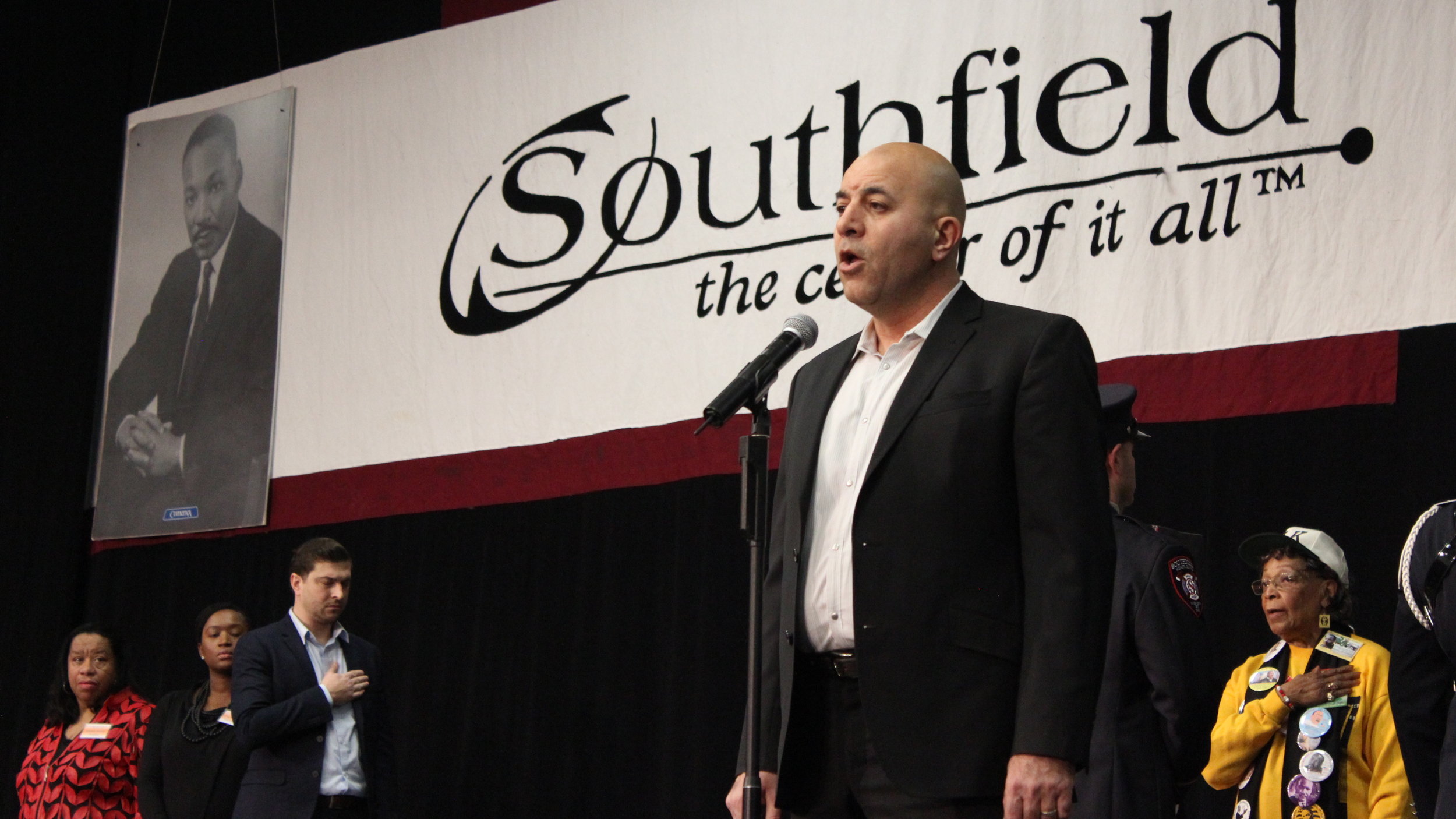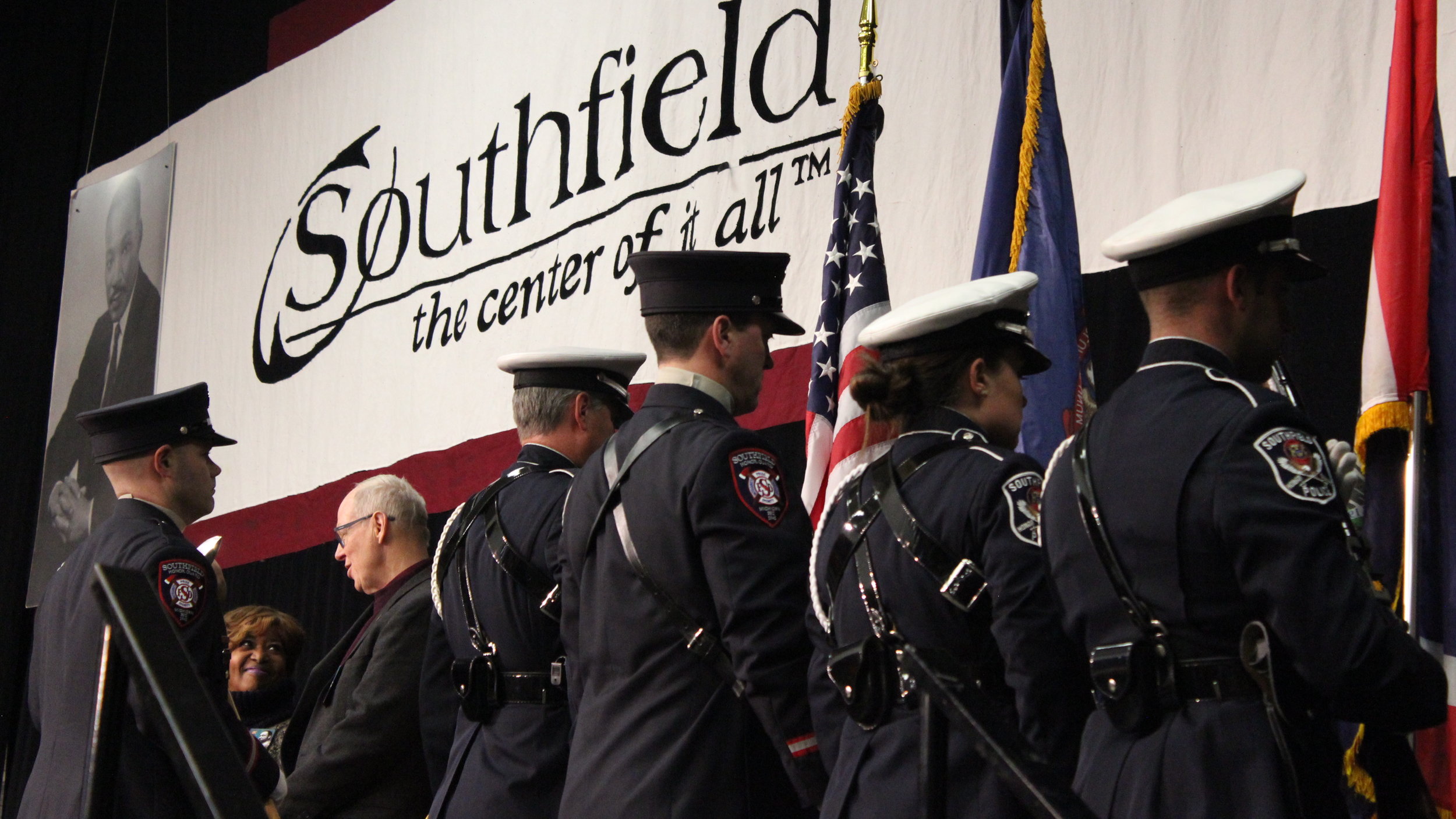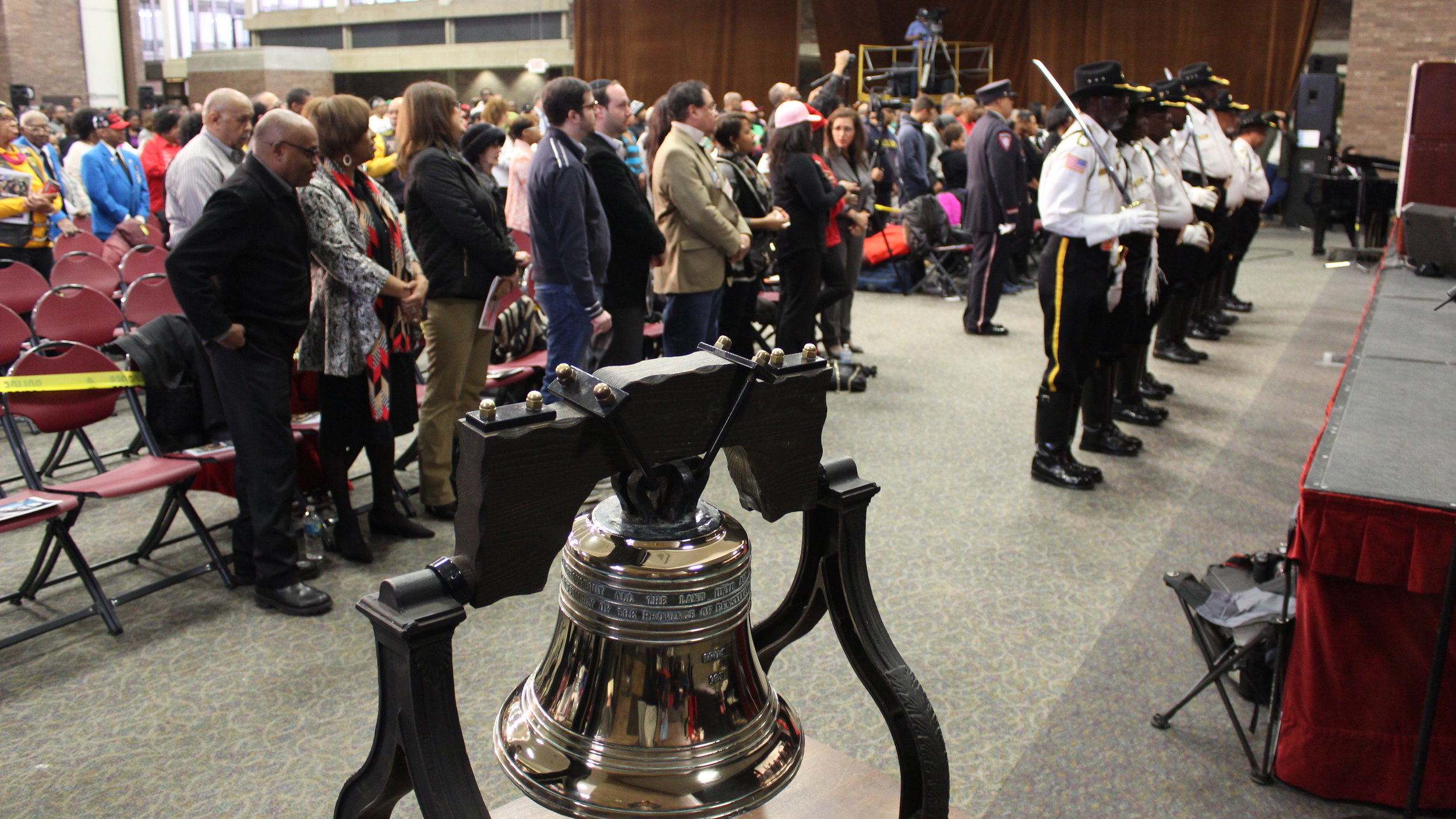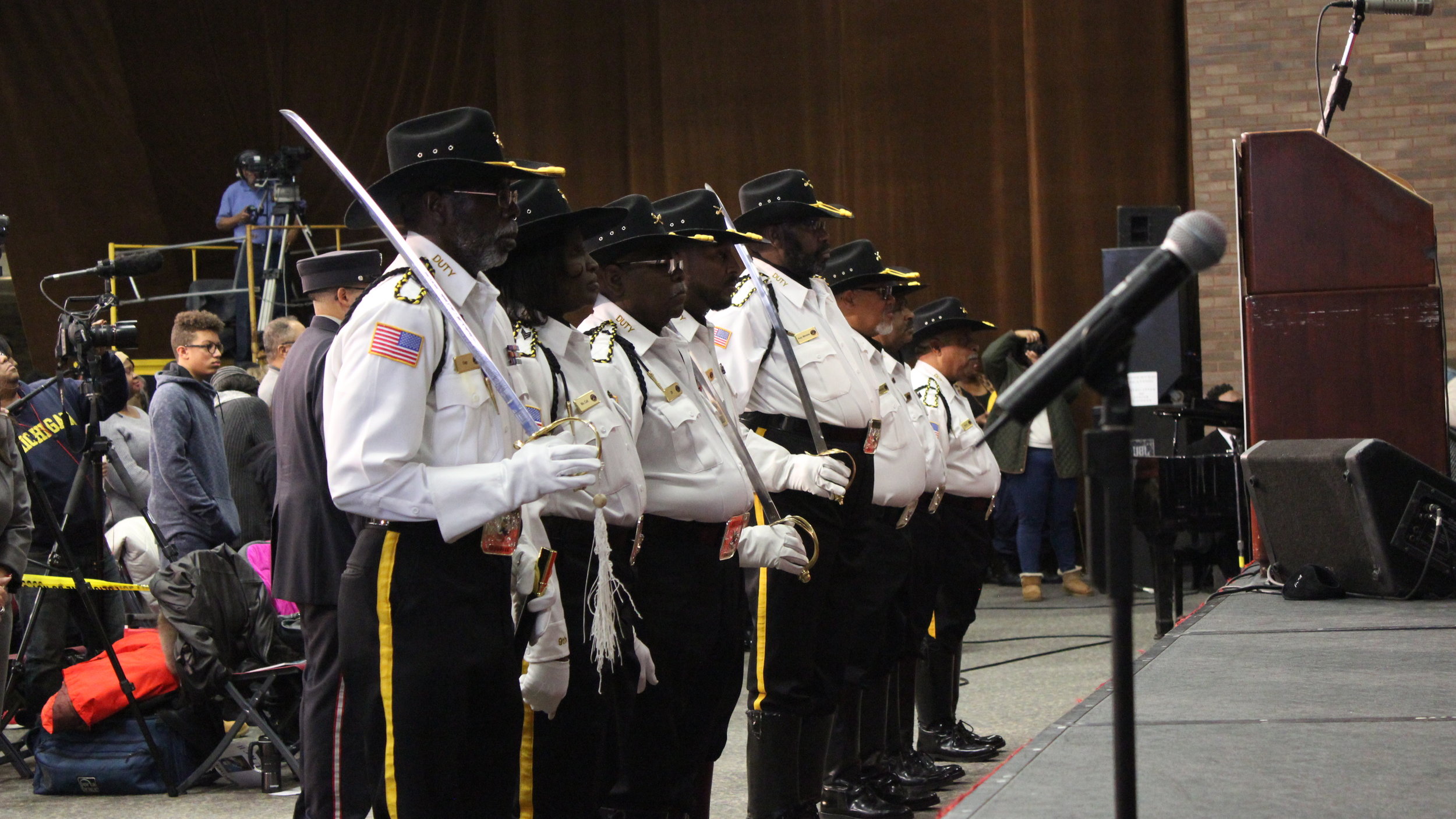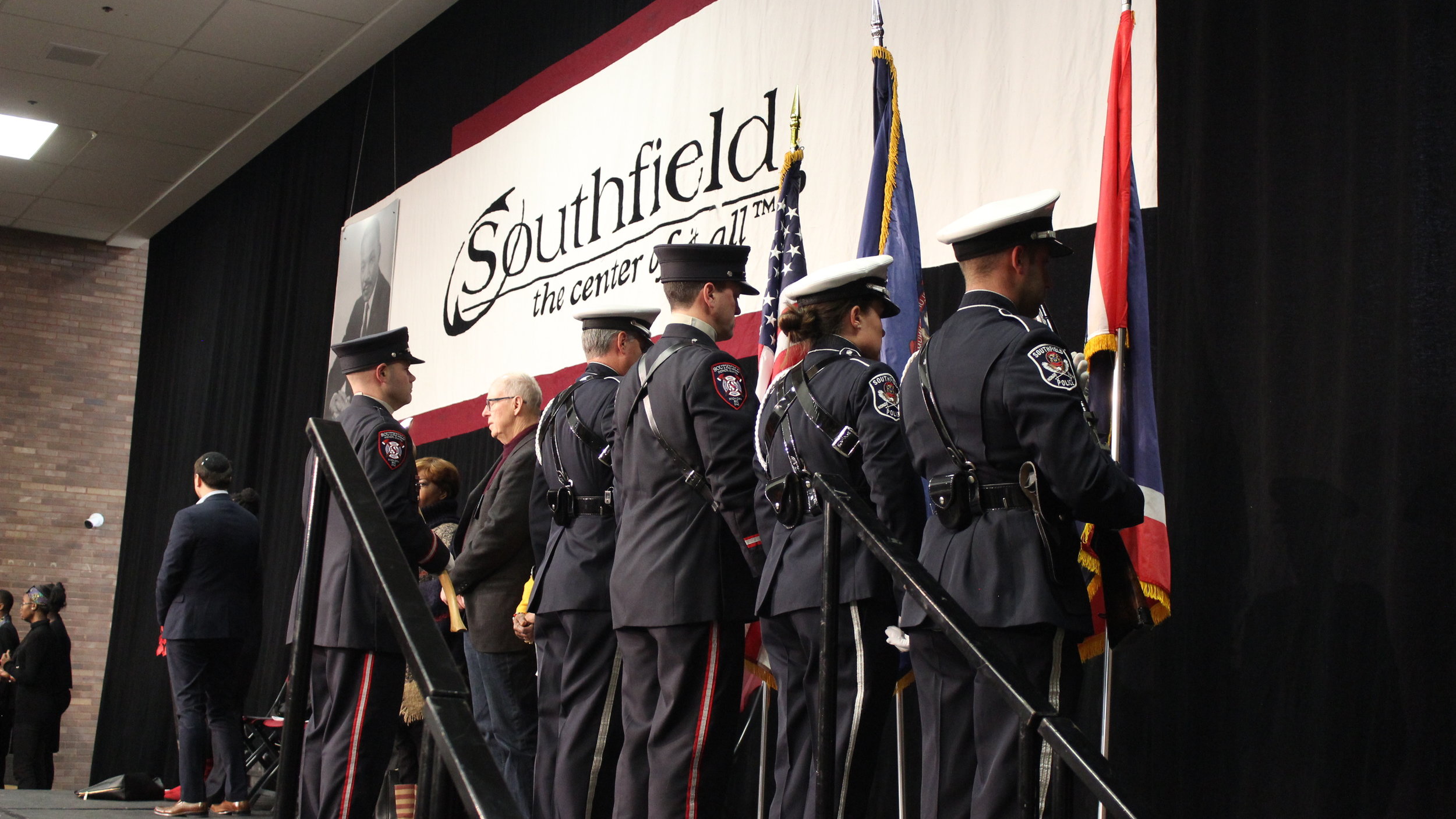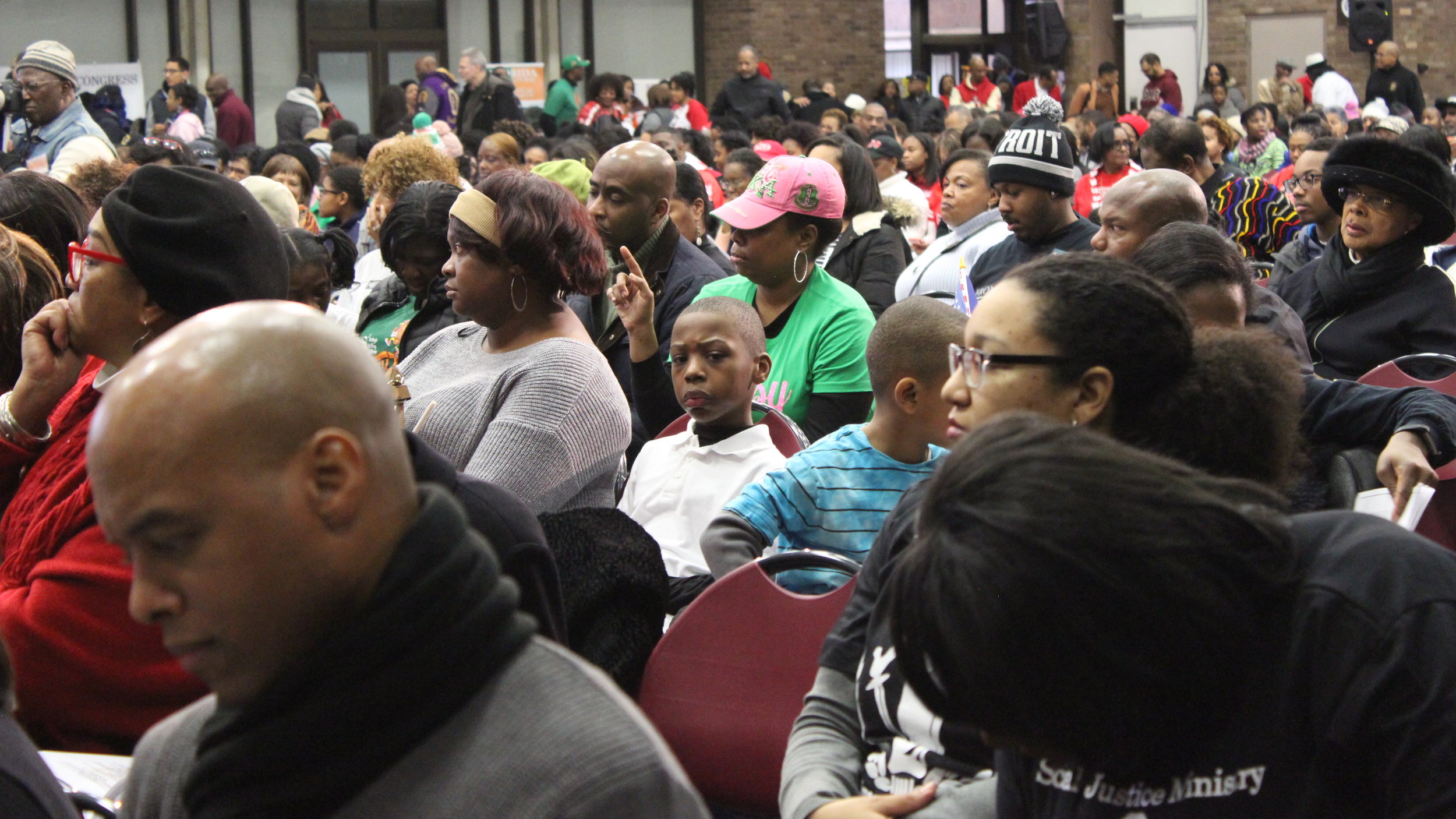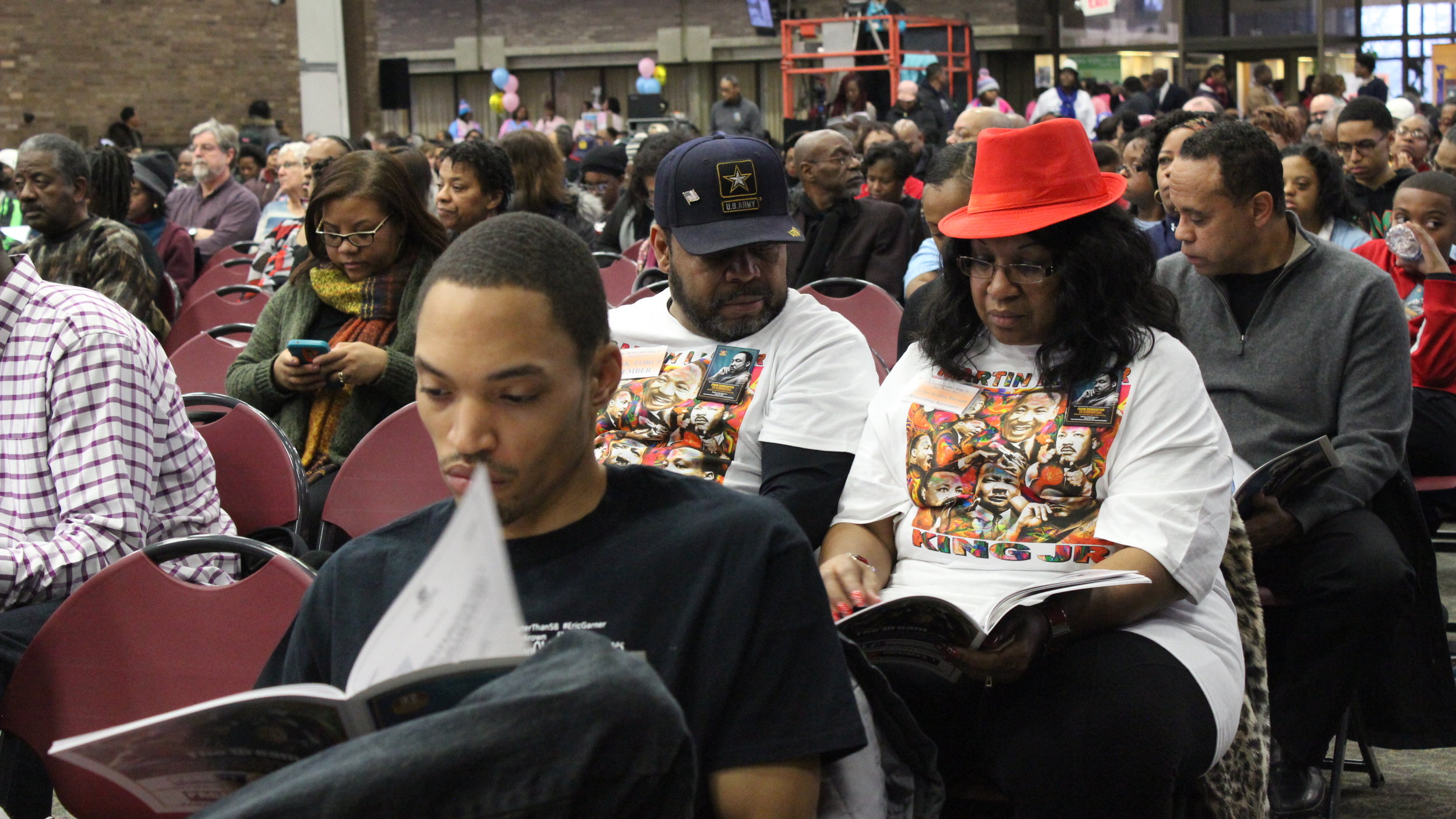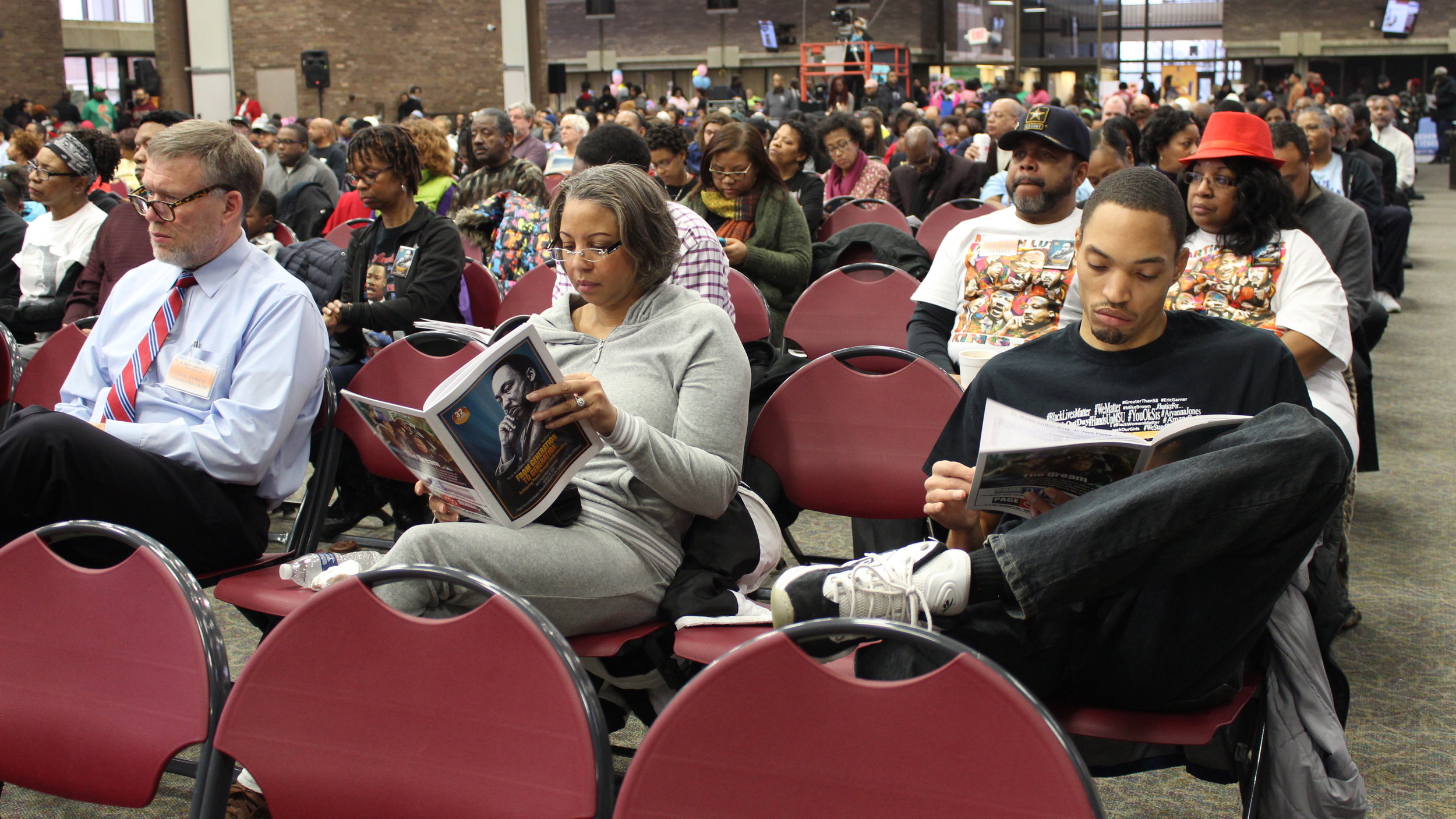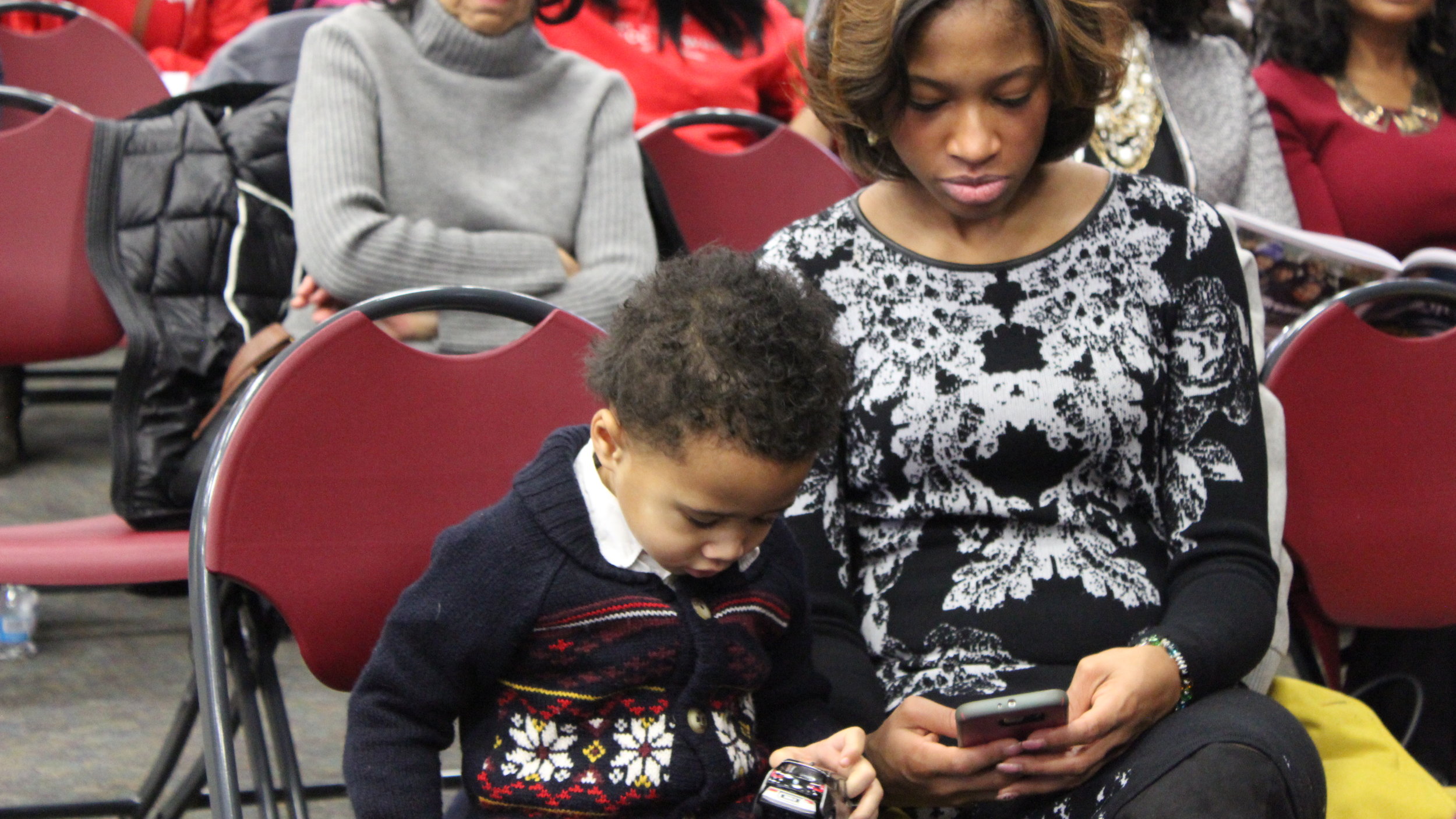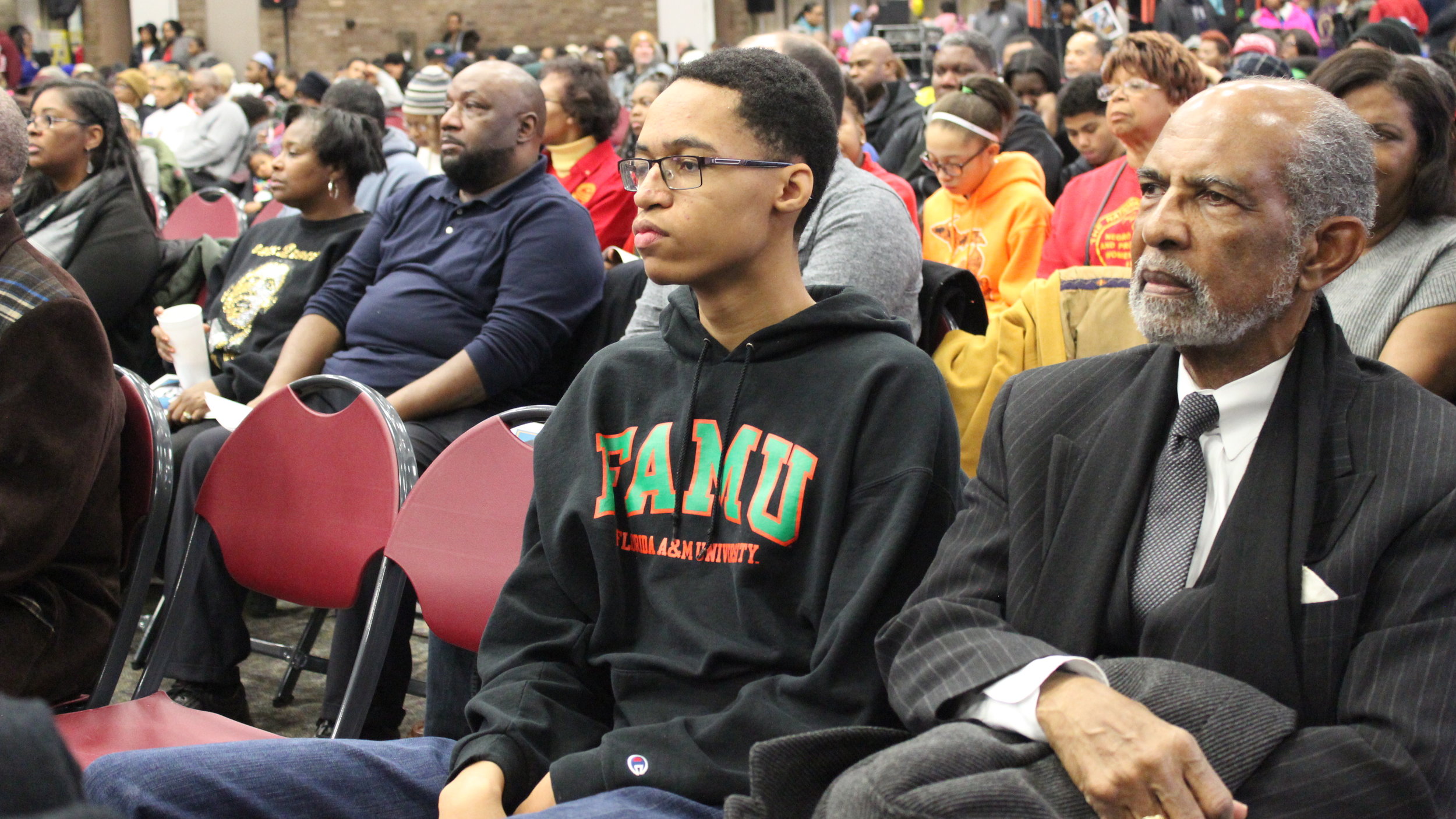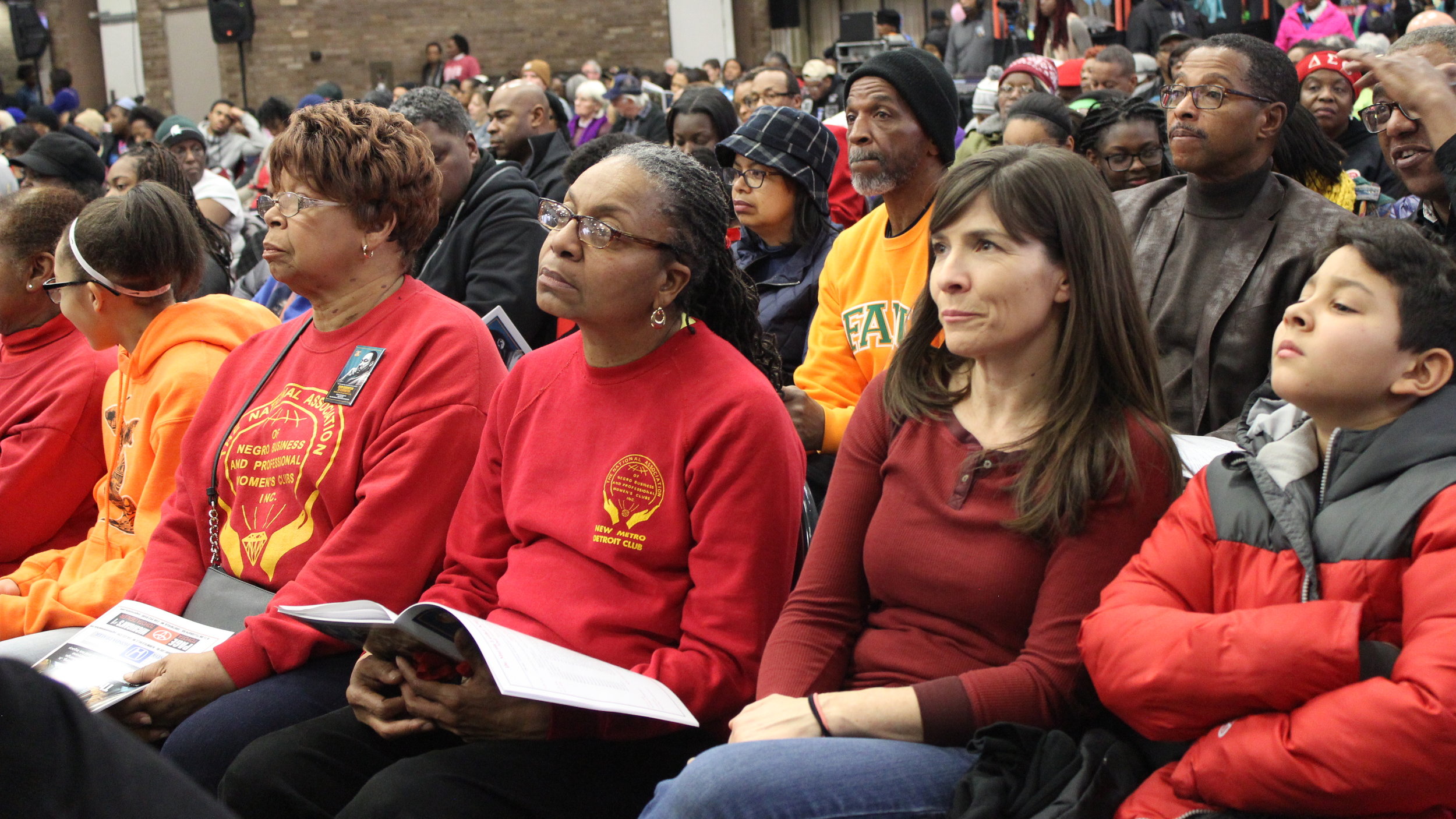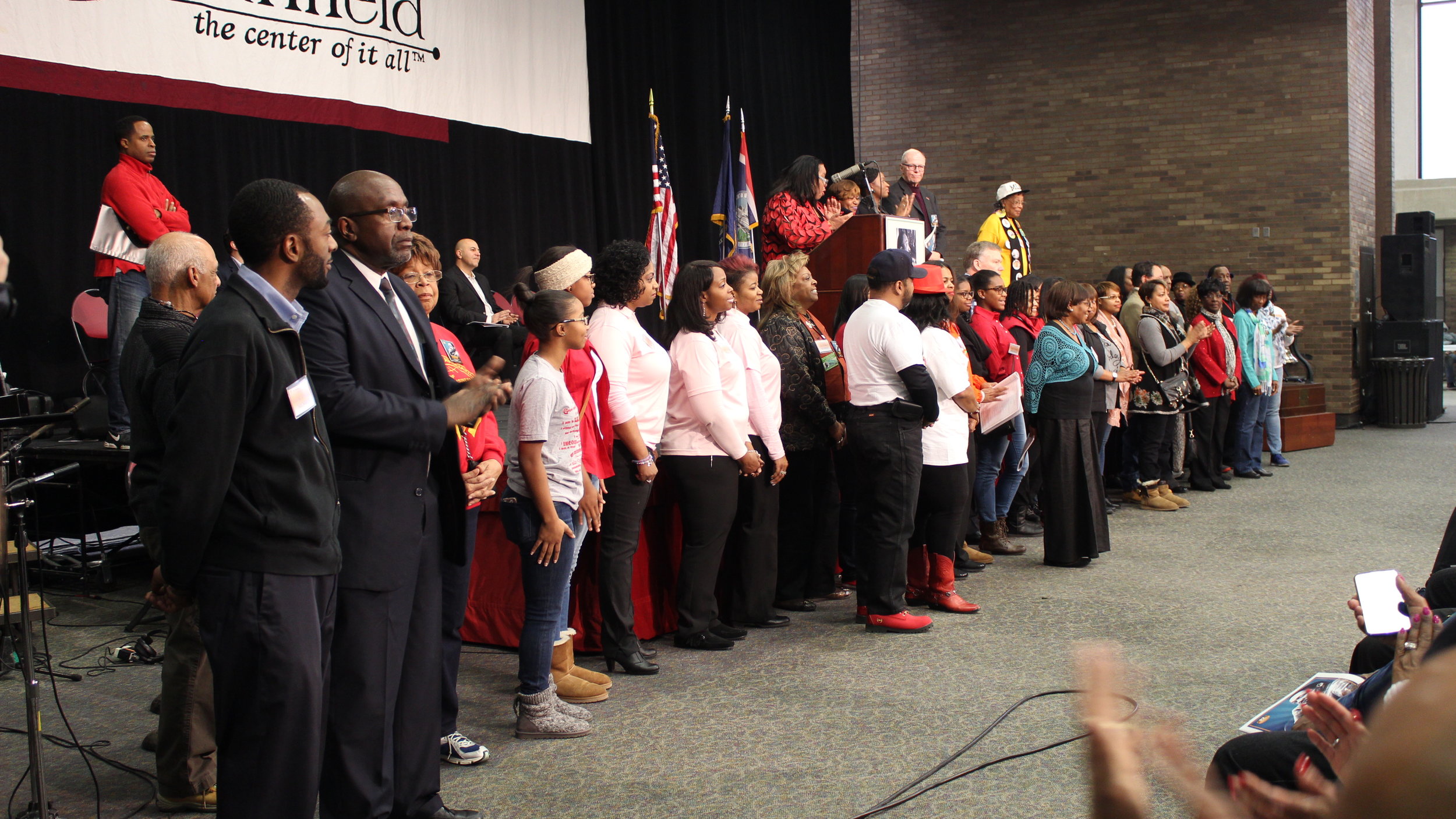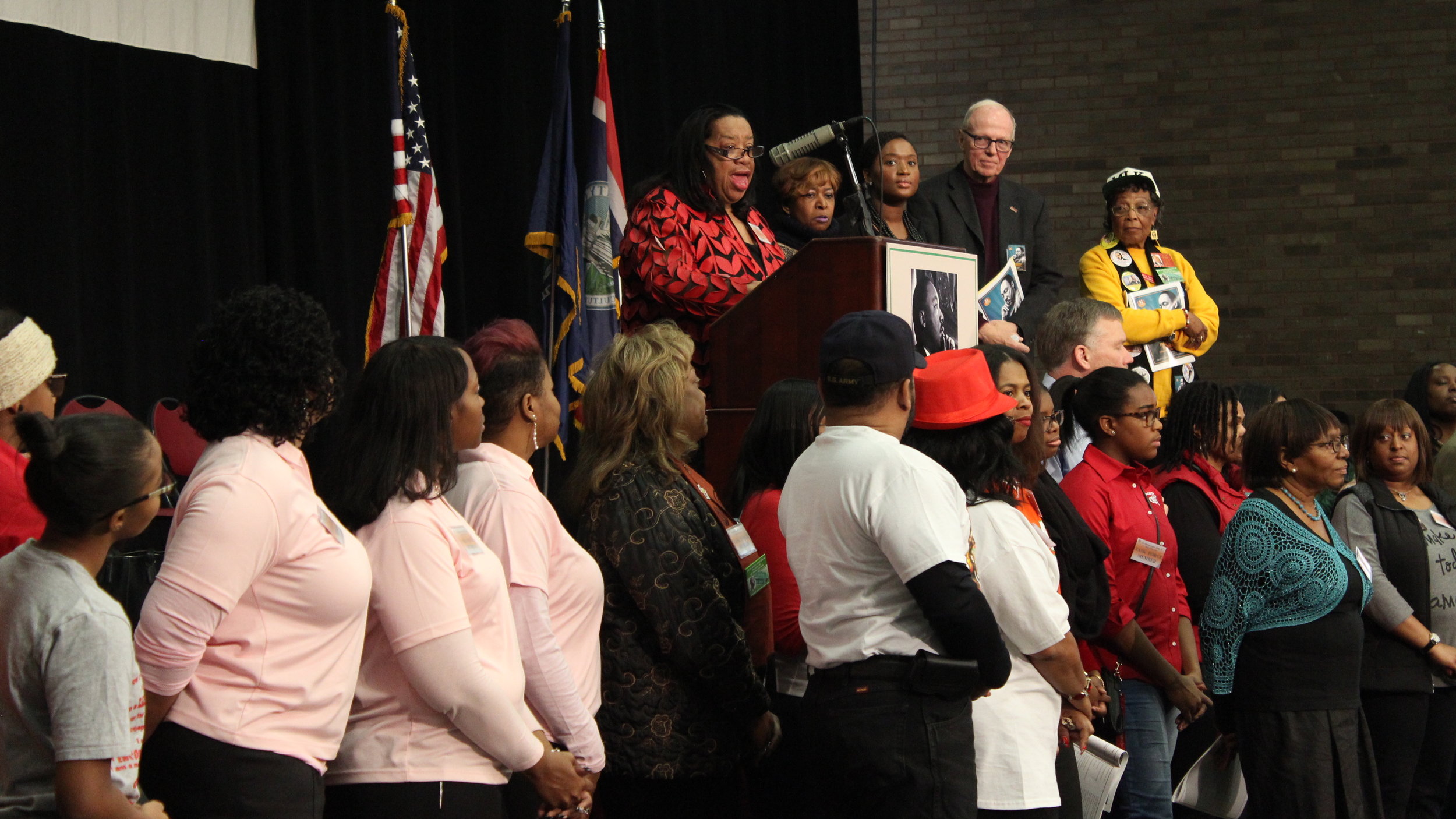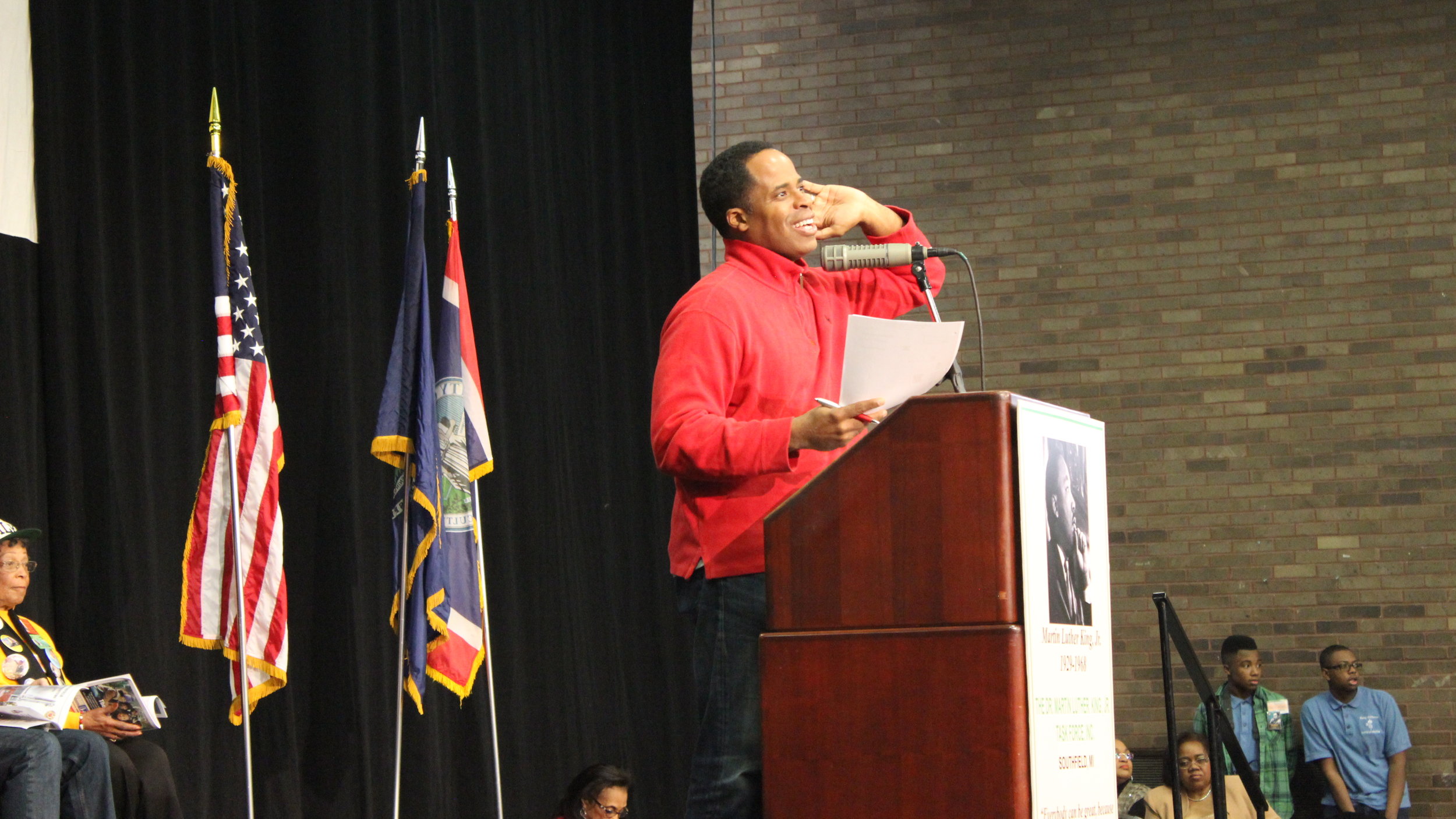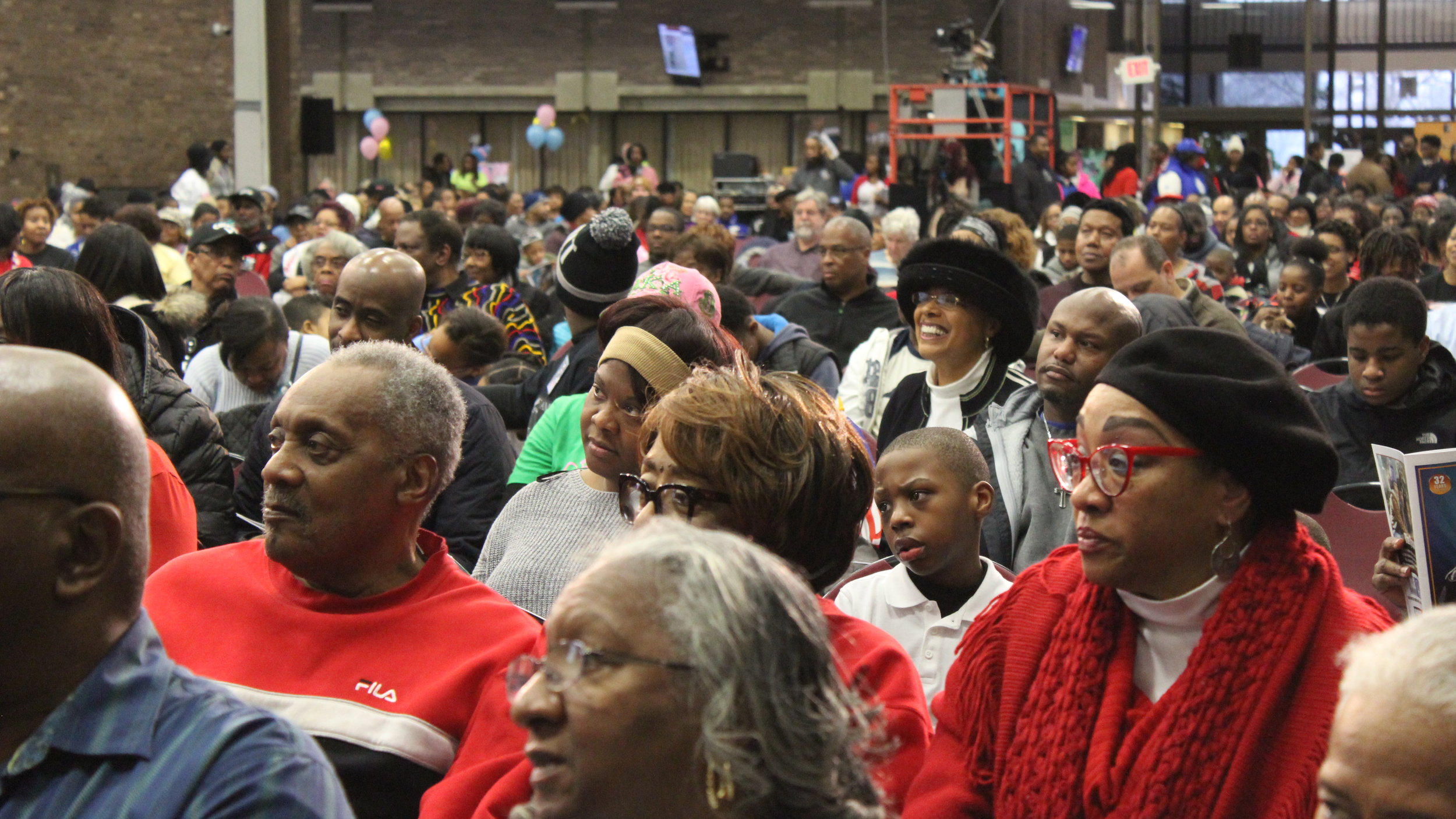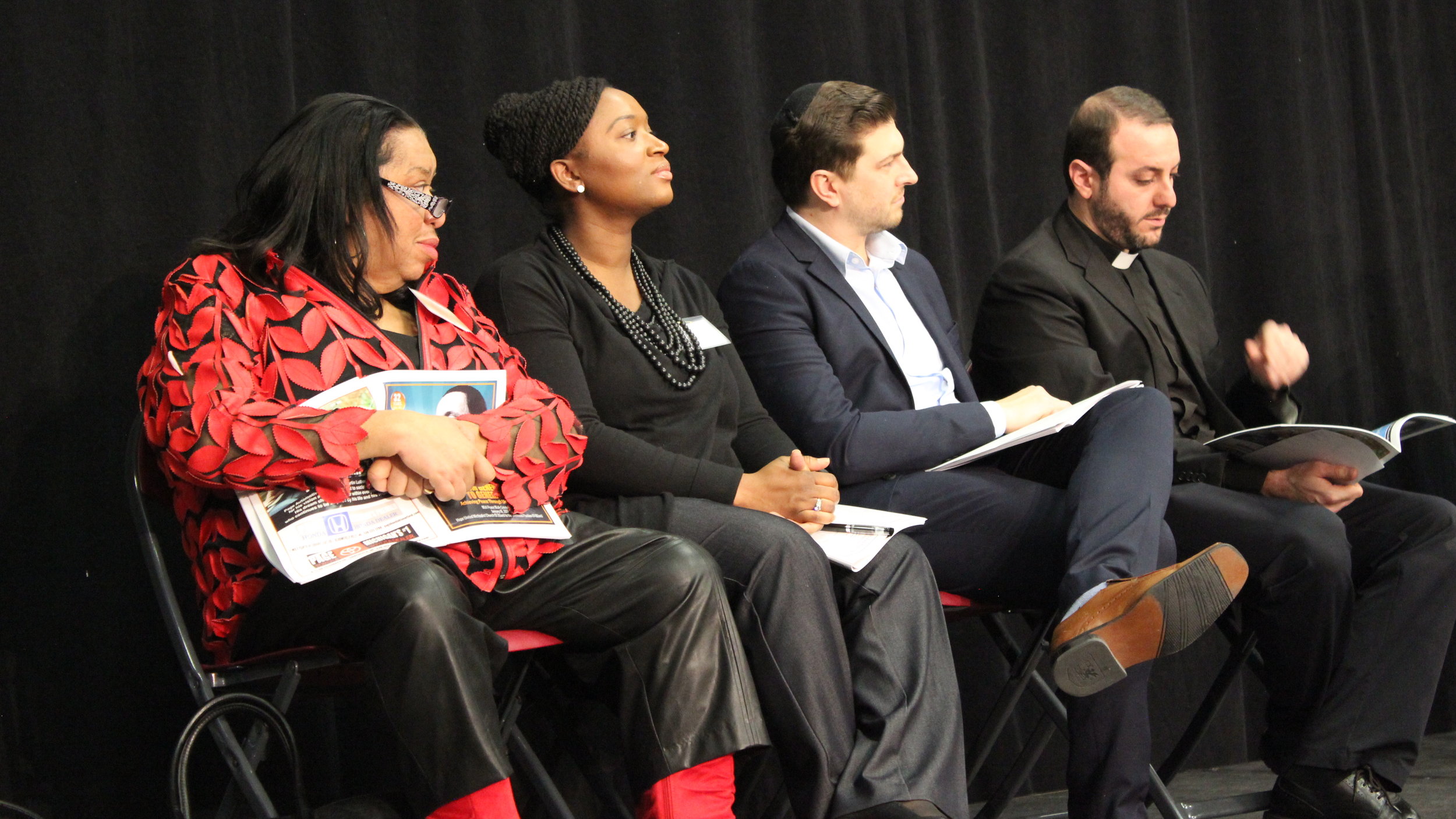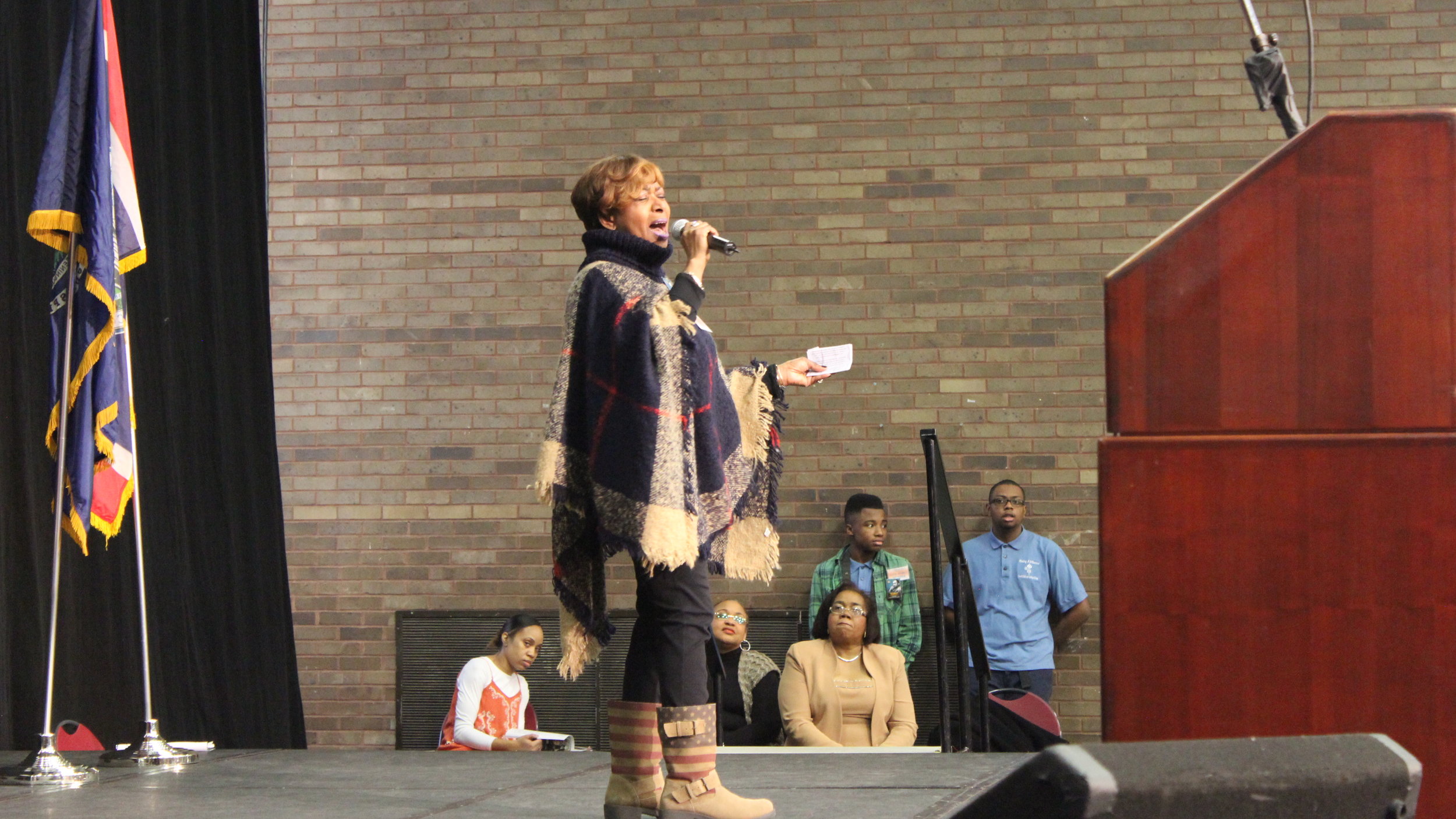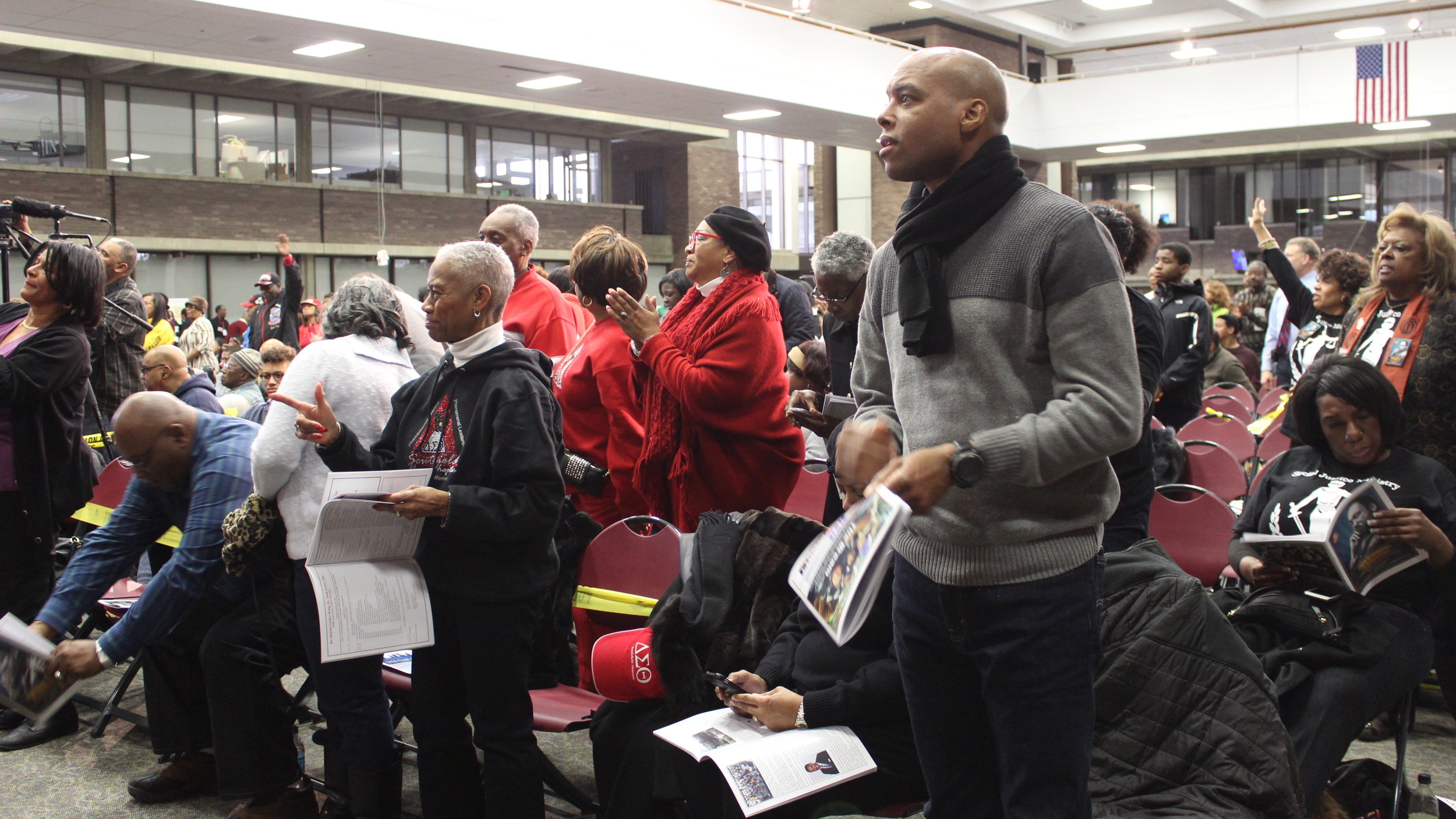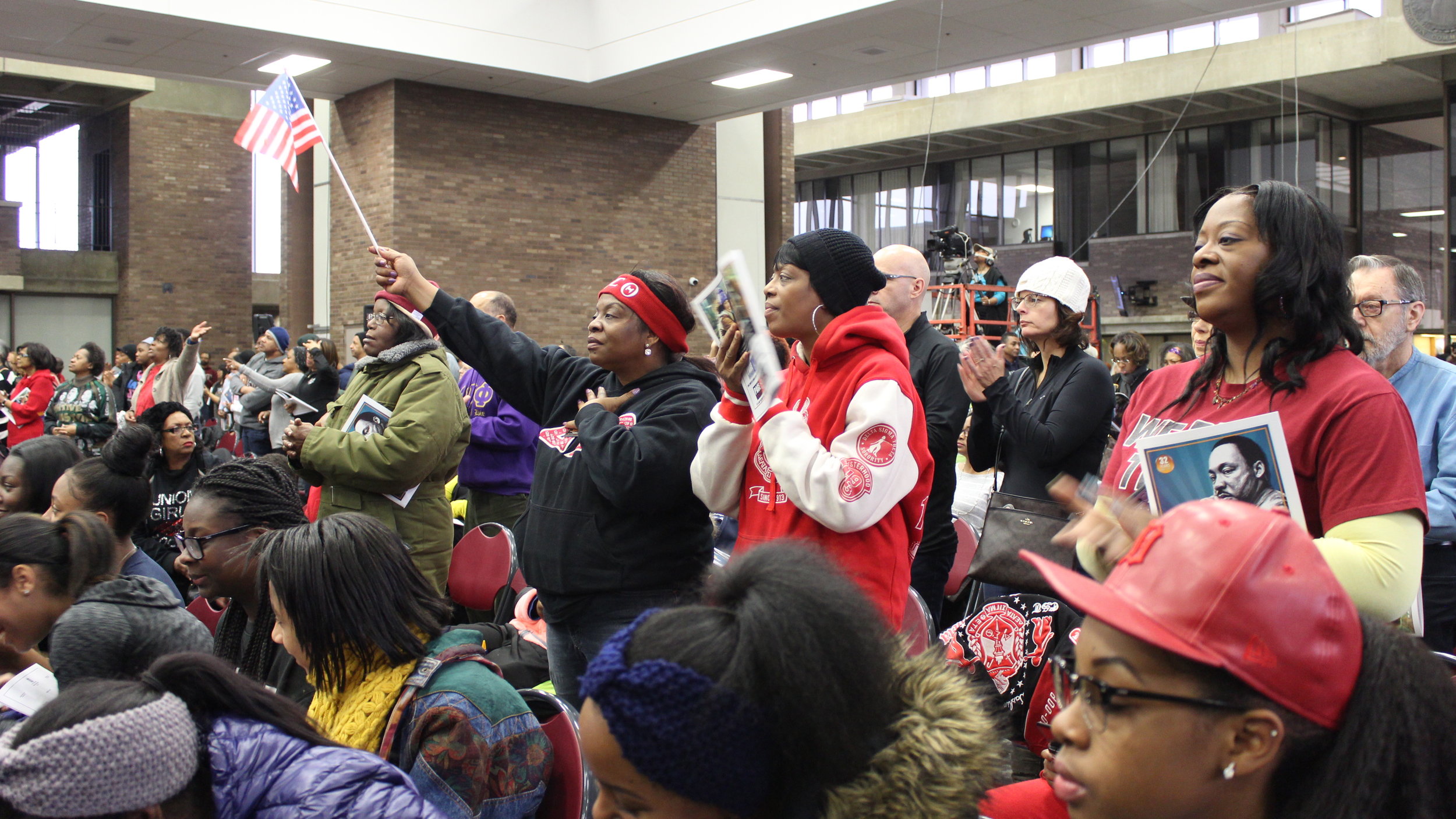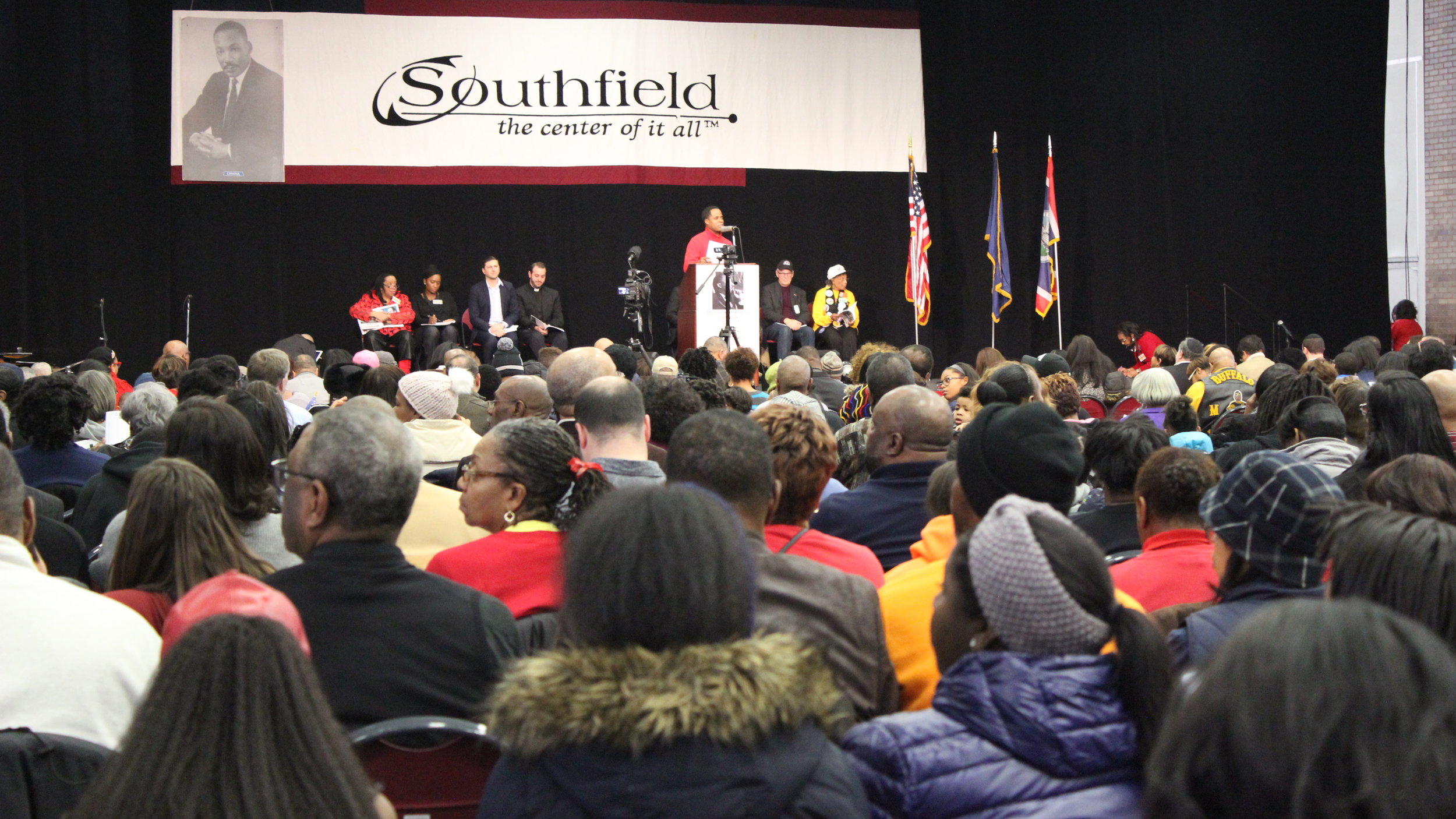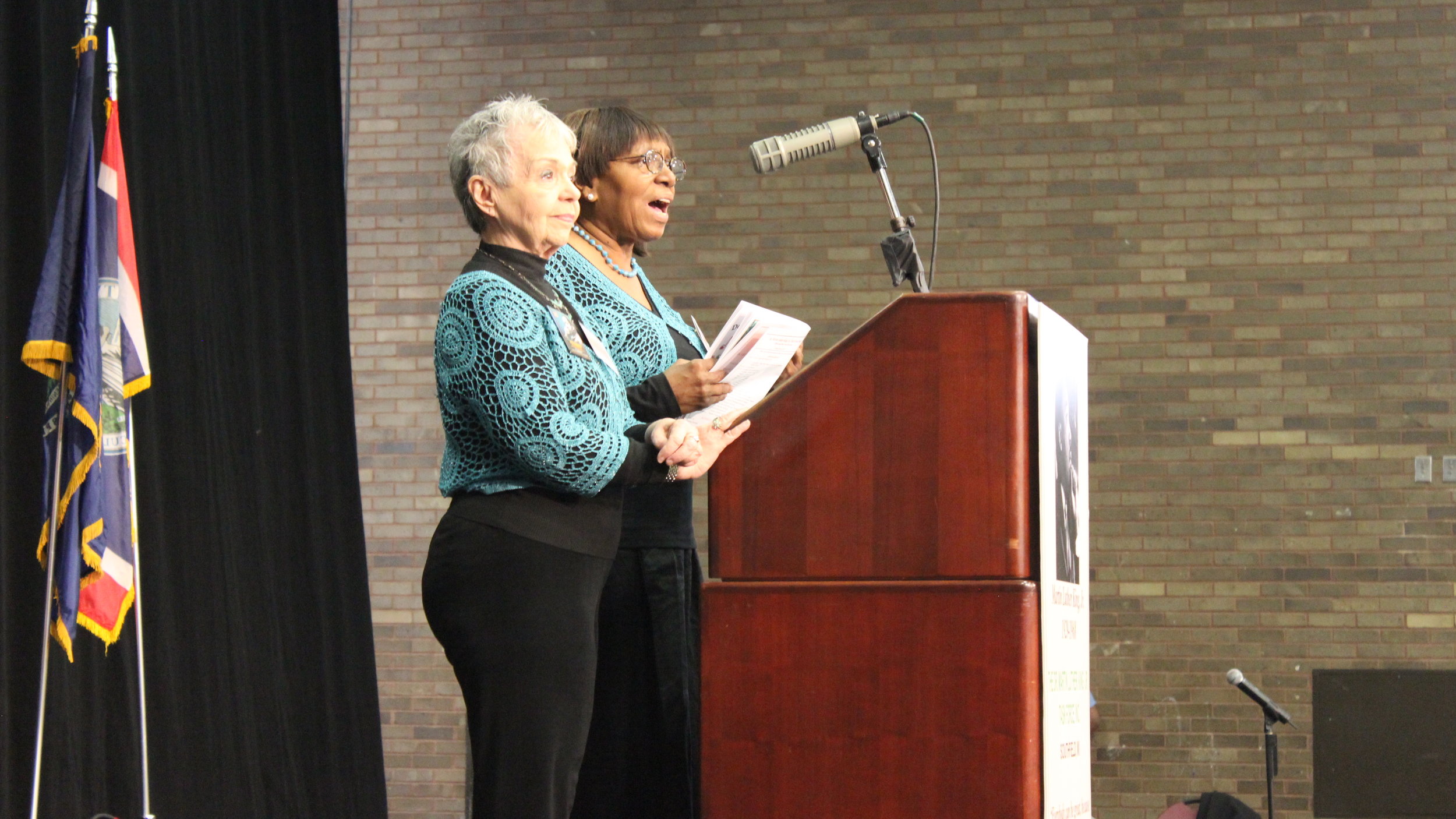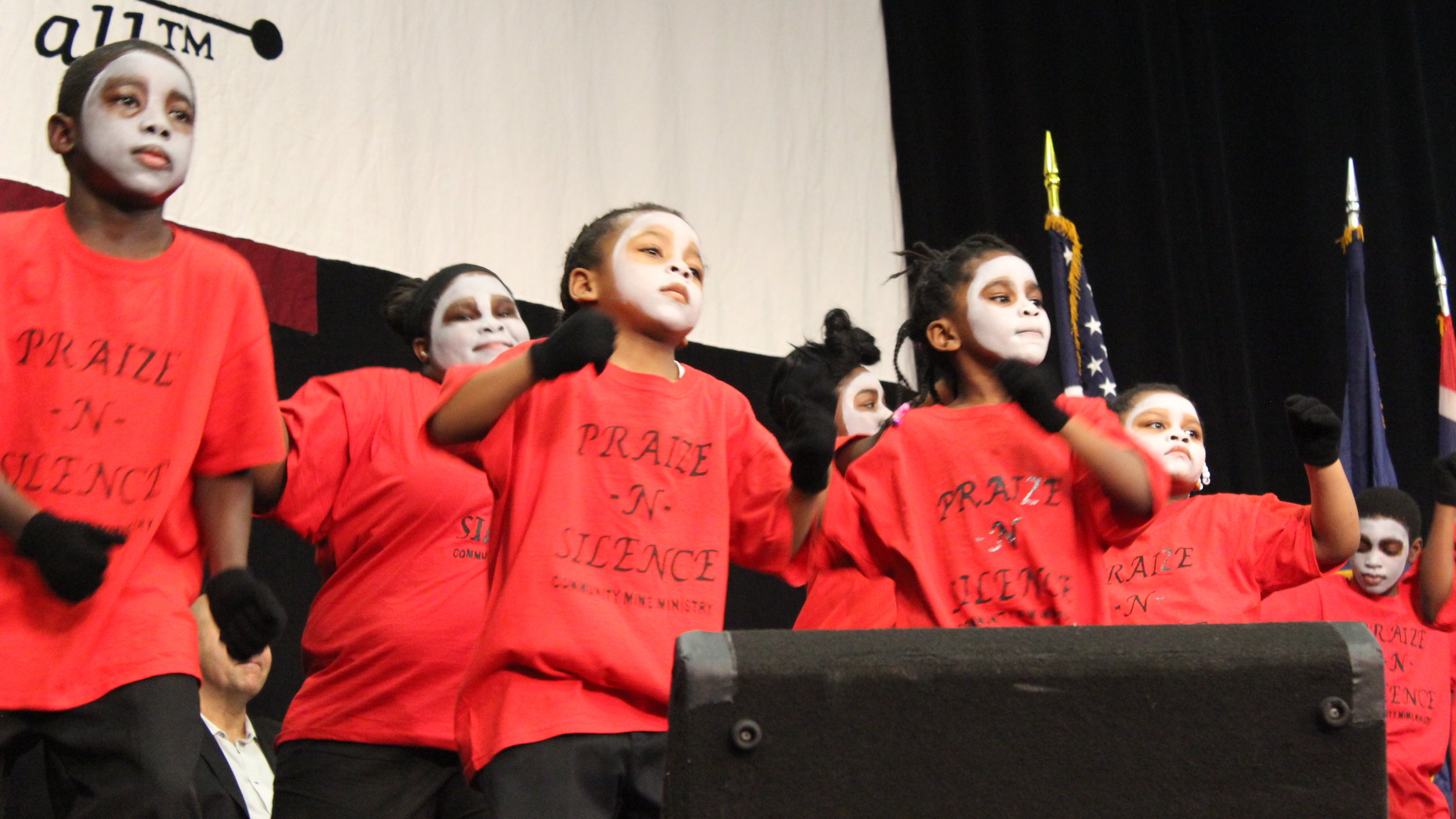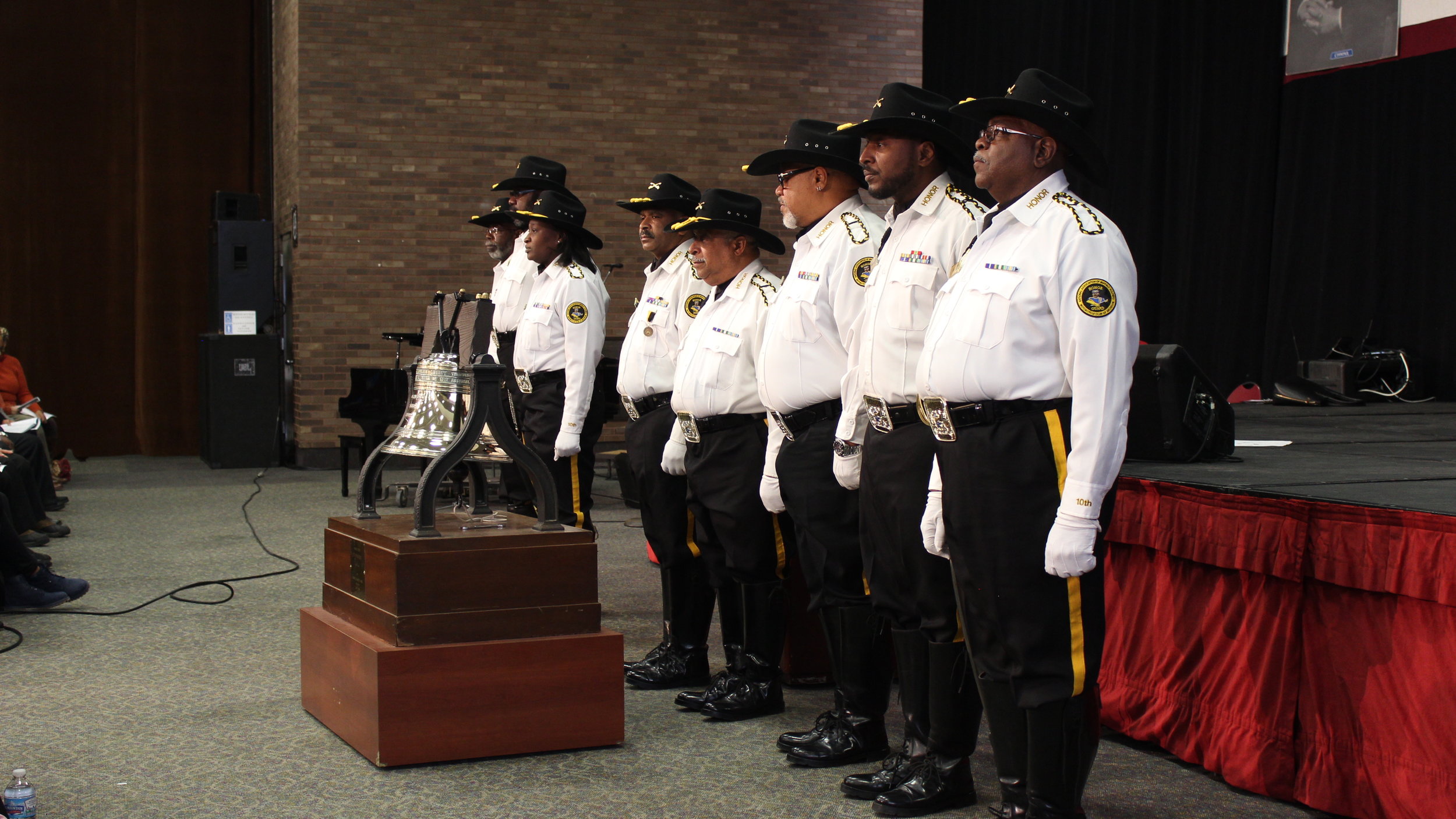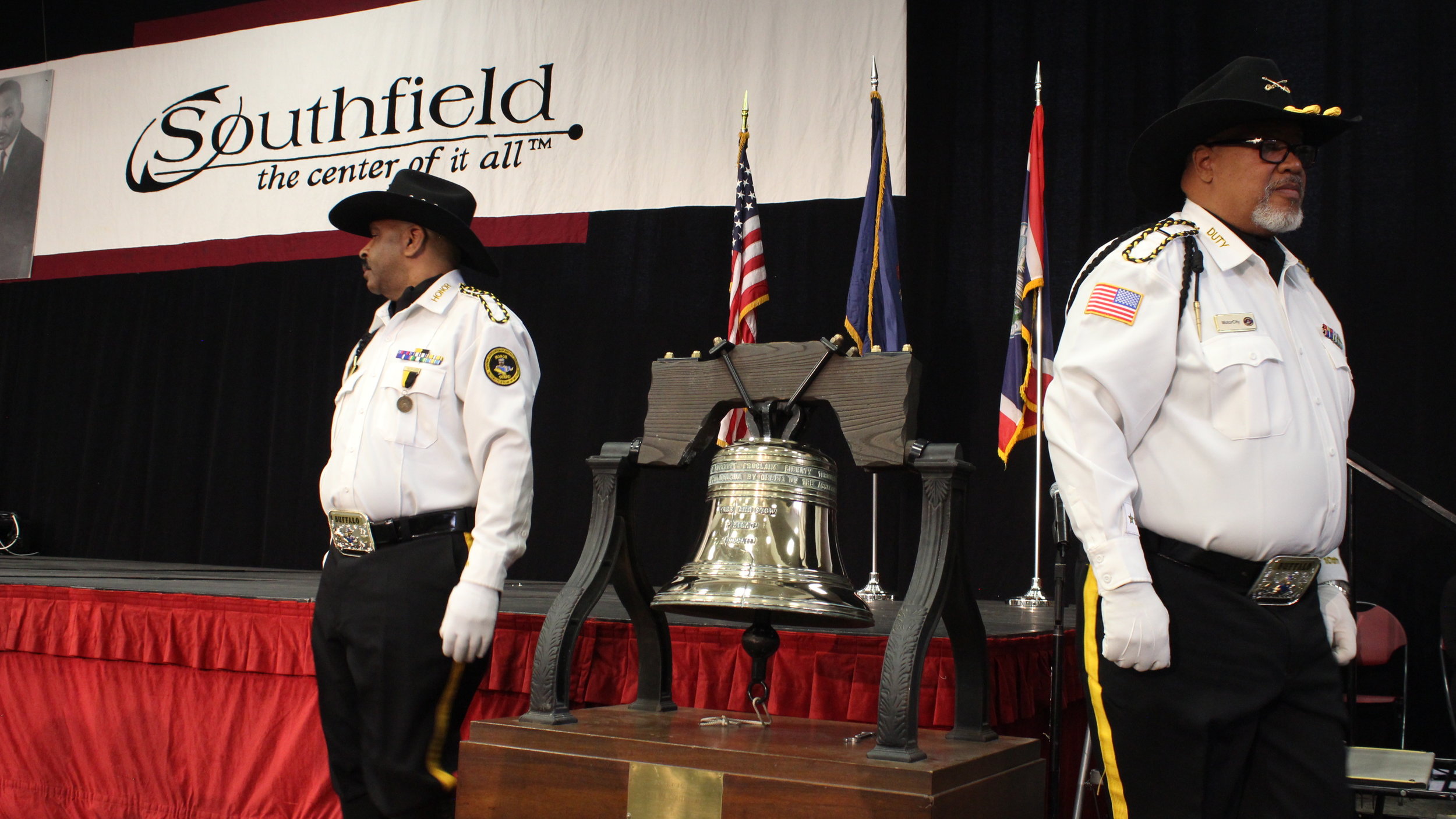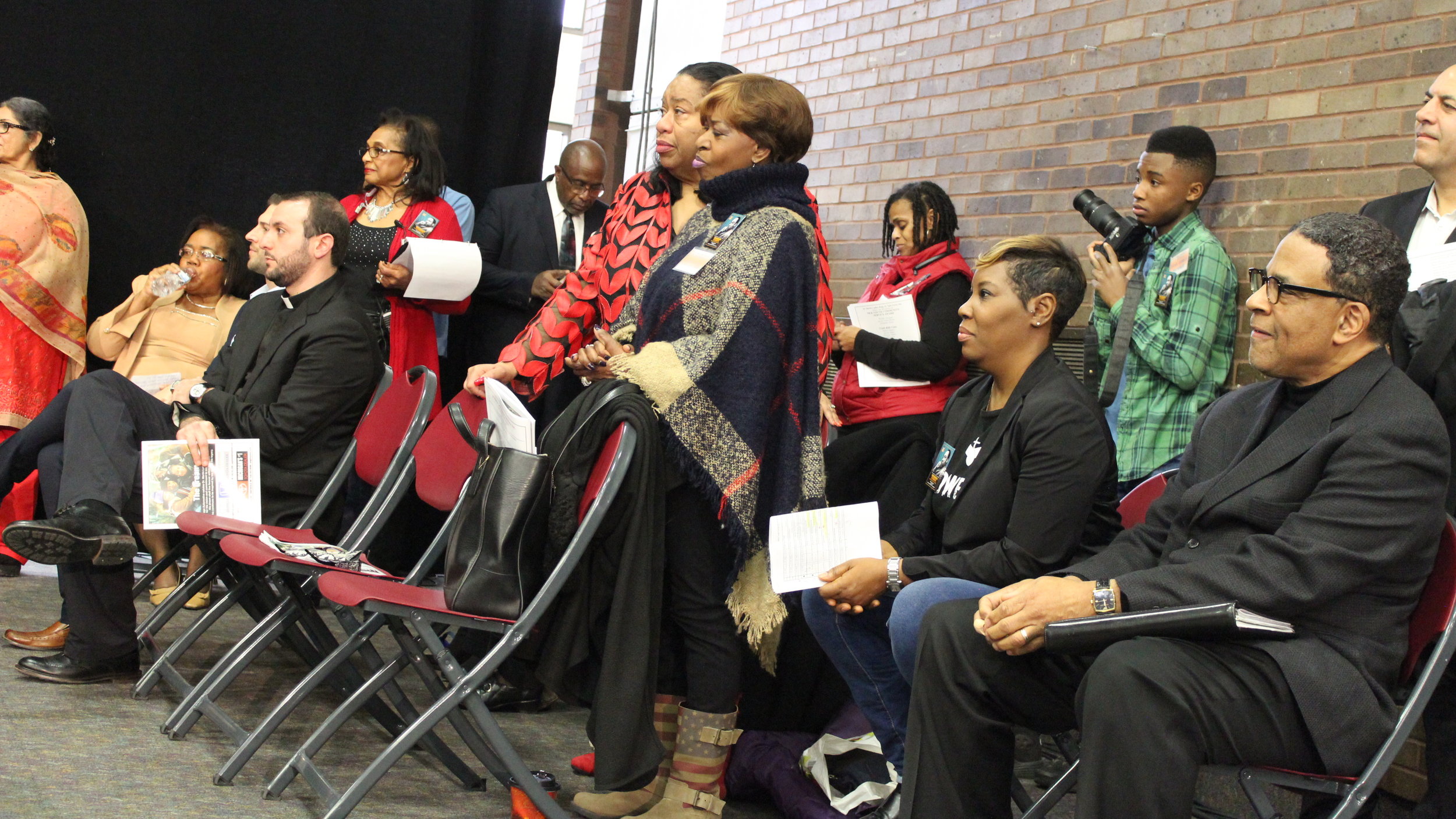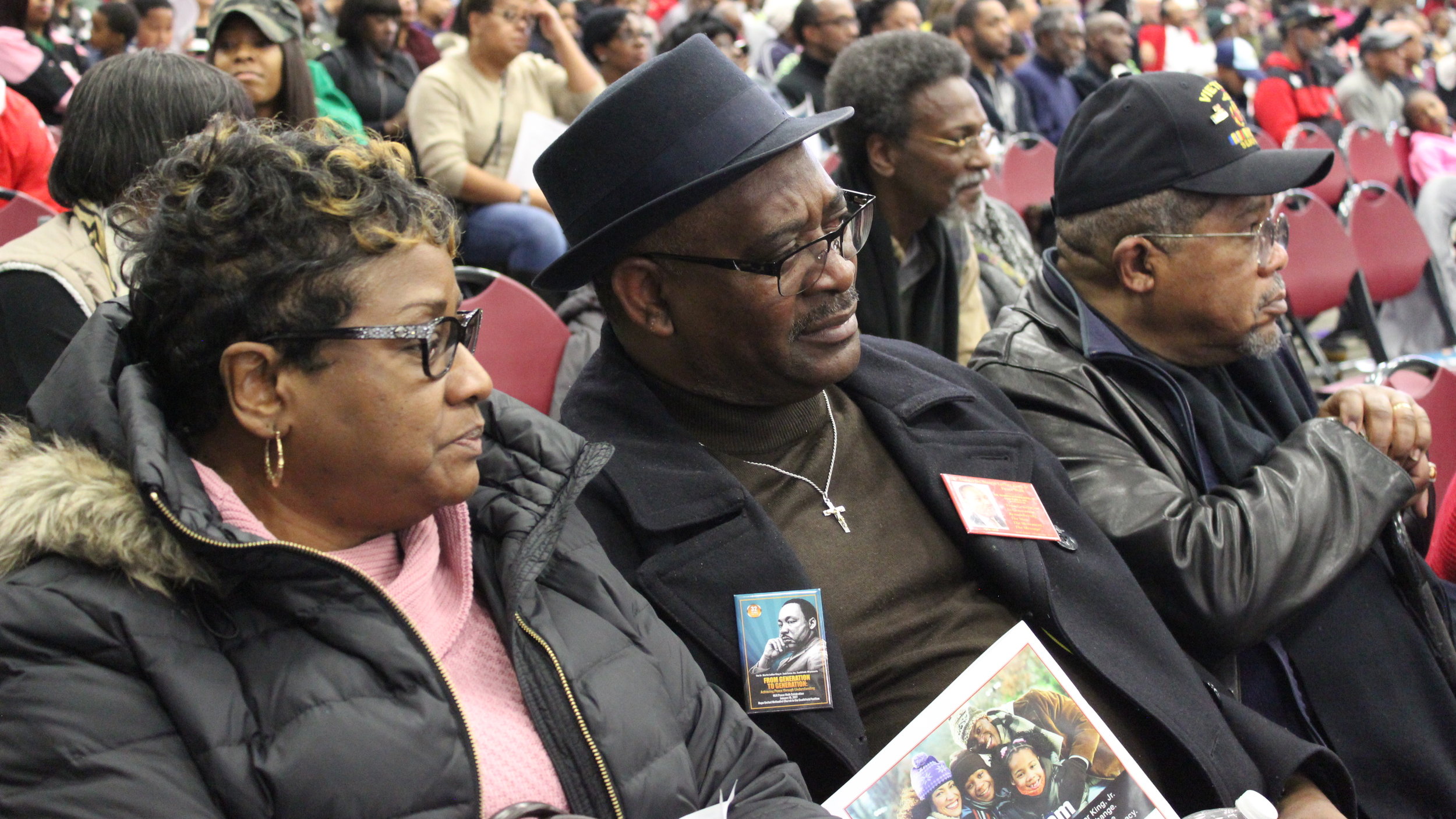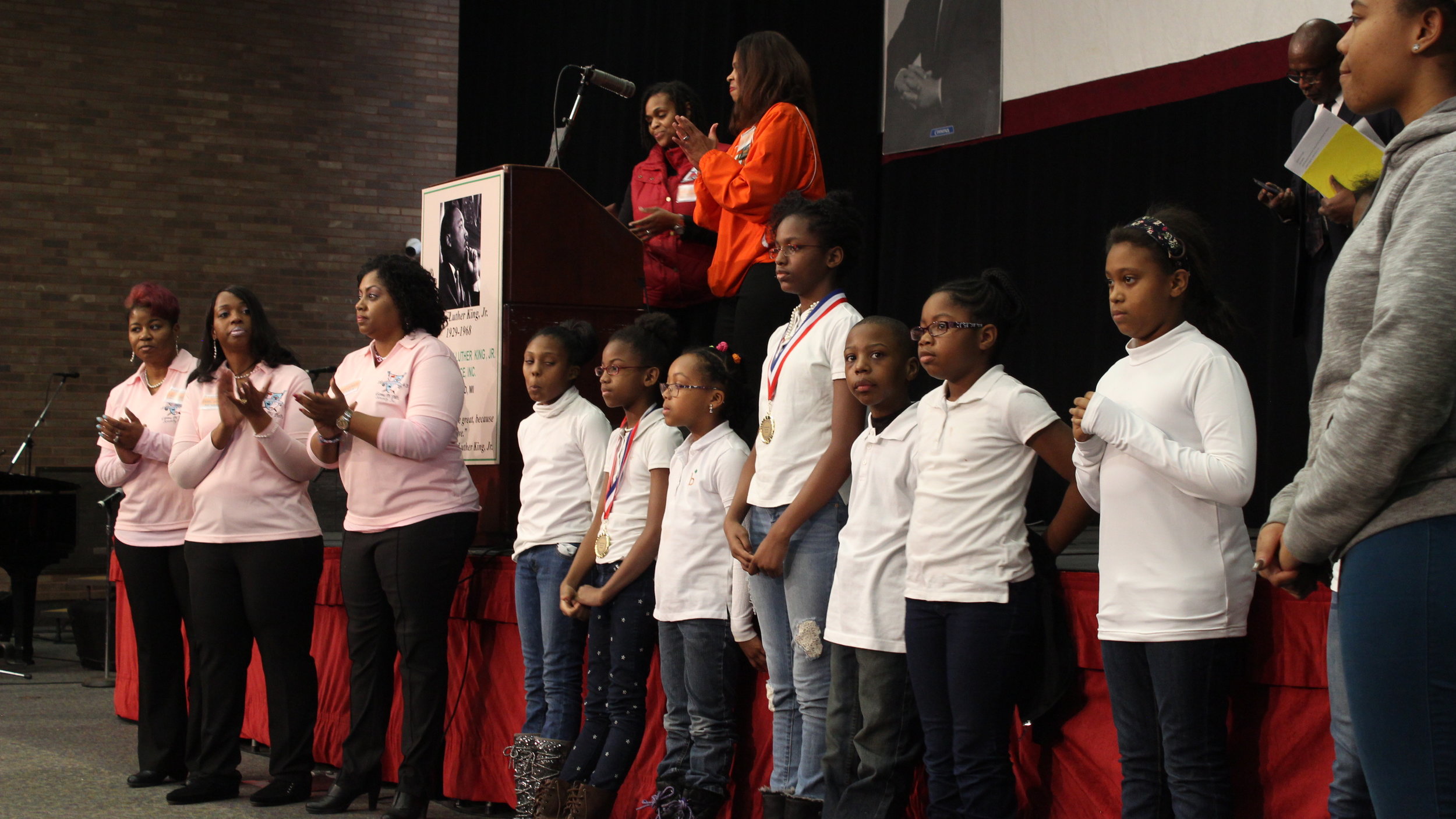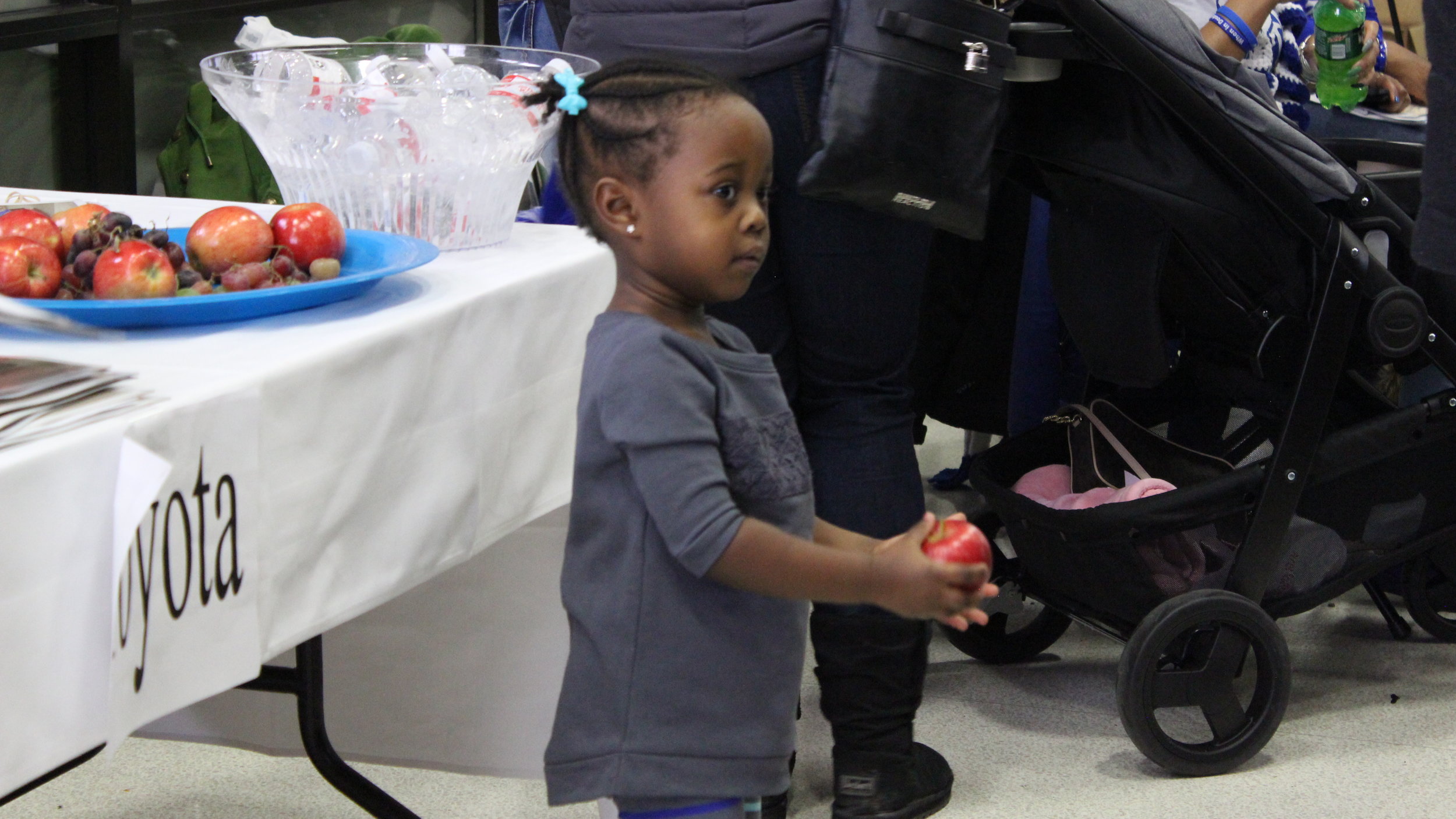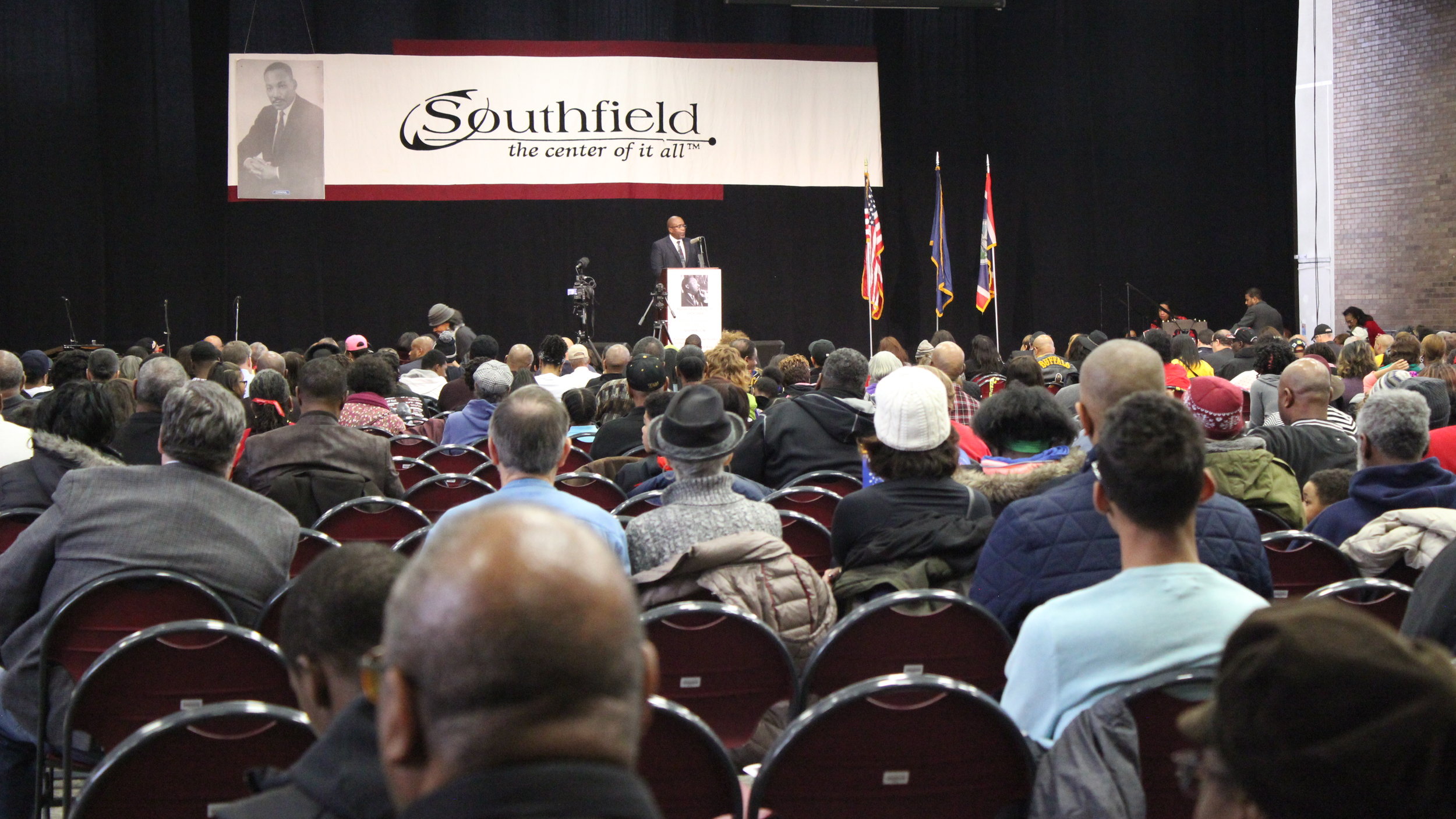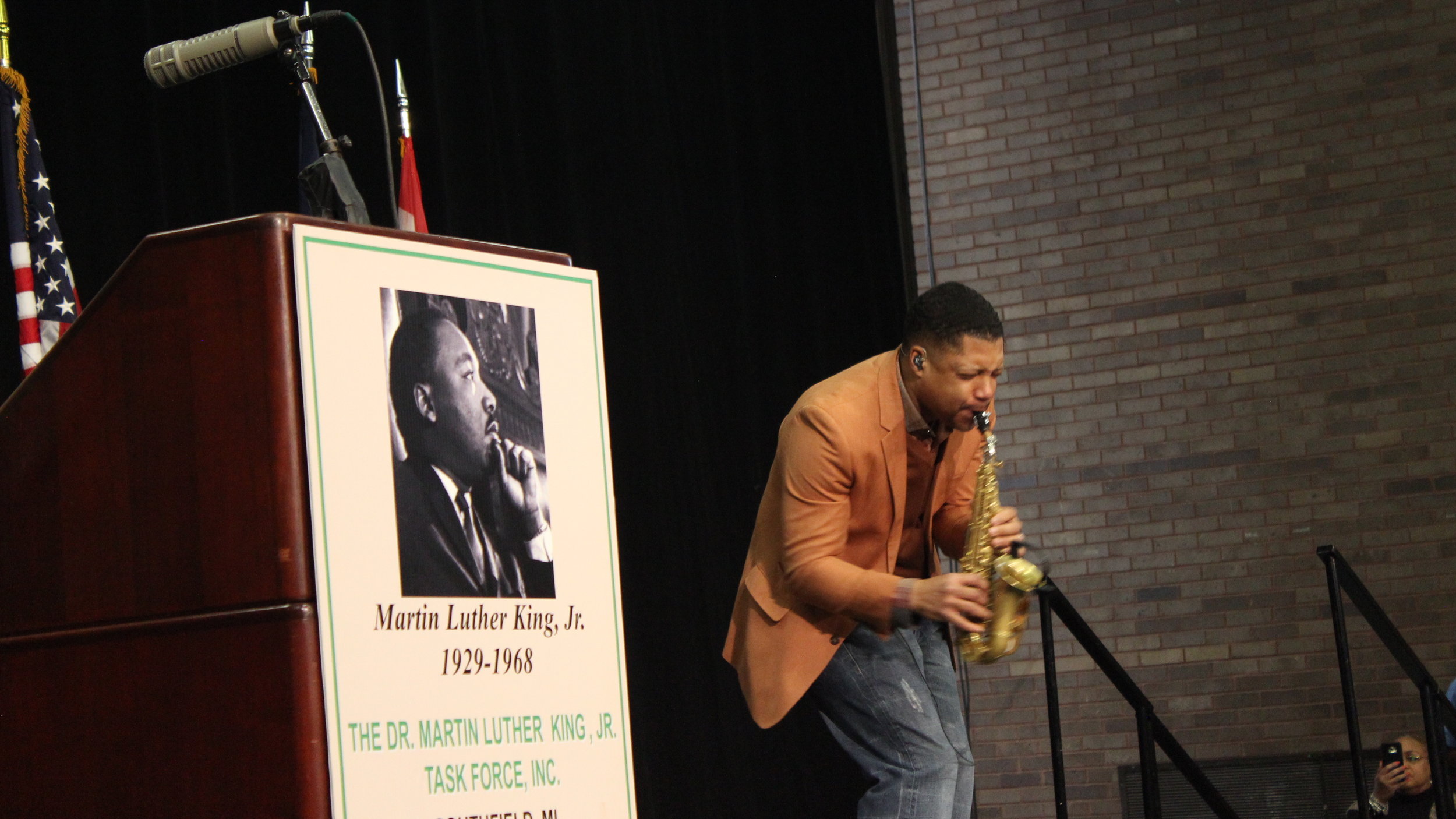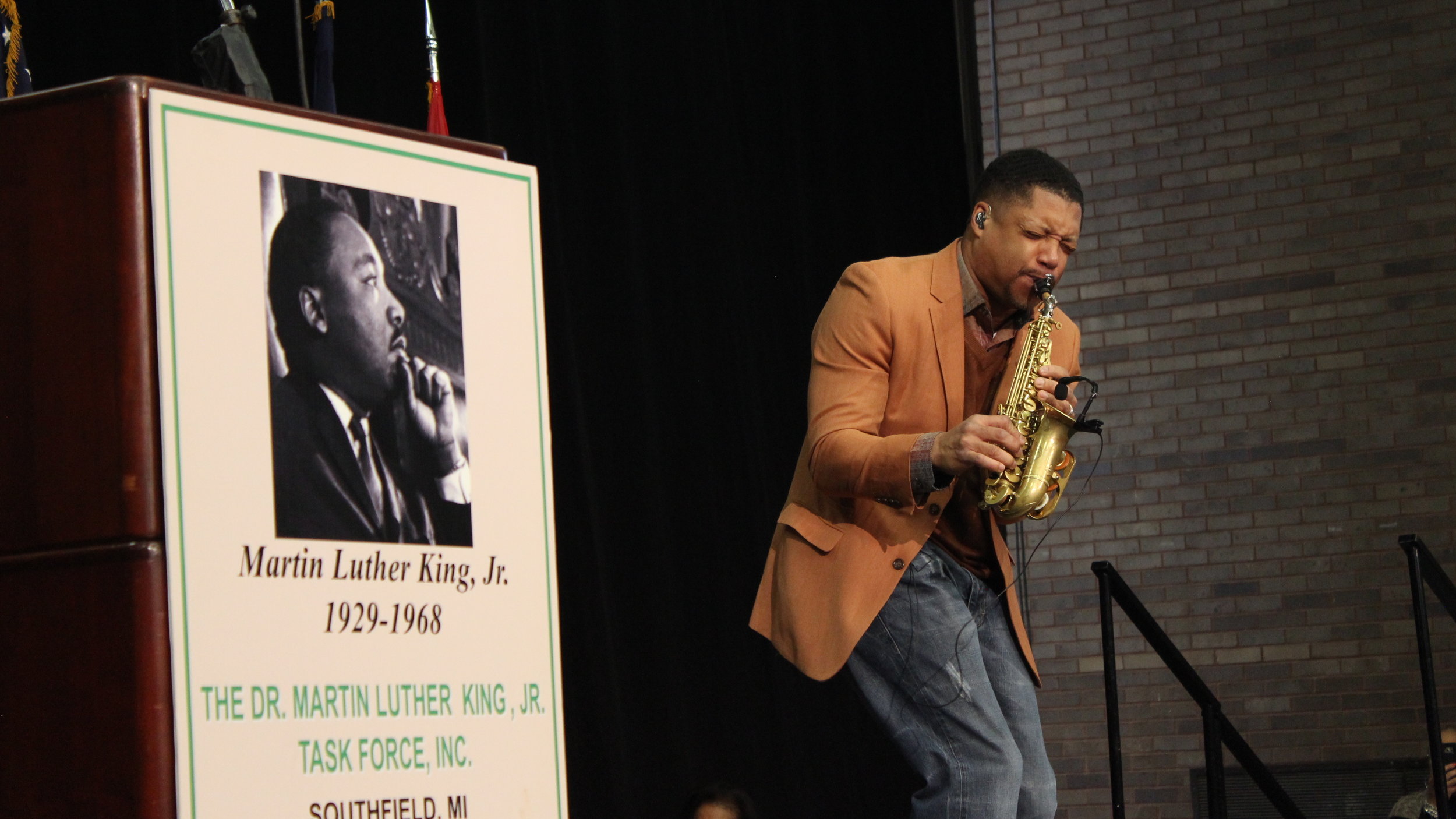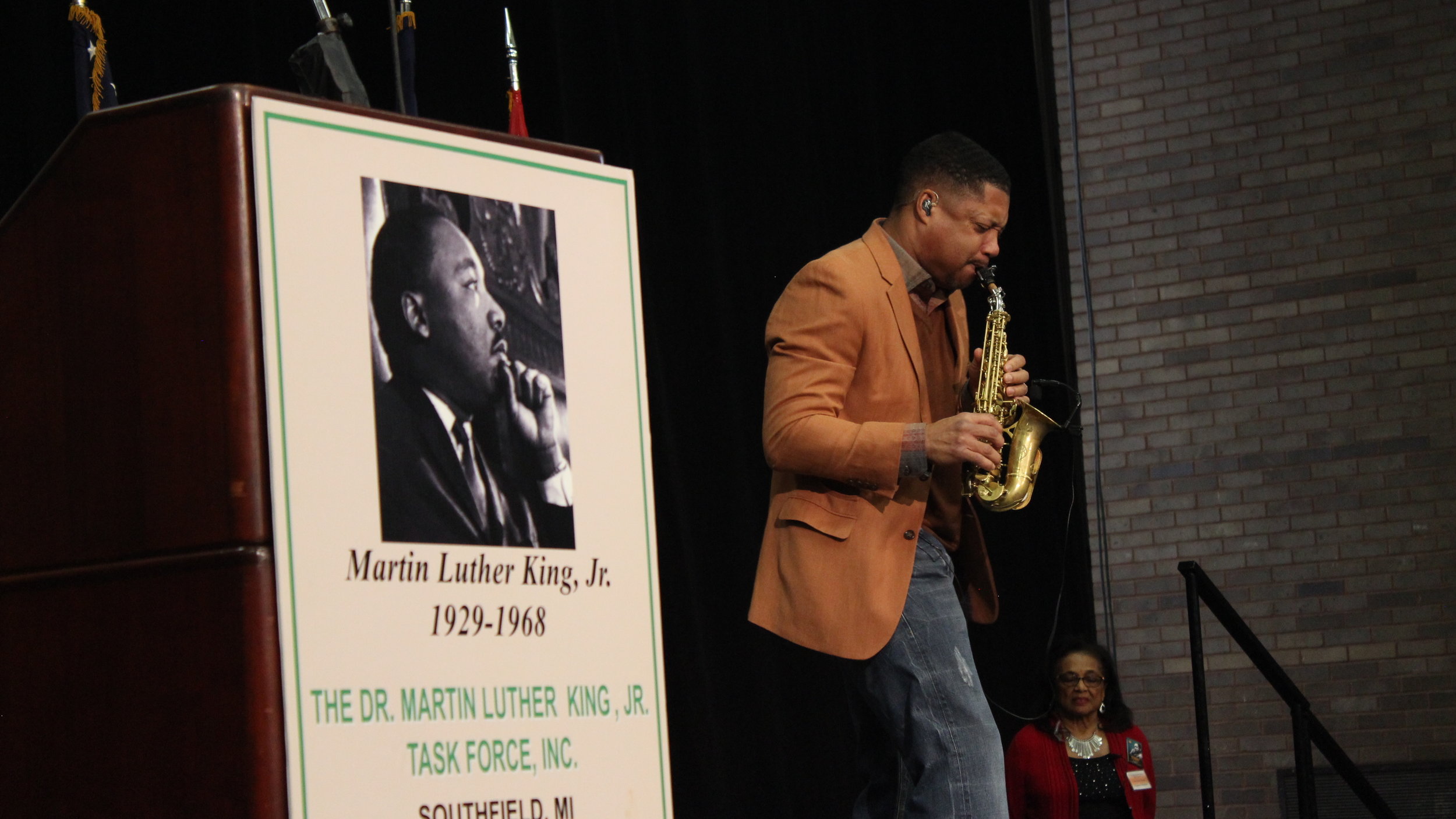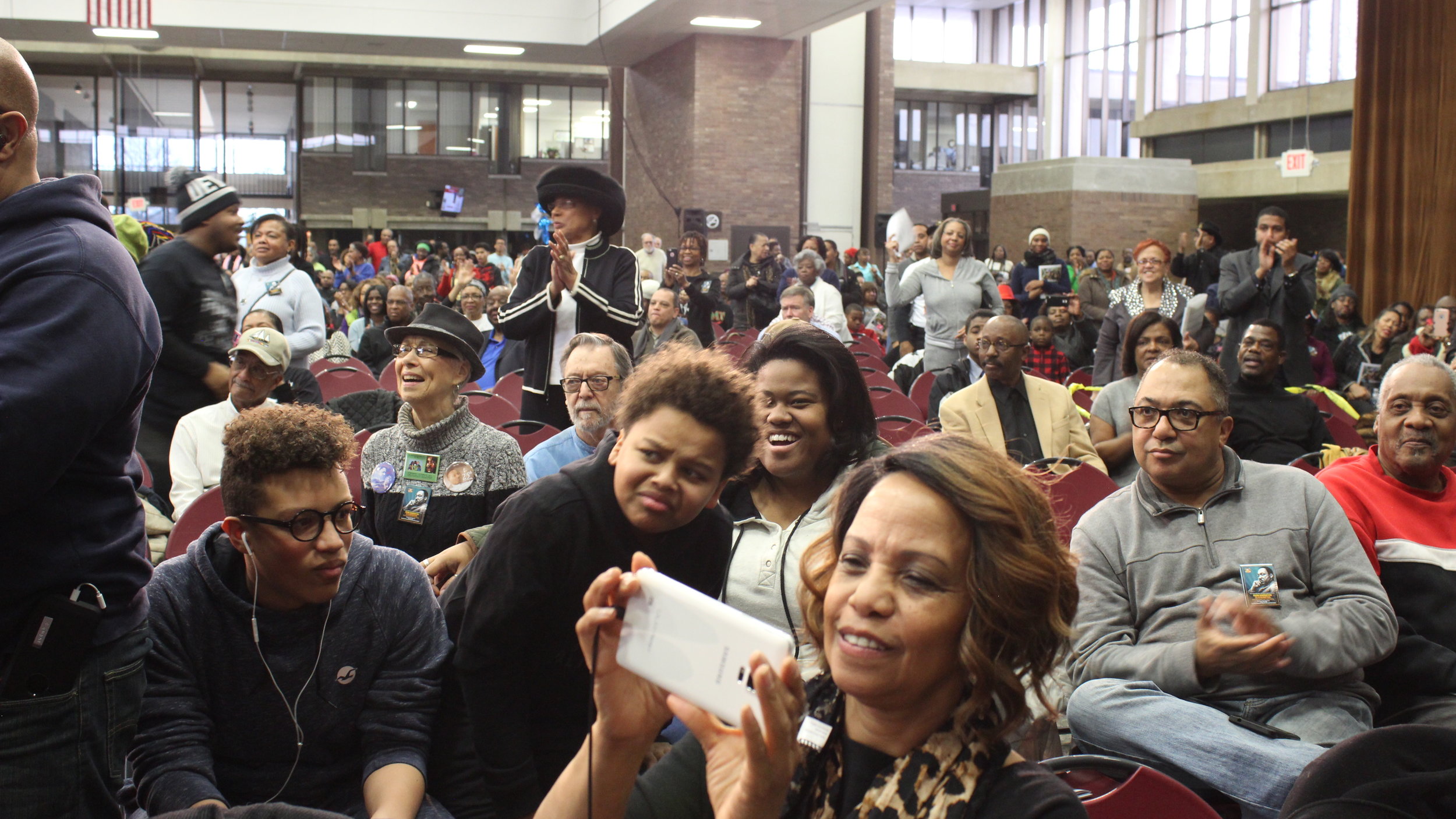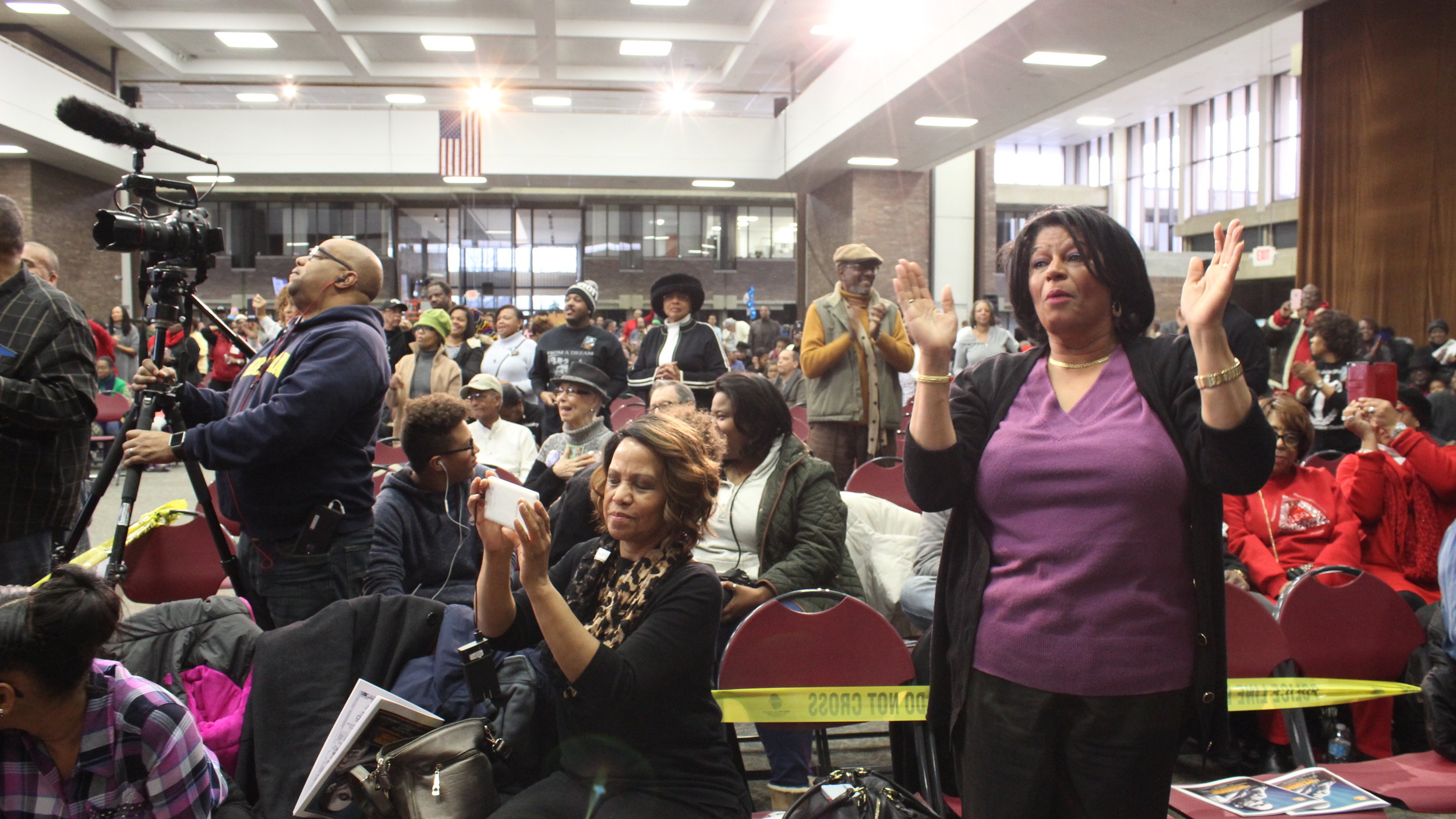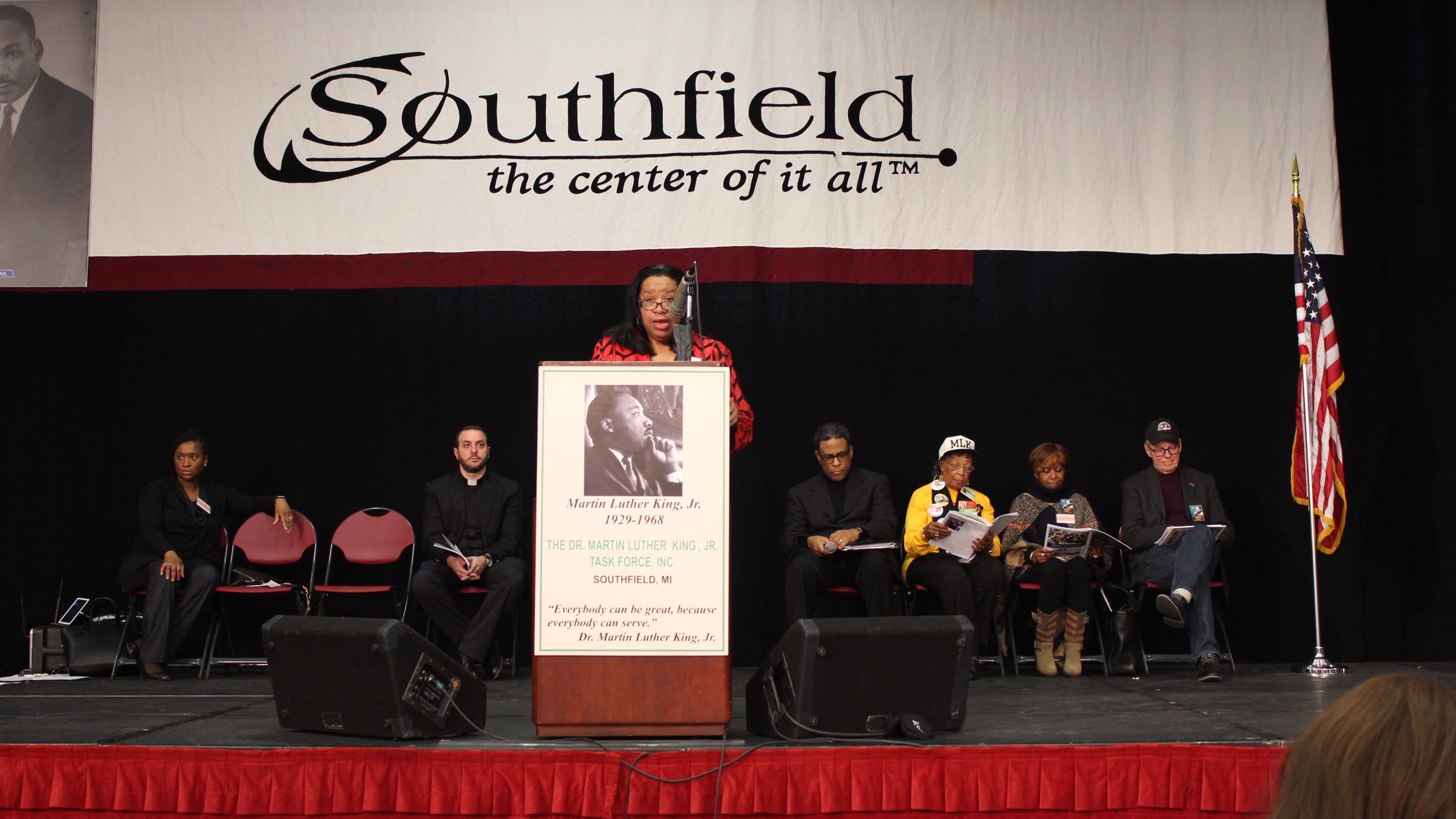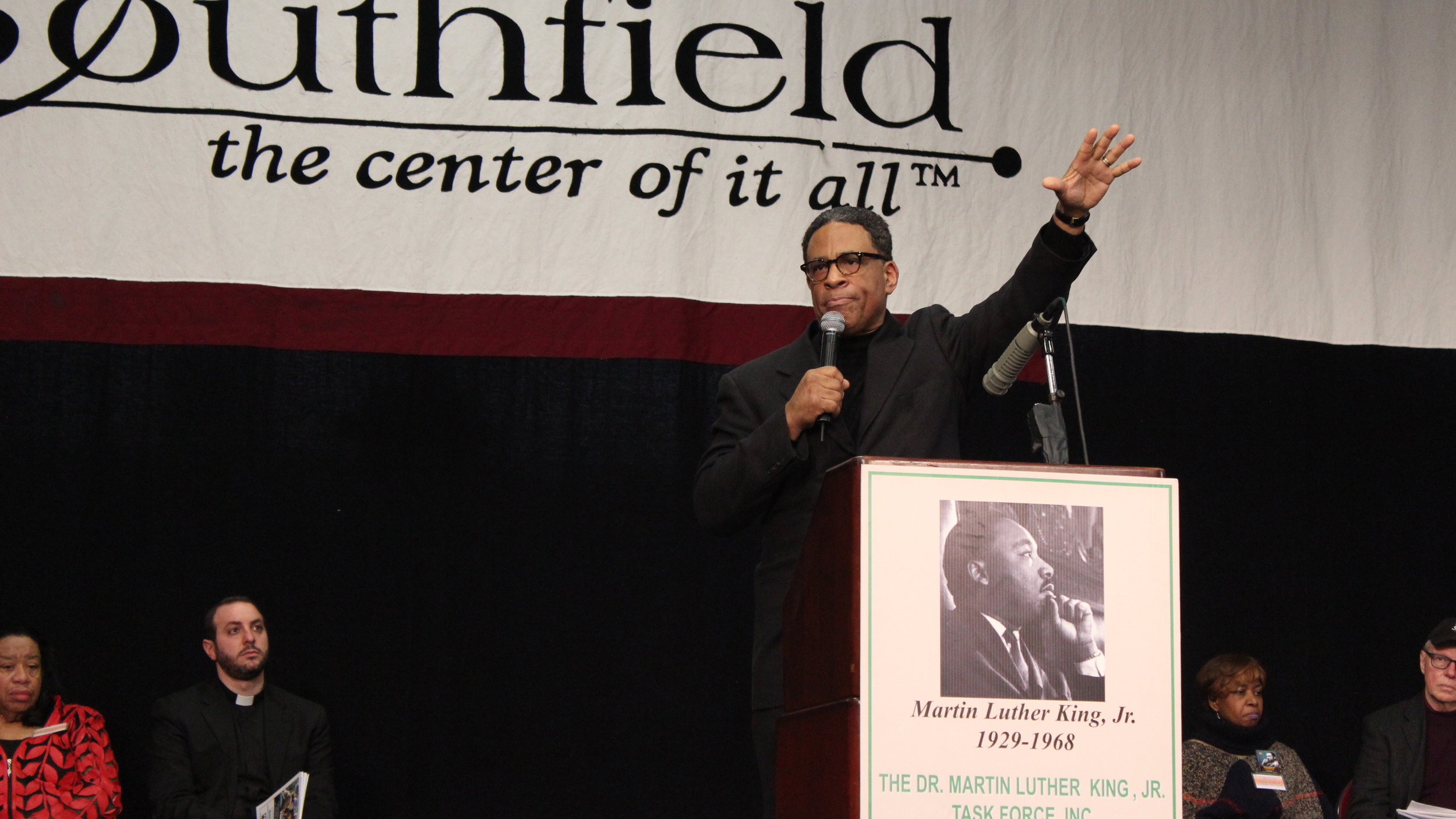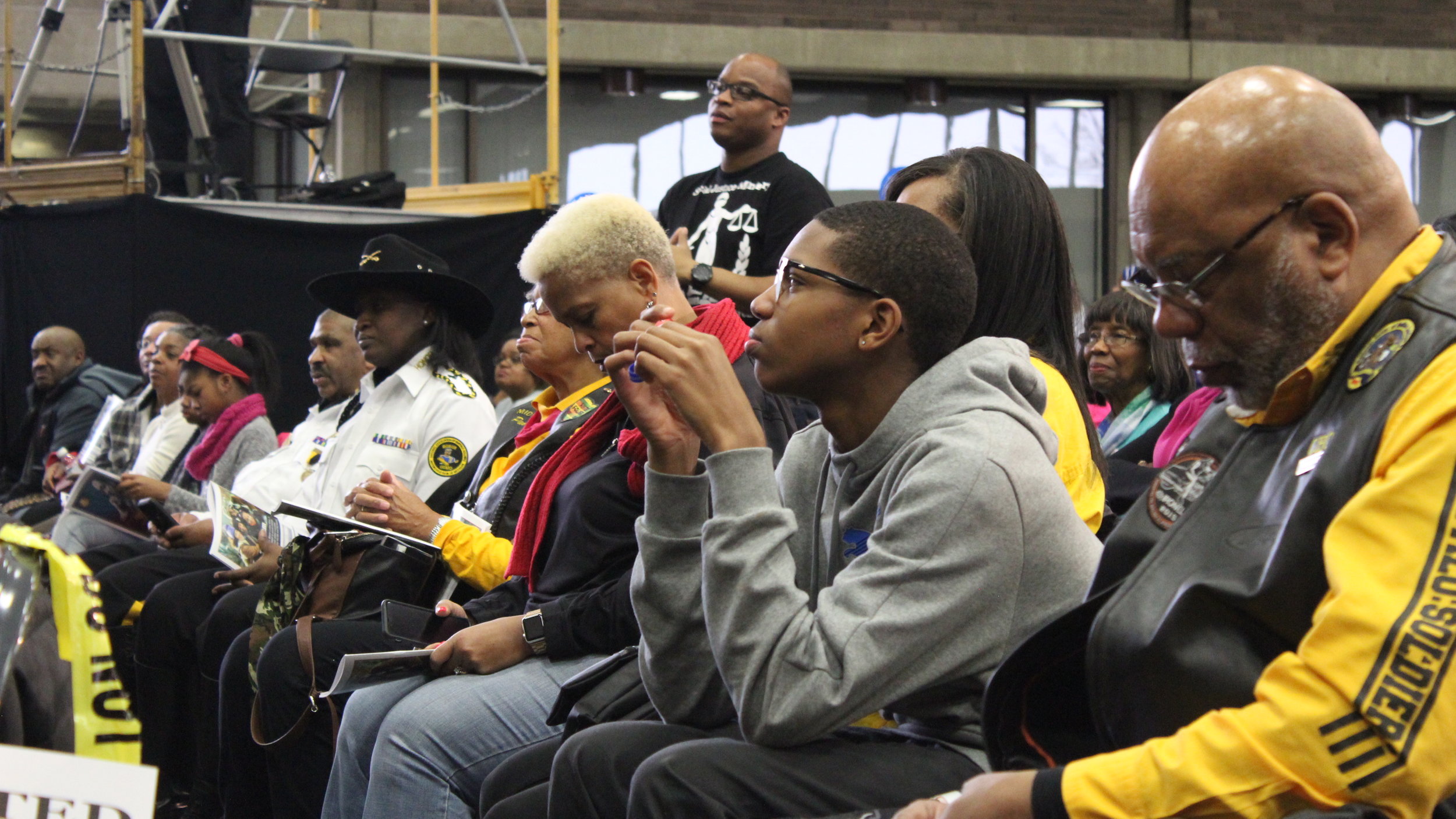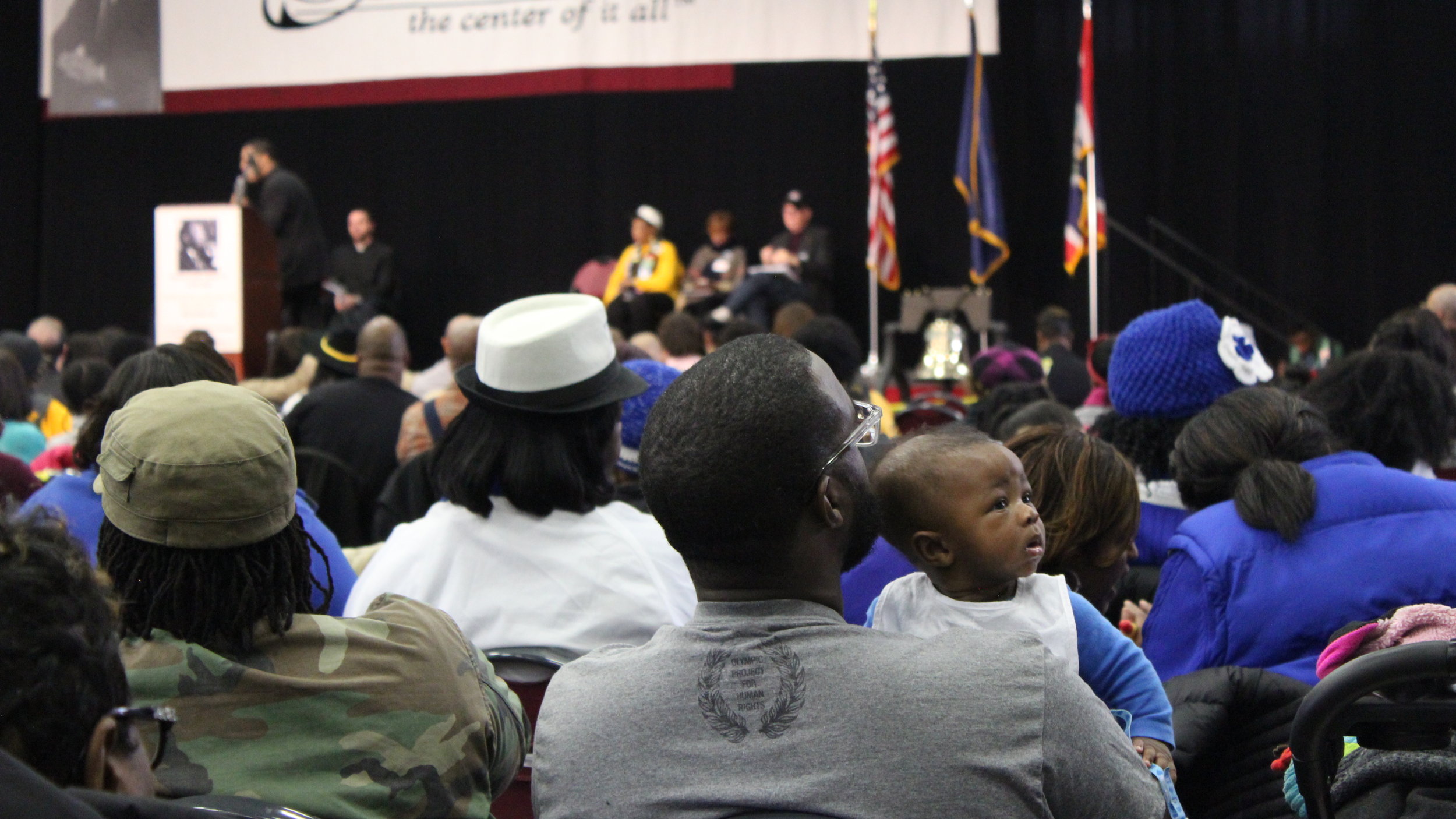 Tuesday, january 10th, 2017
MLK Task Force President, Patricia Haynie, celebrates Martin Luther King, Jr.'s legacy with TACOM. See full story here.
TUESDAY, December 6th, 2016
Task Force members Pat Haynie, Roger Goolsby & Barbara Seldon were honored by the City of Southfield Mayor, Kenson Siver, for their outstanding community service. They were given the Extra Mile Award for going above and beyond.
Wednesday, NOVEMBER 23rd, 2016
The MLK Task Force has official released this year's theme of "From Generation to Generation: Achieving Peace Through Understanding".
MONDAY, AUGUST 29TH, 2016
Congratulations to Task Force member, Monique Merritt, who will be receiving a Juris Doctorate from the Thomas Cooley Law School. She will be graduating with honors on September 25th, 2016.
sunday, july 24th, 2016
The Dr. Martin Luther King, Jr. Task Force, Inc., in conjunction with the city of Southfield, held a candlelight vigil in remembrance of police officers and those who have been slain by senseless gun violence on Sunday, July 24 from 9-10 p.m. on the front lawn City Hall.
The event served as a tribute to the Southfield Police Department for the outstanding job they do every day in keeping Southfield safe and secure. Several speakers will address the audience followed by the candlelight vigil.
Southfield was the first city in the state of Michigan to hold a Dr. King peace walk or march. The first Dr. Martin Luther King, Jr. Peace Walk took place on January 20, 1986, commemorating the first national observance of Dr. King's birthday. The walk continues to grow in size and scope each year, with year-long educational and community outreach activities. - See Video Here - City Of Southfield (Article), Southfield Multimedia Services (Pic & Video)
Monday, July 18th, 2016
MLK Task Force President, Patricia Haynie, proposes the Candle Light Vigil event to be held on Sunday, July 24th, 2016 from 9pm - 10pm. Click on the video above to see how the Southfield City Council reacted to the proposal. - Southfield Multimedia Services (Video)